Now Open: Pike Road
Elk Cove creates Carlton tasting room for new label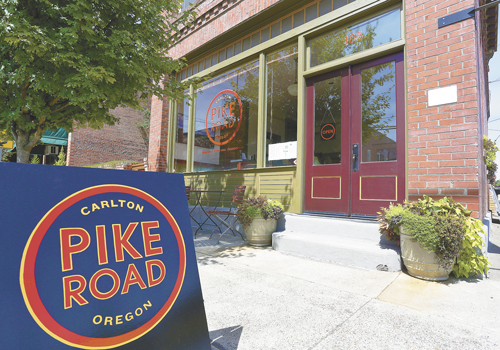 In keeping with the popular trend of satellite tasting rooms, the Campbells of Elk Cove Vineyards have opened a new "home away from home" in Carlton. But don't look for the iconic elk on the outside of this building; the new space is dedicated to Pike Road Wines, the family's sister brand recently launched this spring.
Within the historic bank building, built in 1910 and previously owned by Jay McDonald of EIEIO Wines, Pike Road continues to honor the space's original life as Carlton State Bank & Savings in preserving the old vault; inside you'll find winemaker Adam Campbell's special collection of ¡Salud! wines, a selection of which are for sale.
Changes to the building include a new deck, fence and bar in the back as well as renovations inside. Transforming the old bank into a place of wine had been previously accomplished by McDonald, who, after acquiring the space in 1994, turned it into The Tasting Room, from which he sold area wines, including his own brand. His was one of the first wine businesses in the now wine-crazed small town, which includes Ken Wright Cellars, Carlton Cellars and many more.
The Pike Road tasting room undoubtedly will boost even more traffic to the winery's scenic Gaston site, where both Elk Cove and Pike Road are crafted by Adam, son of founders Joe and Pat Campbell who started the family business more than 40 years ago.
The new brand focuses on consumer-priced Pinot Noir, Pinot Gris, rosé and Chardonnay, with reserve and single-vineyard offerings as well; initial production numbers are about 20,000 cases — in addition to Elk Cove's current production of 45,000 cases.
As far as the name, Pike Road is an actual road winding through the lowland farms of the Yamhill-Carlton AVA and west into the Coast Range. Known as one of the more picturesque drives in the Willamette Valley, it is home to orchards, dairy farms and wheat fields. For the Campbells, Pike Road reflects the spirit of farming in Oregon, which the family has embraced since the winery's beginning in 1974; they currently own 350 acres of vines across six sites.