Now Open: Bravura Cellars
California-focused brand a bold move in Newberg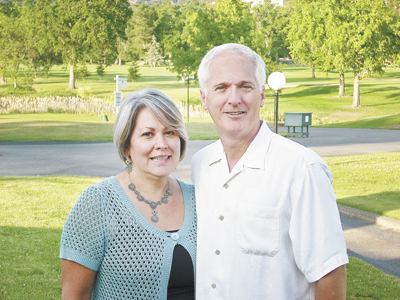 The word 'Bravura' (pronounced brah-VOO-rah) translates to "the display of great daring" as well as "great technical skill and brilliance shown in a performance or activity." The name is befitting for the new winery that recently opened in a Newberg tasting room exclusively for wines sourced and made in California.
A bold concept, indeed. Yet, one founder is no stranger to Oregon.
Born and raised in Albany, Steve Saxton and his partner, Luci Serrato, moved to the Willamette Valley to bring their love of warm-climate reds to his home state. The couple met in 2005 in California's wine-soaked Central Valley. Under an eponymous label, Saxton-Serrato, they started making wine together in 2009.
After Saxton left Oregon in 1983, he has returned every year — the last 10 with Serrato. They'd enjoyed visiting the Willamette Valley's Pinot-centric wine country, but their passion has always been the big, hearty reds of Lodi — Zinfandel, Petite Sirah, Cabernet Sauvignon. So, they came up with a solution: Move north and brings the wines with them; thus, Bravura Cellars was born.
While they had decided on a name, the visual identity had yet to be realized, so Saxton and Serrato enlisted the help of budding designers at his alma mater, Oregon State University, and its School of Business graphic design department. The contest asked students to design a logo reflecting hot-climate, hand-crafted, full-bodied, robust and ultra-premium red wines. Since their business model differs from most local wineries, they wanted imagery that conveyed "coloring outside the lines."
The winning selection by student Dan Anecito is an abstract painting of a matador's cape in motion, symbolizing the artistry and handmade quality of wine while visualizing the meaning of the word through color and shape. The flash of brilliant, bold red mimics the motion of the wine, creating a smooth connection between the wine and the definition of Bravura.
At only 300 cases of total wine production, Bravura's downtown Newberg location is the only place — besides online — to buy the wines, which include 2008 Cabernet Sauvignon, 2012 Zinfandel, 2013 Old Vine Zinfandel, 2014 Petite Sirah, as well as blends and a Port-style wine.