November Nouveau
Celebrating harvest's end, Beaujolais style
From its home in France, the popularity of Beaujolais Nouveau celebrations spread worldwide in the 1980s and '90s. Unfortunately, as poorly made, mass-produced bottles flooded the market, excitement dissipated and many Beaujolais Nouveau-style wines sparked strong criticism.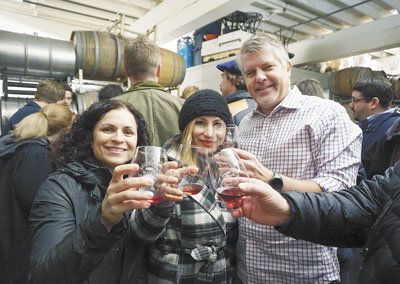 Fortunately, since 2001, Portland wine enthusiasts and Francophiles have not wavered in their love of Nouveau, thanks to the French-American Chamber of Commerce (FACC) and the Alliance Française of Portland. According to Linda Witt, president of the FACC, it has grown to become one of the largest festivals of its kind on the West Coast.
In addition, area vintners are drawn to creating and refining an Oregon Nouveau-style wine for the same reason French vignerons do: kinship. Jesse Skiles of Portland-based Fausse Piste explains, "The community approach is essential for Beaujolais Nouveau wines. It's not really about the wines. It is about bringing people together."
In its simplest form, traditional Beaujolais Nouveau is distinct for three reasons: (1) the use of Gamay Noir grapes, the predominant varietal in the Beaujolais region; (2) carbonic maceration, a winemaking technique in which whole clusters are fermented in an oxygen-free environment, leaving berries to ferment from within; and (3) an ability to produce a wine that will be ready for consumption by the third Thursday in November.
Thomas Monroe and Kate Norris, owners of Portland's Division Winemaking Company and Southeast Wine Collective, fell in love with La Fête de Nouveau while working in the Loire, Beaujolais and Burgundy regions.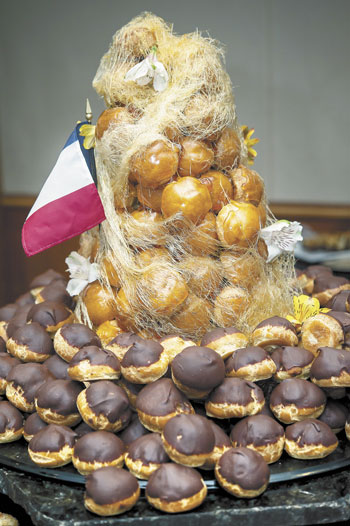 "The origins of Nouveau — back in the day, before its popularity — kind of grew out of post-WWII, when people regained their lands and made wine again. This was the first wine because they'd been away from their vines so long. They were getting back to more everyday life and that aspect is, I think, what folks who are making Nouveau-style wines in Oregon are more interested in," Monroe said.
Small amounts of Gamay Noir exist in Oregon, including Brick House, WillaKenzie Estate, Chehalem Wines and Union Wine Company (with their 2014 acquisition of Amity Vineyards, which boasts the first plantings of Gamay Noir in Oregon by Myron Redford).
However, the passionate group of Oregon winemakers embracing their version of Nouveau recognizes Gamay is not widely planted here. Besides, what's the point in making your own style if you don't put your own spin on it? When in Beaujolais, use Gamay. When in Oregon, there's Pinot Noir as well as Dolcetto, Maréchal Foch, Cabernet Franc and Grenache.
"I make a Gamay and Dolcetto Nouveau blend called the Nuovo every year," offered Sterling Whitted of Holden Wines. "In terms of style, I do a Northern Italian style, so I try to incorporate that with the same energy that Nouveau has."
Newcomer Andy Young, of St. Reginald Parish, approaches his Nouveau-style wine from a sense of place.
"Oregon is still — and hopefully will remain — synonymous with Pinot Noir," Young said. "St. Reginald is a very Pinot-focused project. I want to show that it's a very malleable grape, capable of producing pretty much anything you want to do with it."
Brianne Day of Day Wines has also released her own version made with Pinot Noir, a cheeky little number called Vin de Days.
Nouveau may seem a fairly simple offering to add to a winery lineup — much akin to choosing physical education over calculus — but, in fact, it can prove somewhat precarious. Whitted explains that not only is carbonic maceration time-consuming for small batches, but also the entire process of first and second fermentation, ordering glass and labels, as well as bottling and labeling a dry and semi-finished wine by the third Thursday in November is anything but effortless.
"The party at the end of harvest is really the driver of why we do it," Holden said. "That's the essence of nouveau — not about making crazy serious complex wines. It's about getting together with your comrades at the end of harvest."
Gabriel Jagle, winemaker at Scenic Valley Vineyard, has made a Gamay Fresca for the past four years. He fell in love with Beaujolais-style wines when he realized how well their youthful and fruity characteristics paired with the Thanksgiving menu.
"While it might not be considered a 'serious' wine, it is a really challenging wine to make because it is so time-sensitive. I only bother making it because it is the perfect wine for my favorite holiday," Jagle said.
Over at Love & Squalor, winemaker Matt Berson joked, "We view the style as a celebration wine, so we bottle all of our Nouveau in magnums — because nothing says a party like a big bottle."
Sharp censure has been an issue for Nouveau-style wines, but advocates say they were never intended to compare to the serious, age-worthy Cru Beaujolais.
In response to the naysayers, Myron Redford is quite candid.
"Don't despair. Nouveau has no sex appeal for the cognoscenti because it is fun quaffer. God, can we just enjoy wine? Of course not. A wine has to have substance, reputation, etc., etc," Redford continued. "The people I know who are making Nouveau are doing it for fun."
Redford continues to pour his current vintage of Gamay Noir at the French American Society's Beaujolais Nouveau Festival. Because of ripening constraints, it is typically a year older than the French Gamays but always appreciated.
Viki Eierdam is the wine columnist for The Columbian and a freelance writer. She lives in Battle Ground, Washington.
Beaujolais Nouveau Festival
The Heathman, Portland
November 18, 6 to 10 p.m.
Hosted at The Heathman Hotel in downtown Portland and presented by the French-American Chamber of Commerce and the Alliance Française of Portland, the 15th annual event offers Beaujolais Nouveau, Oregon Nouveau, a buffet by Headwaters and entertainment. www.afportland.org
Beaujolais Nouveau Block Party
St. Jack, Portland
November 17, 6 to 10 p.m.
An outdoor venue with tents and heat lamps, restaurant St. Jack will pour Oregon Nouveau-style wines alongside traditional Nouveau, as well as offer small plates to complement the wines. Call 503-360-1281 to reserve your tickets. www.stjackpdx.com
Nouveau Division Crawl
Division Street Portland
November 19, 5 to 8 p.m.
Hosted by the S.E. Wine Collective, the event features tastings of local and traditional Nouveau-style wines paired with appetizers at select locations along Restaurant Row. www.nou
veaupdx.com
Nouveau Harvest Dinner
Brandborg Winery, Elkton
November 17, 6 p.m.
Brandborg Winery serves up their Elkton Villages Nouveau-style Pinot Noir for 50 lucky guests who enjoy a five-course dinner in the wine cellar along with other Pinot tastings. www.brandborgwine.com
Beaujolais Nouveau Celebration
Bar Avignon, Portland
November 17, 5 p.m.
Highlighting true Nouveau Beaujolais from Domaine Dupeuble — air shipped by Kermit Lynch — as well as a few local favorites, the ninth annual event at Bar Avignon is complemented by bottle sales, cassoulet and other Nouveau-inspired dishes. www.baravignon.com