Not Merely a Truffle
Annual celebration digs on Oregon's gourmet gold
Longing to be found, but never conquered, truffles lure and then transform. Their concentrated pheromones emit an olfactory siren's song that both frustrates and excites chefs. They are rare, hedonistic and pungent. And they might be living in your backyard.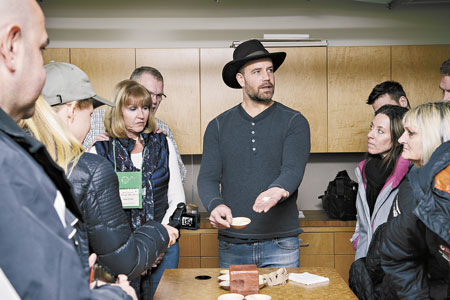 Oregon truffles, black and white, may not be as world renowned or expensive as their Italian and French fungal counterparts, but they are garnering plenty of attention and drawing, yet again, eager crowds to the Oregon Truffle Festival, celebrating its 12th anniversary this year. (See sidebar for details.)
Among other activities, participants gathered to witness a panel of experts who attempted to "deconstruct" the Oregon truffle.
At first bite, Harold McGee, author of "Curious Cook," dismissed the Oregon truffle, comparing it to the European versions. When considered separately, Oregon's own revealed itself as something exotic to the writer. He said, "It is like tasting your first banana, a fruit from far away, designed to attract strange creatures."
Oregon truffles have posed a conundrum for the culinary-trained yet uninitiated, including Dave Arnold, founder and president of the Museum of Food and Drink in New York. He suggested the shifting aromas of Oregon truffles present a large learning curve for chefs outside the area. Oregon truffles' scents can morph from pineapple to animal to mango in a matter of minutes.
Handling of the Oregon truffle also befuddles those new to the fungus. For example, shaving versus gas infusion also makes a huge difference with Oregon truffles compared with European.
Yet, Oregon truffles may still have a place outside local kitchens. According to longtime mushroom enthusiast Jack Czarnecki, founder of The Joel Palmer House in Dayton and maker of Oregon Truffle Oil, while European truffles have a more established culinary status, in blind tastings, many chefs prefer Oregon black truffles to European black truffles. Plus, there is a price advantage. Oregon truffles are about 10 to 20 percent of the price of European truffles. But they still aren't cheap.
So why bother? They are finicky. They can be elusive. They are not attractive — the white ones look like sunchokes and the black ones like those nubby purple potatoes that volunteer in your garden from the previous harvest's leftovers.
We bother because they are truffles. They are delicious. And, they need us, or rather truffle-eating squirrels, to help disperse their spores so they can multiply. No to mention, their smell manipulates us. Cheap Trick's "I Want You to Want Me" is their jam.
The easiest way to enjoy Oregon truffles is to buy them. You can order online from Oregon Black Truffles and Truffle Dog Company. But if you want to find them in the wild, a pig or a dog is helpful. Pigs are traditional in France; dogs in Italy. The upside to pigs is that they don't have to be trained — the scent makes a sow believe a potential mate, a male pig, is around. Downside? Pigs will eat the truffles if you aren't careful.
Dogs can be trained using cotton swabs dipped in truffle oil and lots of excitement and reward. New World Truffieres president Charles Lefevre Ph.D. suggests if your neighbors are not embarrassed for you, then you are not "happy" enough to excite your dog.
Stefan Czarnecki, Jack's son and partner at Oregon Truffle Oil, points out you do not need a special breed or even a puppy. Apparently you can teach an old dog new truffle tricks, and any sporting breed or mix needing a home could be a new truffle hunting addition to the family. Dogs are not supposed to want to eat truffles, although Lefevre's dog eats them — maybe he got TOO excited at the training.
The best place to hunt is in Douglas fir forests at least five years old. Forests aged 15 to 30 are an even better bet. Some festival attendees said they've found truffles between their houses and mailboxes and within city limits — sorry, those people did not share their addresses for publication.
Oregon's winter white truffles are harvested November through February; spring white truffles are gathered during May and June. Oregon black truffles are harvested, on and off, November through June, although these truffles are more prolific in winter.
A good rule of thumb is, if stored properly, black truffles last four to seven days; white, two to three weeks. Truffles are alive and need to breathe a little. Some chefs advise against storing truffles in airtight containers — be careful not to infuse your whole fridge, though. Jack's older son, Chris Czarnecki, also a second-generation mushroom maniac, and the executive chef of both Joel Palmer and The Barlow Room, suggests storing truffles in an airtight container, wrapped in paper towels to keep them dry. If they become soft, they are past their prime.
Although white Oregon truffles have stronger flavor than black truffles, both are best infused into something fatty — like butter — or shaved over a dish. If cooking with whole truffles is a reach, then try using truffle oil, but be wary of the ingredients. Most truffle oils on the market use a synthetic chemical compound that duplicates the aroma/flavor of truffles. The Czarneckis' truffle oils are made with the real stuff.
Another tip, whether using truffles or oil, don't expose either to the harsh heat of cooking; instead, add them as the last little bit of magic before serving.
Jade Helm is the primary author of Tasting Pour, a blog about wine, cocktails and food. Her expertise is evidenced by credentials from the Society of Wine Educators (Certified Specialist in Wine) and the Wine and Spirits Education Trust (Diploma in Wine and Spirits) and from the Court of Master Sommeliers (Certified Sommelier).
Festival of Fun-gi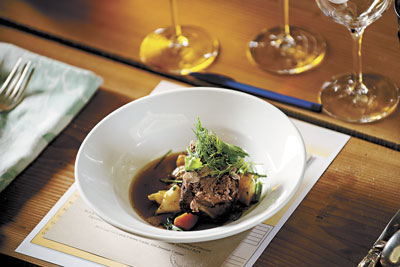 Founder Dr. Charles K. Lefevre, a renowned mycologist, and his wife, Leslie Scott, organized yet another great success at the 2017 Oregon Truffle Festival, Jan. 20–29. One of only a few of its kind in the U.S., the celebration marked its 12th year with a diverse schedule and the option of packages or à la carte events in both the northern Willamette Valley, from Newberg to McMinnville, and the valley's southern edge in Eugene, the birthplace of the event.
Highlights included the seminar "Truffles Deconstructed" (as described in the main story), which was held at the Chehalem Cultural Center in Newberg and moderated by editor Peter Meehan of Lucky Peach magazine.
Forage & Feast, truffle hunts followed by gourmet luncheons, happened at different wineries, such as Ponzi Vineyards in Sherwood and Lady Hill Winery in St. Paul.
Attendees also enjoyed "The Sensory Life of Truffles" led by Mark Bitterman, a James Beard Award-winning author and owner of The Meadows in Portland and New York City. He guided tasters as they discovered all the flavor nuances of both Oregon black and white winter truffles.
Saturday, Jan. 21, four downtown McMinnville restaurants hosted "Black and White Winemaker Dinners" and the following day, ticketholders perused the "Fresh Truffle Marketplace" in Newberg, closing the celebration's festivities in the north.
In Eugene, Jan. 26, The Joriad, The North American Truffle Dog Championship, commenced for a third year. Cowboy, a spirited, "nosy" German Shepherd, took first place
Truffles hunts, dog training, lectures via "The
Truffle Growers' Forum," events at wineries and more joined other events such as the first-ever Oregon Truffle MacDown during which multiple chefs elevated comfort food to new heights with the abundant inclusion of Oregon's black and white winter truffles.
A Night at the Museum also impressed participants with a truffled meal prepared by chef Stephanie Kimmel, all the while admiring art at the Jordan Schnitzer Museum of Art on the University of Oregon campus.
Eugene's centerpiece, "The Grand Truffle Dinner" showcased six courses of black and white truffles prepared by local chefs and out-of-town talents Renee Erickson of Seattle and Chris Cosentino of San Francisco.
The 12th annual celebration concluded with Eugene's own Fresh Truffle Marketplace, a tasting and demonstration experience bringing together fresh fungi, regional wines, artisan foods, as well as craft products and services related to the area's burgeoning truffle industry.
Dates for the 2018 can be found at www.oregontrufflefestival.com.