Nordic Meets Northwest
Ponzi pairs with Danish culinary team for marathon meal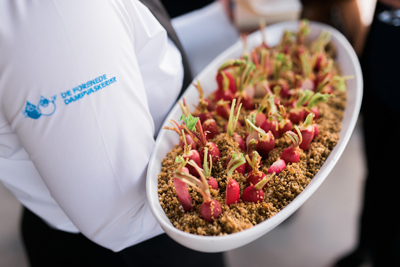 This is a warning," Maria Ponzi said, only half-joking. "I hope you know you're in for a long night — a very long night."
Maria made those introductory remarks before the first of two Nordic Dinners her family's eponymous winery hosted May 19 and 20.
As it turned out, she was being serious. The dinner, scheduled for four hours, actually lasted nearly six — or about half the time it would take to fly from Oregon to Denmark.
The six-course meal began at 7 p.m., with attendees arriving at the architectural marvel that is Ponzi's pastoral palazzo winery and tasting room outside Sherwood — a superb setting for highlighting the intersection between Nordic and Pacific Northwest cuisines.
The reception began with trays of finger foods: beet-wrapped beef tartare parcels, chopped oysters with dill on the half-shell, radishes planted in a "soil" of rye crumbles and chèvre. The small plates paired perfectly with Ponzi 2015 Pinot Gris, making for a lovely, leisurely introduction to the evening.
About a year in the making, the meal was inspired about five years ago by Maria Ponzi's initial visit to Copenhagen to test the international market. She dined at some of the city's finest restaurants, where dinners tended to be lengthy, appreciative affairs. Ponzi discovered Nordic food to be fine, fresh and with impeccable service.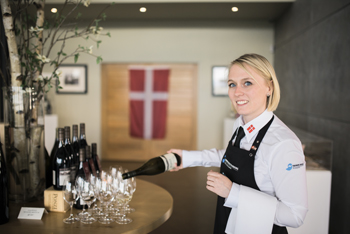 "I thought it would be fun if we could bring that experience back home," she said.
Both "waitstudents" and "chefstudents" from the Teknisk Skole Silkeborg culinary program spent a week at the winery, exploring local terroir, and preparing and serving two meals on consecutive nights for about 50 diners each.
Helping make it happen was Søren Salin, of Salin U.S. Imports Group, a Danish wine importer who sells Ponzi and other wines from Oregon in his home country.
"Of all the wine we sell internationally, Søren sells the most in Denmark," Maria said. "And they really appreciate food and wine there. All the dinners I've done there, they're blown away and sincerely enjoy our wine."
"Yes, it's true, Danes love Oregon wine," Salin said.
He also noted how each student paid around $700 to make the trip, with the remaining tab financed by the Danish government.
What is New Nordic Food?
Nordic cuisine is similar in many ways to the style of food popular in the Pacific Northwest, where local, seasonal and sustainable has become the culinary mantra.
According to "The New Nordic Food Manifesto," a real document penned in 2004 by 12 Nordic chefs, "Nordic cuisine can be compared with the best cuisines in the world by virtue of its taste and individuality, but also in its quest for the quality and attractiveness that are to be found in regional cuisines."
Nordic cuisine has earned gastronomic acclaim thanks in large part to Noma, the two-Michelin-starred restaurant in Copenhagen named "Best in the World" in 2010, 2011, 2012 and 2014.
While culinary tourism has become as major an attraction for Copenhagen as it has in Portland, the two cities diverge regarding how they support that vital tourist industry.
In Denmark, those who work in the front of the house are trained in the art of service as professionally as those who cook in the kitchen. Each component of the culinary team studies its craft for as many as four years before earning a degree, whereas in America, most waiters receive little to no formal training and chefs are either self-trained or receive just one to two years of official instruction.
When we finally sat down to dinner, around 8 p.m., waitstudents impeccably poured Ponzi wines and presented perfectly plated dishes to eager diners. The service style was prim and proper without feeling cold — what you might expect in a Michelin-starred, starched white table linen restaurant.
The menu featured ingredients sourced, prepared and cooked by the chefstudents. They visited other wineries as well as Rogue Farms outside Independence. Meanwhile, the waitstudents foraged at the Ponzi Historic Estate for flora to adorn the table centerpieces.
The culinary team was led by instructors Chef Katrine Ottosen and Per Søndergaard.
"Our Nordic approach pairs perfectly with Oregon Pinot Noir and Chardonnay," Søndergaard said. "You will experience some food that you may not understand unless you let your mind follow. It's going to be a long night, and you'll be tired, but at the end you will understand how the flavors go together. You have the most excellent ingredients here — the hazelnuts, the fish and shellfish, which are things Scandinavians love to use back home, too."
The waitstudents prepared talking points on the wines paired with each dish. The first course, for instance, matched Ponzi 2013 Chardonnay Reserve with "pan-fried filet of black codfish, blanched julienne of carrot, leek and parsley root, crispy shell filled with fricassee of blue mussels, peas and dill, embellished with tops of peas and parsley oil."
"The wine has an herbal flavor, roundness and buttery flavors that will complement the mussels, peas and herb oil," noted waitstudent Christina Ahlstrøm Pedersen of Hotel Juelsminde Strand. "The minerals and sweetness of the carrots mirror what's in the glass as well."
Fast forward to 12:45 a.m., and the dessert course, a white chocolate blondie with first-of-the-season strawberries, was finally washed down with Ponzi 2014 Vino Gelato.
A marathon as promised, the dinner was an epic experience, instilling a great sense of kinship with our Nordic culinary cousins.
Skål to the many people who made it happen. Mange tak, too — thank you.
Peter Szymczak writes about food, wine and culinary tourism. He lives in the Red Hills of Dundee.