Nick's Big Nod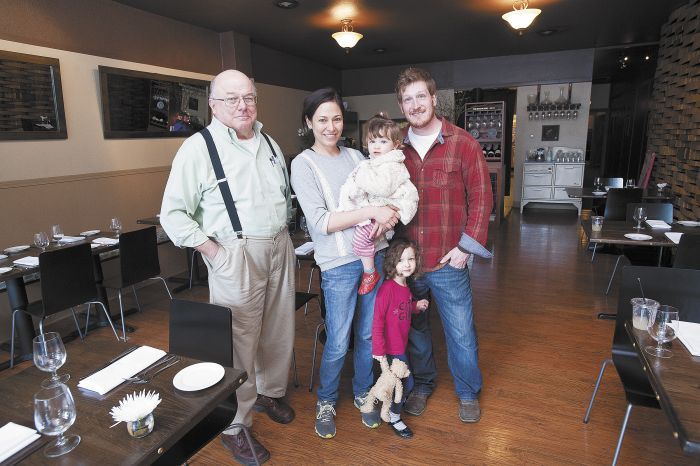 By Mark Stock
It's been a long time coming: Nick's Italian Café, watering hole and restaurant for Oregon winemakers and their followers since 1977, has won the attention of James Beard. The McMinnville restaurant was awarded an American Classics designation by the esteemed James Beard Foundation mid-February. Four other American restaurants were named in this category, including Perini Ranch Steakhouse in Texas and Hansen's Sno-Bliz of New Orleans.
This is not the award for new restaurants touting unlikely fusions. Instead, the American Classics award honors eateries with "timeless appeal" and a special tie to its surroundings. Considering that on most nights Nick Peirano himself is in the restaurant's Back Room chatting with friends over a glass of wine, the award is fitting, overdue perhaps. Between the five establishments honored there is more than 300 years of history. Sokolowski's University Inn has been serving Polish food to hungry Clevelanders since 1923. Hansen's Sno-Bliz, a Bayou institution from 1939, focuses on made-to-order shaved ice infused with homemade syrups.
In addition to being on most winemakers' shortlists for places to go after work or during harvest, Nick's Italian turns out impressive fare. The minestrone, caponata and Dungeness crab lasagna have taken on near-mythical proportions over the years. Nick's is presently a second-generation establishment, led by Carmen Periano and Eric Ferguson, Nick's daughter and son-in-law. The two trained in Italy before taking the reins at Nick's in 2007. The restaurant's centralized Third Street location has only heightened its vitality.
Vintage dishes split the menu with newer items like wood-fired pizzas and Fino In Fondo salumi. The latter is a cured meats side project of Nick's that now occupies the adjacent storefront, Peirano & Daughters. Fino In Fondo is one of only a handful of salumerias in the state and the only one of its kind in wine country. The new retail space serves as an Italian market, offering wine, charcuterie, an aperitivo bar and deli sandwiches. The restaurant's pasta is made fresh here as well, available for purchase at the counter.
The James Beard Foundation describes the joint aptly. "Nick's has forged a marriage of Oregon wine country and northern Italian cooking that's as worthy of pilgrimage and patronage as the Oregon Pinot Noirs on their superb list," it wrote. The Foundation is looking specifically for enduring appeal and local character and offers five American Classics awards per year. Nick's is the second Oregon restaurant to receive the award, joining Portland's The Original Pancake House in the ranks. A classic, it turns out, doesn't occur overnight.
"This is the biggest award the restaurant has received," said Nick Peirano. "They don't tell you who nominates you, but whomever did is very nice."
Peirano is a self-taught chef, exposed early in life via family dinners to homemade ravioli, fettuccine and pestos. His father was full-blooded Italian, and the ravioli Nick's serves today is his grandmother's original recipe. He says the minestrone is always available, and he likes it that way.
Part of the challenge and beauty of family-run operations is passing them on to the next generation without a break in quality. Nick's Italian has done so gracefully, holding on to mainstay menu items for which people travel hundreds of miles while including new dishes and ideas.
While Italian in cuisine, Nick's could not be more Oregon wine country. The dualism — white tablecloth front end, broken-in Back Room — perfectly captures the Willamette Valley wine world. High-end yet accessible, high art yet age-old agriculture, special ingredients for all to enjoy.
The late James Beard, Portland's most famous foodie, would no doubt appreciate the ambiance at Nick's. During the soggy months of October and November, there's talk of stalled fermentations and forklift mishaps over a bottle of wine and tagliatelle. The Back Room becomes a filling station and strategy room for sleep-deprived vintners in the midst of crush. And chances are good that Nick will be there, to offer a friendly hello and tell you what's tasting good.
Nick's Italian Café
521 N.E. Third Street, McMinnville
Hours:
Mon.–Sat.: 11 a.m.–3 p.m. (lunch), 5–9 p.m. (dinner);
Sun.: noon–9 p.m.; Back Room: 5 p.m.–close
Phone: 503-434-4471 (reservations)
Mark Stock, a Gonzaga grad, is a Portland-based freelance writer and photographer with a knack for all things Oregon. He currently works at Vista Hills Winery.