Dinner, Italian Style
Family dishes up 40 years at wine country icon
Yes, please leave the smoked tomato broth."
That's how we found ourselves answering our server at Nick's Italian Café in McMinnville on a recent dining excursion.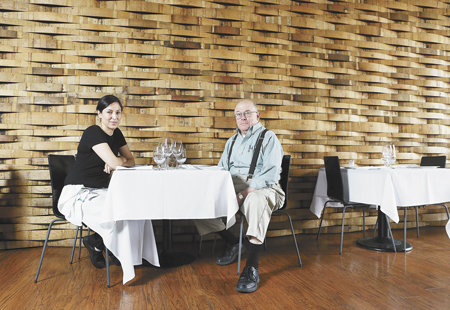 The broth, a wonderful, light ruby liquid with a lovely kick of garlic at the end, accompanied the steamed mussels. They sat in an irregular jumble in a shallow white bowl, surrounded by a moat of broth along with rustic bread. After finishing the mussels, we still had other dishes on the table — specifically gorgonzola-pear wood-fired pizza and Caesar salad — but somehow, we could not let go of the smoky tomato goodness. So we found other ways to enjoy it.
Nick's has been serving authentic Italian fare here for 40 years. Carmen Peirano was two years old when her dad, Nick Peirano, opened his doors in 1977. Now, the restaurant is hers, but Nick still appears — mostly to shoot pool on the 1913 Brunswick table in the restaurant's Back Room. He undoubtedly enjoys watching his daughter, a former fashion model turned chef after attending culinary school in San Francisco. She was eager to help her father advance Nick's to a new level.
"She's elevated everything," he said of Carmen's transformation of the restaurant.
While that statement may be true, Nick's has always been understood as the place for genuinely great food. But when Nick started out, armed with no professional cooking experience except a brief stint as a line-cook on a train, he served traditional five-course dinners, which meant an appetizer, soup — usually his family's minestrone — plus salad, a main course of lasagne — or options of equal heft — and, finally, dessert.
Back then, there was no menu, simply dinner, which was whatever Nick had prepared that evening. Everyone in the dining room ate the same dishes.
"Ah, that sound's so nice," remarked Carmen, who since taking over five years ago has changed to an à la carte menu. "It was," Nick responded.
The pre-set dinner wasn't always how Nick operated. Some years later, he added a few options, but nothing like the more than 20 items Carmen now offers.
While Carmen has transformed Nick's in some ways, the restaurant maintains the traditions that made it a culinary icon — the family minestrone and house-made pastas top the list. Yet, with the advent of the Food Network and more discerning restaurant patrons, Carmen's contributions have been a huge asset to the business. Still, the place is unpretentious. For instance, kitchen staffers are selected for their skill rather than culinary certificates.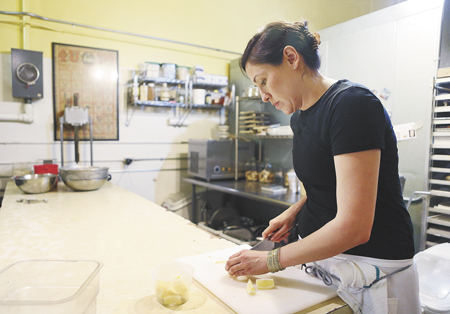 "This is not the type of place where you need that pedigree," Carmen said. "It really depends on the individual."
Anyone who's worked in a commercial kitchen knows creating great food is a matter of hard work and long hours and attention to detail, timing, and remaining true to the intention of the recipes. There's an art to a kitchen, but a working-class element as well. Places as old and established as Nick's possess a personality, almost as if they're alive. Hours before dinner service, the kitchen at Nick's was quiet. The wood oven had not yet been lit, and a bowl of sliced red onion sat on one of the prep tables. It had that stillness, and that worn-in feel that solid commercial kitchens share. They're like laboratories mixed with art studios; the faint hum of equipment blending with the sound of the vent hood, spices sitting on shelves, filling the air with their notes. Pots, pans, knives, ladles and spoons. Every commercial kitchen is the same, and each is different.
Just as Nick's kitchen has its unique persona, so does the rest of the space. There's the Back Room, which Carmen remembers as a kid was nothing more than a concrete floor and some boxes with a basketball hoop on the wall. Today, it is a darkly lit, pub-like space, complete with a bar, exposed brick walls, booths and that pool table Nick enjoys.
"We used to play back here all day long," Carmen said of her childhood spent with a restaurant owner dad. She then laughs, considering how not childproof the room was — at least when she compares it to the modern parenting style that some might argue is somewhat too protective.
Carmen has her own children now; Lily, 4, and Giorgia, 6. Maybe because as her father's daughter, she's turned another part of the building into a catch-all space, where the girls play while she works.
It's a family place after all, and steeped in tradition. In fact, before taking over the restaurant, Carmen lived and worked in Umbria, in central Italy, where she was exposed to a lot of new dishes and ingredients. It also revealed her how authentic the food at Nick's has always been.
"One thing that stood out was the Sicilian antipasto, which we served here." she said. "It's in jars regular grocery stores over there."
Nick, as well, told a story of serving his ravioli to a winemaker from Vietti, a nearly 100-year-old winery in Italy, northwest of Genoa. Clearly, an Italian from a vaunted winery would know if the ravioli was not up to par.
"He looked over and gave me a thumbs-up," Nick remembered. "That was a good thing."
While Nick's holds up to the scrutiny of Italians from the old country, it also remains the defacto clubhouse for the local wine industry. Back when Nick first opened his doors, he could not have known his timing was exactly right. The Oregon wine industry was about to take off, and he was basically the only game in town when it came to fine dining.
Now, with the new direction, Nick and Carmen are witnessing a new crop of winemakers regularly stopping by and far more visitors from out of town, attributing the media's growing love affair with Oregon wine country as a tourist hotspot.
Nick's is definitely a destination itself if wine is your drink of choice. Over the years, he has built an impressive cellar; in fact, the restaurant has won awards for its program, including a Regional Star in the 2017 Oregon Wine A-List Awards program (see sidebar for more information). The list offers 113 wines, 63 of which are from Oregon and the remainder from Italy, California and Washington. Guests can enjoy bottles or glasses from places as far away as Grillo in Italy, and local selections from Lumos to Lange to Ponzi.
Back to the smoked tomato broth, mussels, handmade pastas and other dishes we devoured on that Monday evening. When I say "we," I mean my wife, me and our four young kiddos. It was truly a family dinner at a truly family place. Not to mention, my wife is very much Italian — from the Vinaccias in Naples. It was great fun for me to watch her on the receiving end of the inherently Italian practice of pushing more and more food on guests.
"Are you hungry? Have a little!" This happens in our home, and it happened at Nick's, as well. It's a wonderful and welcoming trait, especially when the superior quality of the food matches the sincerity and hospitality served.
Neil Zawicki is a freelance writer who, in his spare time, loves to study history, paint and play his guitar. He lives in Albany with his equally creative wife and four children.