News Briefs
September 2016
Danehower Recipient Announced
The Cole Danehower Memorial Scholarship award for the 2016–17 school year has been awarded to Micheal Jones attending Umpqua Community College in Roseburg.
The scholarship bestows financial assistance for an Oregon student enrolled in a full-time enology, viticulture, environmental studies, hospitality or culinary arts program emphasizing wine. The annual recipient is awarded $1,000.
Established in 2015 by the family, friends and wine community of Oregon, this scholarship honors Cole Danehower and his many contributions to the development of the state's wine industry.
Danehower was an Oregon author, speaker and wine judge. He created the Oregon Wine Report, the only consumer publication of its time covering Oregon wines and was a winner of the James Beard Foundation Journalism Award in 2004. His wine writing appeared in newspapers nationally, including The San Francisco Chronicle, The Oregonian and Oregon Wine Press. Cole's book, Essential Wines and Wineries of the Pacific Northwest: A Guide to the Wine Countries of Washington, Oregon, British Columbia, and Idaho was published in 2010. It remains an excellent reference for the entire Pacific Northwest wine region.
Danehower was well-known, respected and loved by Oregon's wine community. He once wrote how he found it difficult to think of the Oregon wine world as an "industry" because everyone he encountered gave of themselves so freely. The scholarship was created to provide a legacy of that spirit recognized and embodied by Danehower, who died in 2015; he was posthumously honored by the industry with the Oregon Wine Board's Lifetime Achievement Award.
The Cole Danehower Memorial Scholarship Fund (No. 724) is administered by the Office of Student Access and Completion (OSAC). Awards are decided through a competitive application and review process. Donations to the fund ensure a continuing commitment to the promise of Oregon's wine excellence.
Schönberger?

There is a first time for everything, but not everyone can claim a "first" like the owners of Plum Hill Vineyards. RJ and Juanita Lint recently released the nation's first Schönberger to its wine club on July 23.
The German grape varietal has been bottled and sold in blends in the U.S., but, according to the Lints, theirs is the first single-varietal commercial release. Only 57 cases were produced; the wine is available only in the tasting room in Gaston.
"This really is a huge milestone for Plum Hill and the United States," said Juanita. "This is a great wine, and I know people will love it."
The Lints planted roughly 1.5 acres of Schönberger at Plum Hill in 2009; they picked its first crop at the end of September 2015 and bottled the wine mid-February of this year. Plum Hill had used their Schönberger previously as part of the 2014 White Blyss, a blend that also included Pinot Blanc, Riesling and Pinot Gris.
Schönberger, which can also be spelled Schöenburger or Schönburger, is a cross of Pinot Noir and Pirovano 1 — itself a crossing of Chasselas Rose and Muscat Hamburg. It was first cultivated in 1979 at the Geisenheim Institute for Grape Breeding in Germany. Like many German hybrids, Schönberger was created to provide winemakers with a disease-resistant, cold-hardy variety that would prosper in the country's colder climates. The result is a rosy-colored, thick-skinned grape with relatively low acidity that produces a soft while full and fruity white.
Taste for yourself at Plum Hill Vineyards, 6505 S.W. Old Highway 47, Gaston. For more information, visit www.plumhillwine.com.
Schönberger Tasting Notes
On the nose, this fruity, floral wine offers pronounced aromatics of jasmine, pineapple, citrus and tangerine. On the palate, dried berry and herbal spice notes add to the highly enjoyable wine experience.
National Acts at Maryhill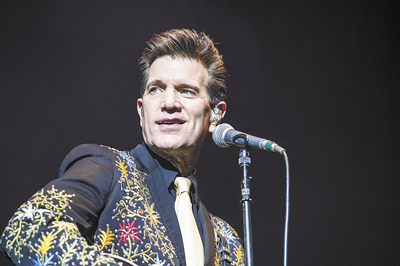 Catch Chris Isaak (pictured above), Sept. 3, and Tears for Fears, Sept. 17, at Maryhill Winery's amphitheater in Goldendale, Washington. Opening acts include Matt Brown and Zipper Club, respectively. Doors open at 5 p.m. and both shows begin at 7 p.m.
For tickets and more information, visit www.maryhillwinery.com.
Resource Studio Online
The Oregon Wine Board (OWB) released a new web-based sales and training resource for the Oregon wine industry on Aug. 8. As described by the OWB, "The Oregon Wine Resource Studio is a mobile-friendly website that houses a comprehensive suite of information and assets illustrating the distinctive aspects of terroir and culture that combine to make Oregon a world-class winegrowing region. Free, downloadable, customizable presentation materials are publicly available, enabling anyone to learn about, train others on or sell Oregon wine."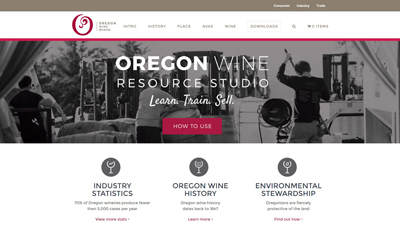 Created by OWB, the Resource Studio content was developed through collaboration. State winemakers and winegrowers from each AVA contributed, as well as climate, soil and wine experts. Highlights of the website include a visual timeline of the industry's history and discussions of all aspects of Oregon's wine industry.
Materials on the site are meant to be shared freely and customized; users can add their own spin and story by downloading a "Template Kit." OWB is offering hands-on workshops for those hoping to utilize the Resource Studio. Visit trade.oregonwine.org for more information.