News Briefs
October 2016
B-Corp Kudos
In mid-September, A to Z Wineworks was recognized and celebrated by B the Change Media as a "Best for the World" company.
A rigorous assessment by independent, nonprofit B Lab evaluates a company's performance as a force for good. Those scoring in the top 10 percent of B Corps around the world receive honors. A to Z was added to the list of 515 "Best" companies because of its excellence in the "community" category, which includes employee diversity and support, supplier relations, community service and charitable giving.
The Newberg-based winery pays an average 33 percent over the local living wage and 100 percent of health benefit premiums for all full-time employees; it also offers paid volunteer time off and tuition reimbursement. A to Z has a strong percentage of minority management and works with community organizations to help vulnerable children and families.
A to Z became a B Corporation in 2014 and was named one of three global B Corp "Champions" in 2015.
For more information, please visit www.atozwineworks.com
Monk-y Business
Portland's newest wine shop, Thelonious Wines, self-described as "a speakeasy wine den" has curated a small cellar of "obscure wines you probably haven't heard of," along with a portfolio of bottles from Europe and a selection of local producers from the Willamette Valley and West Coast.
With only six seats, the cozy wine shop offers its customers bottles to go or glasses to stay. Owners Kelsey Glasser and Alejandro Marchesini also include special flights. Soon wine pairing snacks will augment their menu.
Thelonious is located at 516 N.W. Ninth Ave., Portland.
CCC's New Wine Director
Chemeketa Community College has appointed Jessica Sandrock director of its Wine Studies program. Sandrock previously taught winemaking for Chemeketa.
Sandrock earned a Master of Science degree in viticulture and fermentation from Oregon State University. She's studied and worked abroad in the wine regions of Australia and France.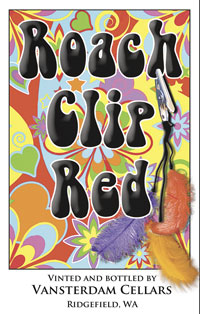 Dope Label
Gary Gougér, owner/winemaker of Gougér Cellars in Clark County, Washington, has released a second label, taking a proverbial toke on the Northwest's newest agricultural business: marijuana. He's named it Roach Clip Red.
The wine does not contain THC, just grapes — specifically Merlot, Syrah and Zinfandel make up the blend.
Roach Clip ($20) can currently be found at Fred Meyer in Salmon Creek, Washington.