News Briefs
May 2016
Oregon "Win" Month
This year's Oregon Wine Month's sweepstakes, "Meet a Maker," celebrates the people who make the industry one of the world's finest. The Oregon Wine Board will be awarding two grand prize packages, focusing on an immersion into one of two wine country experiences, Willamette Valley or Southern Oregon, in which the lucky winners — each with a guest — will enjoy an intimate tour and tasting with a renowned winery, a two nights' stay at a wine country hotel, dinner at a farm-to-table restaurant and a $100 gas card. Three runners-up will win a two-month membership to Cellar 503, a unique Oregon wine club delivering delicious, small-batch wines to your doorstep.
For more details about Oregon Wine Month and/or to enter the sweepstakes, visit www.oregonwine.org/oregon-wine-month.
The 95 Percent
In the April edition of OWP, the feature "ABCs of Oregon's AVAs" stated the following: "When an AVA is designated on the wine bottle's label, 85 percent of the grapes used to make the wine must be sourced from the AVA."
The statement is incorrect. It should read 95 percent.
David Adelsheim of Adelsheim Vineyard explains, "The higher percentages reflect the goal of our industry, first in 1977 with the original rules, and then in 2007 with the major revisions, to set a higher standard for ourselves than the rest of the country.
"Some have said that setting very high percentages for variety (90 percent for most varietals) and appellation (95 percent) have helped insure the industry focuses on the highest quality wines rather than blends that weaken the purity of fruit."
Adelsheim continues, "The appellation percentage in the 1977 rules was actually 100 percent. The industry asked for a minor weakening of that rule to make topping of barrels more practical."
OWP regrets this error.
Taste Dundee
More than 20 Dundee wineries are ready to introduce Oregon Wine Month in style at the Taste Dundee Block Party on May 7 at Dobbes Family Estate. Guests will enjoy a variety of 40-plus selections with local cuisine prepared by The Artisan Peacock and Tina's Restaurant in an open-air atmosphere, all set to music.
Wineries include: Angela Estate, Argyle, Aubichon, Cathedral Ridge, Chapter 24, Dobbes, Domaine Trouvere, Duck Pond, Evening Land, Fox Farm, Four Graces, Hawkins, Hyland Estates, Lange, Le Cadeau, Mellen Meyer, Panther Creek, Rizzo, Salem Wine Co., Script, Sokol Blosser, Terrarossa, Tertulia and Zerba.
Tickets for the event, 11 a.m. to 4 p.m., are $20 in advance — buy them at www.tastedundee2016.eventbrite.com — or $30 at the door. Special pricing will be offered on mixed wine purchases.
RED for Good Reason

Eola Hills Wine Cellars has launched Eola CARES, a campaign to donate $1 per bottle of sales of its newly released Patriot RED — a blend of Zinfandel, Sangiovese, Merlot and Pinot Noir — toward care packages for American troops with an Oregon connection.
The Eola CARES campaign is connected to the existing grassroots campaign called RED: Remember Everyone Deployed, in which people wear red shirts on Fridays to recognize military personnel stationed overseas.
Eola Hills is also is encouraging the public to donate items — a recommended list can be found at www.eolahillswinery.com/red — at any of the winery's tasting rooms in McMinnville, Rickreall and Salem. Complimentary tastings will be offered to those with care package donations.
RED retails for $20 and is currently available through Eola Hills' tasting rooms and online store at www.eolahillswinery.com.
Meet the Sister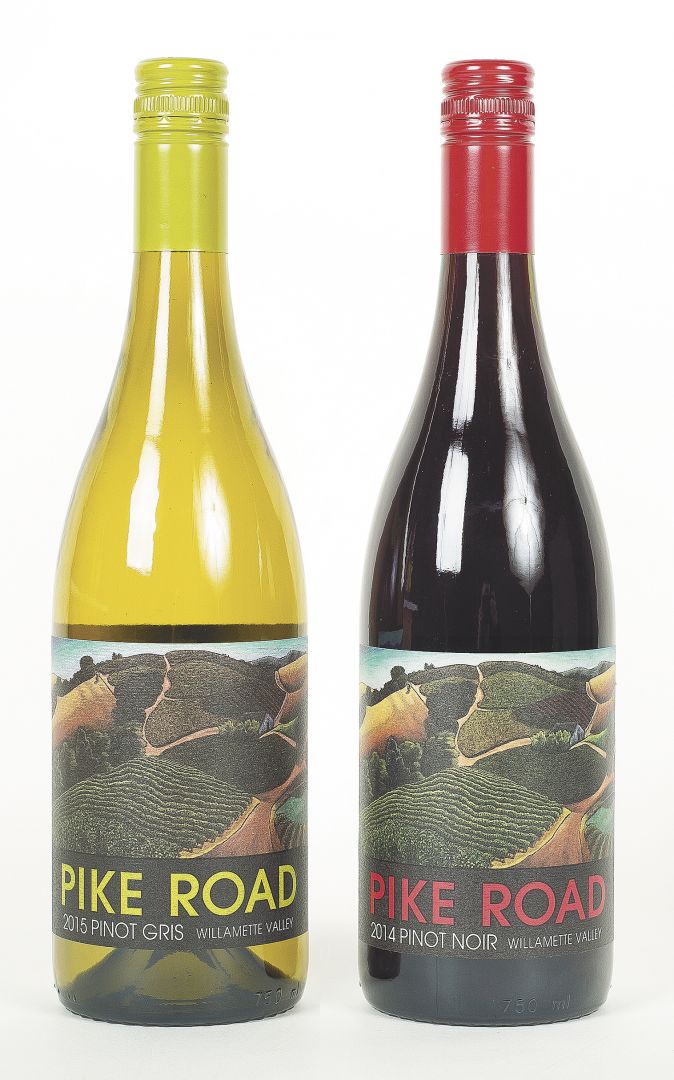 The Campbell family, Willamette Valley farmers for five generations, with more than 40 years' experience tending vines, has launched a new brand, Pike Road Wines.
Elk Cove's new "sister" label offers two Willamette Valley wines: barrel-aged Pinot Noir ($19) and stainless steel-fermented Pinot Gris ($15).
"We created Pike Road to bring wine lovers unbeatable value in Willamette Valley Pinot Noir and Pinot Gris," said Shirley Brooks, Elk Cove's vice president of sales and marketing.
The idea for Pike Road has been in the works for some time now.
Brooks added, "We have been acquiring vineyard sites for the last 20 years for a few reasons: to position Elk Cove to be 100-percent estate grown; to provide sourcing for Pike Road; and finally, because the Campbells are farmers at heart and enjoy establishing new vineyards."
Pike is an actual road winding through the lowland farms of the Yamhill-Carlton AVA and into the Coast Range. Known as one of the more picturesque drives in the Willamette Valley, it is home to orchards, dairy farms and wheat fields. For the Campbell family, Pike Road reflects the spirit of farming in Oregon.
For more about the new brand, visit www.pikeroadwines.com.
Cork Taint No Thing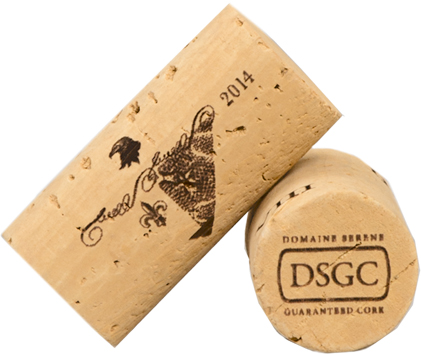 Domaine Serene has instituted a zero-tolerance policy against TCA and other forms of cork taint for all wines, starting with the bottling of its 2014 "r" Rosé V.VIII, which was released in February. The proprietary DSGC stamp on the cork indicates a "Domaine Serene Guaranteed Cork."
Ryan Harris, president of Domaine Serene, says the winery is the first in the world to extend a comprehensive pledge of taint-free natural cork closures to consumers and trade customers. The winery will also continue to offer a 100-percent money-back guarantee on all corked bottles, with or without the DSGC emblem.
Their confidence in offering this certification is based on a cork-by-cork individual inspection which detects off-aromas, including but not limited to TCA, and quarantines any flawed corks.
Jackson Buys Penner-Ash
Jackson Family Wines, and Lynn and Ron Penner-Ash, founders and owners of Penner-Ash Wine Cellars, announced on April 18, that they will combine efforts to produce, market and sell Penner-Ash wines.
Under the terms of the agreement, Lynn Penner-Ash will continue in her role as winemaker and will retain a continuing interest in the success of the Penner-Ash brand. Jackson Family Wines will acquire substantially all of Penner-Ash Wine Cellars' business assets, including the winery and approximately 15 acres of estate vineyards. The California-based company will focus its efforts on providing enhanced sales, marketing, distribution and back-office administrative support.
The specific terms of the agreement were not disclosed.