News Briefs
March 2017
Room in The Back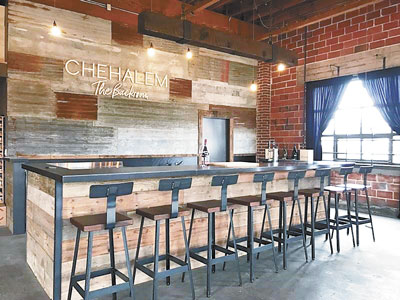 Longtime producer Chehalem is expanding; this time, into their own storage space within the winery's tasting room in downtown Newberg (106 S. Center St.). Previously used to stack cases of wine, "The Backroom" is now open for business.
On Thursdays, beverage and food industry members — as well as the public — can stop in to unwind, network and drink wine. The Backroom is also open Friday and Saturday, 5 to 8 p.m., featuring wines by the glass, and meat and cheese boards available for purchase. The space can be rented for private gatherings, too — those interested should contact Brittney Eisele, Chehalem's new director of events.
The rustic, industrial charm of The Backroom contrasts with the more urban vibe of the tasting bar in front. Exposed brick walls and hanging industrial lights set the tone of the rehabbed space. Local designer Todd Conger of Shelter NW created the new bar and impressive back wall.
Visit www.chehalemwines.com for more details.
Eclipsed at Eola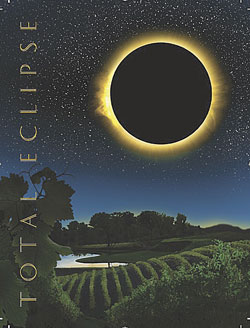 Following its 30th anniversary — celebrated in November — Eola Hills Wine Cellars unveils a number of new releases and specialty wines this year, including a commemorative bottling celebrating the 2017 total solar eclipse to sweep across the Salem area in August.
In addition to the release of Eola Hills Eclipse Pinot Noir, the winery is planning its Eclipse Wine Festival, Aug. 19–21, at Legacy Estate Vineyard.
Find more information at www.eolahillswinery.com and in the June issue of OWP.
Wine-o-Gram
Unlike the "candygram" delivered by the "land shark" in older episodes of Saturday Night Live, Silvan Ridge's "Wine-O-Grams" are no joke.
The Eugene-based winery launched its unique wine gift delivery service on Valentine's Day. Since the holiday of hearts is long gone, no need to fret as the service is continuing and can be at that someone special's doorstep for any occasion.
Available in most of the urban Eugene area and some parts of Springfield, a Wine-O-Gram includes your choice of wine, a card with a personalized message and the option of adding wine truffles. The cost is $10 plus the price of the chosen bottle for most addresses.
For more information, including a wine delivery map, visit www.silvanridge.com.
Bettina Biehl
Bettina Biehl, who co-founded Eugene Wine Cellars in 2000 with husband Bruce Biehl, died in Eugene, Dec. 3, after a battle with breast cancer. She was 53 years old.
Bettina was instrumental in establishing the tasting room in Eugene's first urban winery in the Whiteaker neighborhood. She also had worked in the tasting rooms at Silvan Ridge, Sweet Cheeks and LaVelle Vineyards.
Bettina was born in Switzerland; she moved to Oregon in 1990. She leaves two daughters, Tessa and Joelle.
Meet Mr. Fish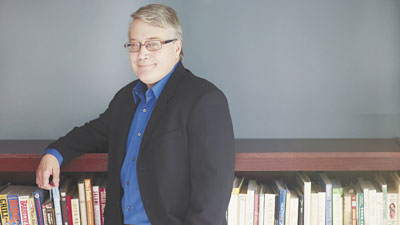 Wine Spectator magazine recently announced a major change in its panel of critics. Tim Fish is assuming coverage of Oregon and Washington from Harvey Steiman, the well-respected editor who for two decades reviewed Northwest wines.
A former reporter at the Santa Rosa Press-Democrat, Fish joined Wine Spectator in 2001. He was promoted to senior editor in 2013 and has been working alongside Steiman for about a year. Fish also contributes news and features online, www.winespectator.com, where you can also find his popular blog, Exploring Wine.
Through the magazine's website, in a story uploaded Feb. 13, Fish was quoted as saying, "The more I learn about Oregon and Washington, the more I enjoy and respect the wines."