News Briefs
June 2018
New tech-based shuttle
NW Wine Shuttle delivers a different way to explore wine country. The company's first official route features the Dundee Hills. Before boarding the ecoShuttles, fueled with biodiesel, guests are encouraged to visit the website to design their own experience, selecting from a list of wineries according to their desired taste and experience, and then share it with friends. If their minds change when in route, they can hop off wherever they'd like. For more information, including fees, visit nwwineshuttle.com.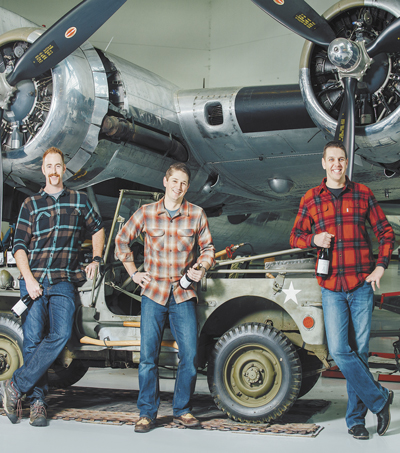 Dauntless wins grant
For the sixth year, the FedEx Small Business Grant Contest has awarded several small U.S. businesses more than $120,500 in money and services to help their businesses grow. Dauntless Wine Company as a 2018 recipient of the bronze prize: $7,500 plus $1,000 in FedEx Office services, including temperature-controlled shipping.
Founders Ben Martin, Ryan Mills and Paul Warmbier, all Veterans, are dedicated to helping fellow soldiers, including donating end-of-year net profits to Veteran groups and more.
Five Fourteen opens
Five Fourteen Vineyards celebrated its grand opening May 25–28. Northwest of Eugene, sitting at 350- to 500-feet elevation, the vineyard was first established in 1998 with plantings as recent as 2016. With 30 acres in vines, all LIVE-certified, owners Marie and Tom Kokkeler offer estate-grown Pinot Noir, Pinot Gris, Chardonnay and Riesling with the help of consulting winemaker Drew Voit. Five Fourteen's tasting room is located at 91470 Territorial Highway, Junction City. More details at fivefourteenvineyards.com.