News Briefs
June 2016
Laughlin Loop Scoop
Wineries just east of Yamhill are cooking up a cool, new summer event: Discover Laughlin Loop.
The two-day tour, Aug. 6–7, will include eight Yamhill-Carlton AVA wineries located on Laughlin and Woodland Loop roads. Home to a mix of established and brand new wineries, this neighborhood collective is coming together to celebrate summer in their neck of the woods.
With spectacular views guaranteed, the tasting rooms will offer a variety of wines — Pinot Noir, Pinot Gris, Chardonnay and others — and food, too. But not just plates of cheese and crusty bread; food trucks will be parked at each location. How cool is that? — not so much for the chefs inside their mobile kitchens, but alas, they are used to the heat.
Guests can either drive themselves to each locale or opt for a ride from a vintage bus available to any interested — and well-timed — taster. An educational scavenger hunt will keep everyone guessing and moving along the route filled with a variety of tasting experiences.
From new boutique producers to founders of the AVA with 25-year-old vines, Laughlin Loop wineries include: Beacon Hill, Gran Moraine, Fairsing, Lenné, Roots, Saffron Fields, Soléna and WillaKenzie.
Food carts for the event include: La Arepa, Big Tony Brown BBQ, Tamale Boy, Phat Cart, Renaissance Pizza, 3 Guys Grilling and 503 Burger Company, plus chocolatier Smitten Truffles.
Advance tickets cost $45, or $50 on the day of the event. Each ticket allows for one tasting at each participating winery, shuttle service between locations, two $5 food cart vouchers and a chance to win a wine country gift basket with the completion of a scavenger trail book. Club members of participating wineries can contact your club manager for a special discount code to the event. "Like" Discover Laughlin Loop on Facebook for the latest information or to purchase tickets.
Vine Venue with a View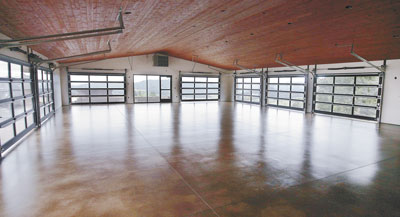 Wayne and Nicolette Bailey of Youngberg Hill Vineyards & Inn recently unveiled an expansive event space on the McMinnville property known for its vines and views.
The 3,600-square-foot structure, located behind the inn, features eight rolling glass doors that open to the surrounding scenery, giving up to 200 guests a picture-perfect venue for all types of gatherings, including anniversaries, conferences, weddings, concerts and more.
"It is something that Nicolette and I have been talking about for 10 years," said Wayne. "We finally looked at each other and said, 'If we don't do it now, we won't ever do it.'"
Reflecting the exterior of the nine-room upscale inn, the event center blends perfectly into Youngberg's landscape and offers a solution for year-round celebrations, including the 25 to 30 weddings held on the property — voted a favorite by Oregon Bride Magazine — during the summer months.
The new center's versatility also offers transitional, indoor/outdoor options in months like April and October, when the weather can be less predictable. Bailey explained that portable tents had been utilized in the past for outdoor events, but they couldn't quite offer enough protection to guarantee comfort during winter months.
"We do benefit concerts for everyone from Linfield College to Habitat for Humanity," he noted. "The first week of October has always been a cut-off, but the new building will allow us to do those events all year long."
Included in the winery's calendar are Youngberg's popular Wine Wednesdays, which can now run all-year long — not just in during the sunny season. Featuring the winery's estate-grown Pinot Noir, Pinot Gris and Pinot Blanc, this year's opener is set for June 8, with live music, food trucks and later hours for tastings at an outdoor bar — views included.
In addition to the covered space of the building, a new patio has been added with approximately 900 square feet of poured and stamped concrete flooring that can accommodate a 20- by 30-foot tent. The center also showcases a catering kitchen for vendors preparing food.
For information on booking the event center, contact Nicolette Bailey at 503-472-2727 or info@youngberghill.com.
King-Sized Biodynamics
King Estate recently announced its efforts to earn Biodynamic certification by Demeter USA.
After the process is completed — on track for later this year — the Eugene winery will have the largest Biodynamic vineyard — 1,033 acres with 465 planted — in the U.S. and one of the largest in the world.
Since 2002, King Estate has been certified organic by Oregon Tilth, an internationally recognized certifying body and the third-largest organic certifier accredited by the USDA.
With 16 Biodynamic vineyards, ranging in size from 10 to 286 acres, Oregon is already home to more than 20 percent of the Biodynamic vineyards in the U.S. before King Estate is added, increasing the state's acreage by more than 50 percent.
Crafty in Clark
The 2016 Craft Beer & Winefest, June 10–12 at Esther Short Park in Vancouver, Washington, celebrates Clark County's burgeoning beverage scene with 100-plus wines, 30 craft beers and more. Tickets online at www.thecraftwinefest.com.
Winners of a pre-event contest judged by wine professionals:
White
Double-Gold: Bateaux 2014 Moscato
Gold: VanArnam 2014 Melange
Gold: Bateaux NV Vilaine
Silver: VanArnam 2015 Riesling
Silver: Michael Florintino 2014 Mystura Blanco
Bronze: Basel 2015 Sauvignon Blanc
Sweet/Dessert Wine
Silver: Michael Florintino 2012 Dessert Wine
Red:
Double-Gold: Basel 2015 Syrah
Gold: Burnt Bridge 2013 Grenache
Gold: Michael Florintino 2011 Tempranillo
Gold: Bontzu 2014 Merlot
Silver: Major Creek 2013 Cab Franc
Silver: Five Star 2012 Cab Sauvignon
Bronze: Olequa 2014 Pinot Noir
Bronze: Bontzu 2014 Malbec
Bronze: VanArnam 2013 Cab Sauvignon
Bronze: Bateaux 2012 Cab Sauvignon
Red Blend
Gold: Koi Pond NV Geisha Red
Gold: Burnt Bridge 2015 Pont Brule
Silver: Burnt Bridge 2013 Blend O
Silver: Major Creek 2014 Goodness Gracie