News Briefs
July 2016
Elizabeth Chambers Reboots
This spring, workers from Cellar Ridge Construction demolished the rear half of Elizabeth Chambers Cellar's building, housing in 1926 the city's power plant and occupied for decades by Ken Wright's Panther Creek Cellars. A new concrete pad will allow for a 5,212-foot expansion.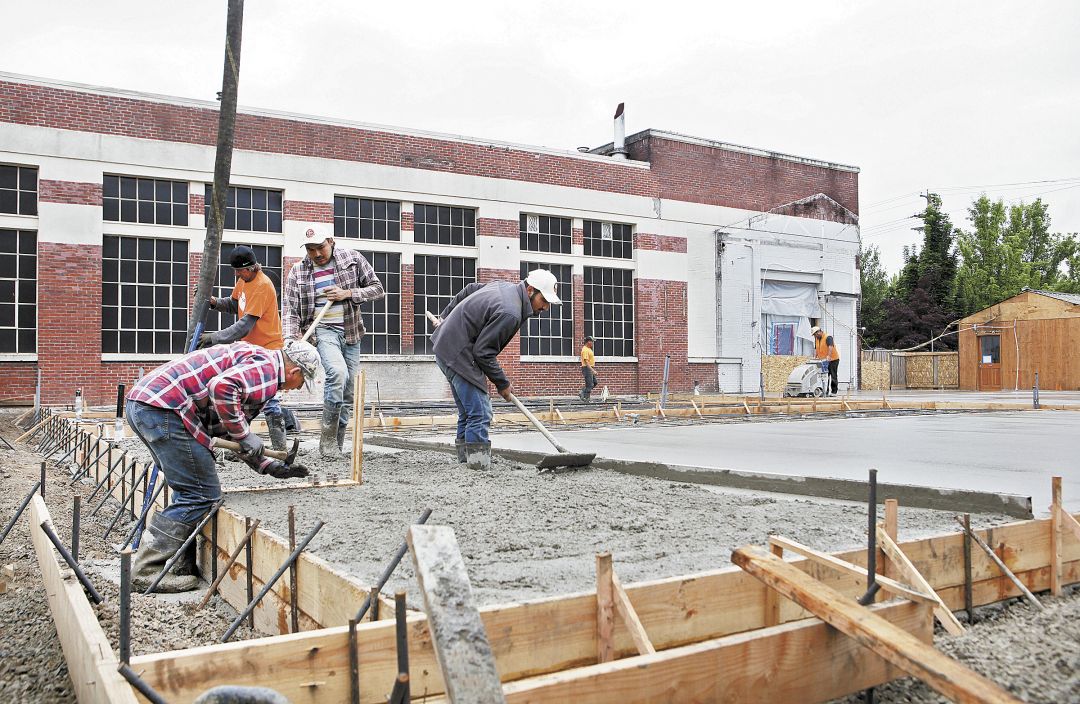 Cellar Ridge's work is already on display in the tasting room at 455 N.E. Irvine St. Construction is expected to continue through summer, but the winery and tasting room will remain open for business.
Project Manager Zack Geary said the new building will lie behind the existing one. Though not required, as the site is outside the boundaries of McMinnville's Downtown Historic District, it will be built to resemble the original, he said.
"It will be historically appropriate," he said. "It won't match exactly, but it will look older."
Part of the remaining structure will also be gutted and renovated. Geary's crew is taking great care to retain and restore as many of the original elements as possible, including window frames on the north side that are crusted with rust.
More than 18,000 bricks from the demolition will be used to create facade walls on the north and south sides of the new building, resembling the brick work of the original. Seventy-five feet of trench drains will enable the winery to store and treat 2,000 gallons of wastewater before discharging it to the city. At present, it has only 500 gallons of storage capacity. Also, 253 window panes are slated for replacement, and the building will get a new roof.
General Manager Sunny Miller said the expansion and renovation will allow employees more room to work on their product.
"It's not because we're about to go produce 20,000 cases of wine," she said. "It's more of a modernization. Some of this stuff just had to be done."
Traditionally, Elizabeth Chambers Cellar produces about 3,500 cases a year. But the last two years, it expanded to about 5,000 cases — a by-product, Miller said, of the availability of "amazing" fruit. The expansion will allow the winery to comfortably produce at that level while still allowing room for custom crush clients.
Crews hope to complete work in the fall, Miller said.
"Now, winemakers won't have any excuses," she said. "They can't run the forklift into things because there's not enough space."
More Cellar Ridge Projects
During the renovation at Elizabeth Chambers Cellar, Cellar Ridge workers found handprints in the concrete slab that Ken Wright poured there many years ago with his sons' Cody and Carson Wright. A few months ago, Cellar Ridge poured a slab for Cody's new Purple Hands tasting room in Dundee, where Cody, his wife, Marque, and their toddler placed similar handprints. The project is still under construction.
Just down the street in Dundee, Cellar Ridge is working on another new tasting room for Brianne Day's Day Wines brand; construction is in its initial phase.
Breaking News
Adelsheim Vineyard is releasing a new wine, Breaking Ground, a 2014 Chehalem Mountains Pinot Noir.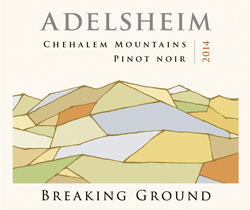 Honoring the winery's roots in the AVA, the new label recognizes Adelsheim's early involvement in the wine community and deep understanding of the appellation's terroir.
The name reflects the winery's desire to stay in the forefront, continuously raising the bar for the brand and the state's industry as a whole.
Breaking Ground ($45) is made entirely from LIVE-certified fruit grown in all three major soil types found on the Chehalem Mountains: marine sedimentary, volcanic basalt and windblown loess. The wine embodies Adelsheim's signature style, reflecting the elegance of Willamette Valley Pinot Noir.
For more information, visit www.adelsheim.com.
Must-Experience
Celebrating 14 years, Oregon Wine Experience returns this summer, Aug. 22–28, at the historic Bigham Knoll Campus in Jacksonville.
Produced by the Asante Foundation and the Southern Oregon wine industry, the popular celebration, formerly known as the World of Wine Festival, attracts thousands of people to experience Southern Oregon wine and food. During the course of the week, guests will have the opportunity to taste wine from more than 50 wineries and participate in a variety of unique activities.
Event offerings include a wine competition followed by a medal celebration, a variety of wine-focused classes, intimate winemakers' dinners, barrel auction, the Miracle Auction and salmon bake, and a grand tasting.
Last year, the event raised more than half a million dollars for charity.
For tickets and more information, visit www.theoregonwineexperience.com or call 541-789-5025.
Terroir Congress
Organized by Southern Oregon University in Ashland and hosted by McMinnville's Linfield College, the 11th International Terroir Congress is making its North American debut in the northern Willamette Valley, July 10–14.
"This is a huge win to gain some international exposure to scientists and people that do terroir-based research," said Greg Jones, an environmental science professor at Southern Oregon University, who is leading the planning efforts.
The Society of International Terroir Experts gathers every other year. During the last congress in Tokaj, Hungary, Jones nominated Oregon against a Spanish venue, and it was selected. For many of these scientists — Jones expects 150 to 180 delegates — this will mark their first time visiting Oregon.
The congress includes a wide variety of oral presentation sessions, poster sessions, site visits around the region and wine tastings representing the greater Pacific Northwest.
For more information, visit www.terroircongress.org. Look for a news story about the event in the August edition of OWP.
Cellar 503 in the House
Boutique wine club Cellar 503 has opened a tasting room in S.W. Portland. Situated in a home built in the 1890s, the 1,000-square-foot space offers a cozy, residential atmosphere.
Designed by Ideaspark, the interior evokes a vintage industrial aesthetic, with elements designed by local craftsmen. A copper bar, reclaimed hardwood tables, Chesterfield sofa, hand-tufted area rug, farmhouse lighting, historic Oregon photos, cork wallpaper and custom mural by Jeffrey Francoeur provide a distinct style. Outside, a patio with heaters gives customers an al fresco alternative.
The tasting room, located 4407 S.W. Corbett Avenue, is open to the public by appointment and for monthly Sip 503 tasting events on the third Sunday of each month, 2 to 5 p.m., and are open to all.
For more information, visit www.cellar503.com.
Brand Sparkling New RMS
Rollin Soles' legacy is intricately intertwined with the story of sparkling wine in Oregon. He built Oregon's first sparkling wine facility in 1987 with Argyle Winery and continues to serve as a mentor to their winemaking program.
The Willamette Valley, with its cool-climate production of Chardonnay and world-class Pinot Noir, is ideal for sparkling wine. As a shareholder in Radiant Sparkling Wine Company, Andrew Davis' custom-crush company dedicated to traditional bubbles, Soles has helped to increase Oregon's offerings.
After involvement in Oregon sparkling wine almost from the beginning, Soles' name has moved from the back label to the front. ROCO Winery will release the 2013 RMS (Rollin Michael Soles) Brut this fall.
The new méthode Champenoise wine is a blend of Pinot Noir and Chardonnay sourced from higher-altitude vineyards in a variety of Willamette Valley AVAs: Blossom Ridge (Eola-Amity Hills), Vista Hills Vineyard (Dundee Hills) and Gran Moraine (Yamhill-Carlton).
"After 30 years of making fine sparkling wine, I feel like it's part of my body and soul," he said.
When Soles tasted the wine in the early production stages, Soles was pleased. "Two and a half years later, the wine is exceeding my expectations," he said.
He predicts, with time, the Willamette Valley will become the top New World wine region for fine, complex sparkling wines.
Approximately 700 cases were made of the 2013 RMS Brut ($65). Following the tradition of the great Champagne houses, 100 cases will be held for future disgorgement in 2023. For more information, visit www.rocowinery.com.