News Briefs
August 2016
Remy Wines Celebrates 10
By Neal D. Hulkower
Two days before the street fair celebrating her winery's first decade, Remy Drabkin is on hold with UPS. A shipment of shirts for the party went missing two days earlier. With her phone at the ready, the self-described "first Jewish lesbian elected official making wine in the Willamette Valley" recounted significant events of the last 10 years.
During her first vintage, 2006, she processed nine tons of fruit, including some Pinot Gris. Since she had intended to restrict her eponymous brand to Italian varietals, she also introduced Three Wives, a label focused on "really good everyday wines."
In 2011, Drabkin established her wine club, Bell 'Amici. In addition, she harvested the first fruit — a small amount — from her family's Lone Madrone Vineyard; the resulting Pinot Noir Nouveau, named after her father, Jules, was made under the Three Wives umbrella. Drabkin also released "Three Wives – the Movie," a video explaining the origin of the unusual name.
A year later, Lone Madrone's first real vintage commenced and Drabkin opened "baR" (pronounced R bar), a tasting room, gallery and general McMinnville wine hangout.
Drabkin crafts 50 to 250 cases each of Sangiovese, Barbera, Dolcetto, Nebbiolo and Lagrein under the Remy label. Native to South Tyrol, Italy, and grown in Alto Adige for more than 600 years, Lagrein is an esoteric variety attracting attention to her winery since its initial release in 2006. She now sources all her Lagrein from Lone Madrone. The Three Wives 2014 Remy's Red remains her largest production, numbering more than 800 cases.
As Drabkin's winery has grown, the former one-woman operation now supports a six-person staff. Clearly not having enough to do, she successfully ran for McMinnville City Council in 2014. And then there's the anniversary extravaganza she planned with her wife, Laura Pedroni.
During the three-hour celebration on July 17, 300 guests congratulated the winemaker and all her successes. Artwork filled walls and booths while movies featuring the host were shown inside. Pura Vida and Nick's provided tasty sustenance; and, of course, Remy Wines and Three Wives, along with Basket Case Wines — made by Drabkin for Twist Wine Co. — filled glasses. Portland's Opera a la Cart entertained with games and raffles infusing a carnival vibe, while flowers and produce added a farmer's market flavor.
Over the next decade, Drabkin says she has no ambitious plans, just refinements and improvements. With her current space filled and no interest in moving, she's content with her case production.
Unfortunately, the logo wear did not arrive in time. When it finally does, could this require a second celebration? And if it did, could it beat the first one, which was so much fun, so Remy?
Billion Flower Bee Highway
LIVE-certified wineries are helping to restore pollinator habitat back into the agricultural landscape by establishing the Billion Flower Bee Highway, a program that encourages customers of LIVE-certified wineries to plant complimentary wildflower seed postcards to attract friendly pollinators.
When visiting the tasting rooms of LIVE members (see below), ask for a seed postcard, plant it at home, and watch for sprouts after a few weeks.
Flowers include: Globe Gilia, Diamond Clarkia, Lacy Phacelia, Western Buttercup, Common Camas, Sickle Keel Lupine, Lewis Flax, Western Yarrow, Canada Goldenrod.
For a list of member wineries, visit www.livecertified.org.
Vine & Dine
It's time for Vine & Dine at Sip D'Vine. The fourth annual event, set for Aug. 21, promises more than 25 limited-production Northwest wineries pouring their latest in the charm of the Multnomah Art Center in Portland's Multnomah Village.
Tickets also include bites from artisan vendors, a souvenir glass, collectible event guide and the opportunity to learn from the winemakers themselves. Attendees can order bottles as they discover their favorites and be entered into a raffle; the winner will take home 100 bottles of premium Northwest wines and six months of cellaring donated by Portland Wine Storage.
Among the wineries represented at this year's festival are Crowley Wines, Sineann, Denison Cellars, Ciel du Cheval, Owen Roe and Lobo Hills.
The festival opens at 1 p.m. for VIP ticket holders ($50 in advance; $55 at the door) and 3 p.m. for general admission ($30 in advance; $35 at the door). For more information and to buy tickets, visit www.vineanddine2016.eventbrite.com
Created by Sip D' Vine owner Jill Crecraft, the event will donate all proceeds to the Multnomah Village Bloc's Initiative, a nonprofit dedicated to solving the area's safety and accessibility issues.
Multnomah Arts Center is located at 7688 S.W. Capitol Highway. Please note: This is a no-scent event.
Santa Barbara via Bend
By John Gottberg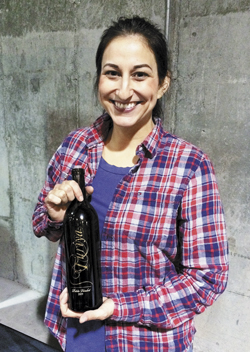 Angela Soleno isn't an Oregon winemaker, but she has roots planted in this state. And her avant-garde Southern California winery reflects the maverick sensibility of many an Oregonian.
Soleno, owner and winemaker of tiny Turiya Wines in Lompoc, was one of 11 Santa Barbara County viticulturalists who traveled to Central Oregon last month to share their wines at Bend's fourth annual Cork & Barrel event, July 14–16 at the Broken Top Club. The fundraiser benefitted KIDS Center, which provides medical evaluations among other services for abused children.
In an AVA better known for its Chardonnays and Pinot Noirs, Turiya specializes in big Bordeaux-style reds and Sangiovese. The winery rarely produces more than 200 cases a year, including small lots of Cabernet Sauvignon, Syrah, Merlot and Cabernet Franc. In Bend, Soleno presented her Sangiovese and Petit Verdot, both individually and in a 50-50 blend she calls Golden God, along with a Malbec. The wines, aged four to five years in barrel and another year in the bottle before release, met with rave reviews.
Soleno's mother and stepfather, Bessie and Tom Bollag, are the owners of Bruno's Chef's Kitchen, an eclectic restaurant in south Eugene. Turiya Wines, naturally, are on the list.
Santa Barbara County wineries at this year's Cork & Barrel included Artiste, Brewer-Clifton, Cambria Estate, Casa Dumetz, Martellotto Wines, Martian Ranch, Nielson by Byron, Presqu'ile, Sanford Winery and Sunstone Vineyards, along with Turiya.
Four Thursday night wine dinners featured Portland chef O.J. Robinson of the Benson Hotel, and Bend chefs Joe Kim of 5 Fusion & Sushi Bar, Kevin Linde of the Pronghorn Resort and Bette Fraser of The Well Traveled Fork.
Friday night, a silent auction highlighted "A Sip of Cork & Barrel," with pourings of 36 wines and small plates by several Bend chefs. Saturday night's "Grand Cru" dinner showcased more luxurious auction items, with an end result of nearly half a million dollars being raised — roughly 25 percent of KIDS Center's annual operating budget.
Each year, Cork & Barrel presents a different wine region — previously Walla Walla, the Willamette Valley and the Napa Valley. Next year's region has not yet been announced.