News Briefs
April 2016
Argyle Art Scholarship
Argyle Winery has announced a creative partnership with the Pacific Northwest College of Art (PNCA) in Portland, including the creation of The Argyle Scholarship.
The scholarship, open to all PNCA students, will be awarded through a juried competition. Participants will be invited to submit a work reflecting a creatively researched understanding of Argyle and the surrounding wine community in the Willamette Valley.
The winner will see his or her artwork featured on a label for a new, small-production Argyle sparkling wine — available in late 2016 — and will be honored with a reception at the winery in the fall.
Information about the scholarship is available at www.pnca.edu.
Baby, You Can Drive My Car
A new way to tour wine country has arrived in the Willamette Valley. Main Street Drivers, a New York-based company, has created a network of designated drivers — insured and vetted — who will drive tourists in the comfort of their own cars.
For more about Main Street Drivers and its services — including the DWI Prevention program — visit www.mainstreetdrivers.com.
Chill in Yamhill
Oregon Vines, Yamhill's first wine and beer tasting room, will open April 2.
Located in the can't-miss lavender farmhouse on Highway 47 (and Maple Street), Oregon Vines dishes out charm with its building, circa 1896, and vintage décor. A new deck surrounded by lush landscaping adds to its inviting atmosphere.
Customers can purchase beer and wine by the glass or tasting flights; they also can buy bottles/growlers to take home. Local gourmet cheeses, jams, crackers and wine country gifts are also available.
Owner Kat Kellogg plans to host a variety of events, including live music.
For more details, contact Kellogg at kat@orvines.com or 503-407-7224.
King Estate Joins the Willamette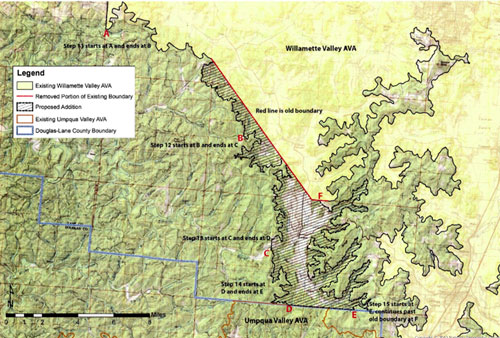 King Estate Winery, a leading producer of Oregon Pinot Gris and Pinot Noir, has officially joined the Willamette Valley AVA.
Located in Eugene, King Estate petitioned the federal government in 2013 to expand the 5,360-square-mile Willamette Valley viticultural area by 29 square miles to include the winery's estate. The expansion includes nearby Iris Vineyards, which also supported the request. Neither winery existed when the Willamette Valley AVA (American Viticultural Area) was formed in 1983, and both abut the previous border.
The U.S. Treasury Department's Alcohol and Tobacco Tax and Trade Bureau (TTB), which oversees AVAs, approved the request on March 3, 2016, following an extensive public regulatory process. This is the first time since it was established in 1983 that the Willamette Valley AVA has been expanded.
One of 18 AVAs in Oregon, the Willamette Valley stretches 120 miles from the Columbia River south to the Douglas County line. It is 60 miles wide and further distinguished by unique features relating to climate, soil and topography, which in turn shape the quality and characteristics of the wine produced there.
The TTB agreed that King Estate soils, elevations and temperatures are similar to those found within the existing Willamette Valley AVA.
"This modest expansion of the Willamette Valley AVA is entirely congruent with the attributes of this wine region," said David Beck, chairman of the Oregon Wine Board, which supported the expansion request.