A Serious Crush
Rogue custom crush facility a game-changer
By OWP Staff
Southern Oregon's wine industry continues to expand, and impressively so, with innovative and exciting opportunities. Enter Naumes Crush & Fermentation, the region's newest and most modern wine-processing facility.
The 23,000-square-foot structure, designed for easy expansion, is set to open Aug. 1. Located near downtown Medford, Naumes (NAH-mus) Crush will provide full-service winemaking, lab analysis, cold storage and support services to growers and wineries throughout the region.
"Southern Oregon needed more custom crush capacity, and we see vast potential here," says Chief Operating Officer Laura Naumes. "Clients will use us to produce many types of wine according to their exact specifications."
Growing fruit in Oregon for 113 years, the Naumes family is a leading producer of pears, apples, cherries and specialty fruit in the Pacific Northwest and California. Of its 2,000-acre holdings in the Rogue Valley, Naumes has planted 70 acres to premium winegrapes with plans to add much more. "Custom crush is a logical extension of our family's long agricultural heritage," adds Naumes.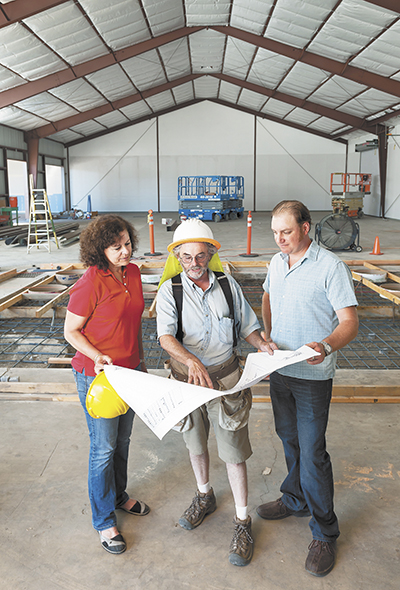 Naumes Crush can handle a wide range of grape varieties and winemaking styles. The secure, ultra-sanitary facility is large enough to accommodate all custom crush needs, yet small enough to guarantee personal attention. Laura Naumes estimates the facility will process up to 200 tons of grapes this year, ultimately rising to 500.
Naumes Crush's first winemaker, Chris Graves, is a graduate of the UC Davis Viticulture & Enology Program and has extensive knowledge of wine chemistry and analysis, understands modern winemaking thoroughly and has custom crush experience. Previously, he served as assistant winemaker at Wente Vineyards in Livermore, Calif., then winemaker for Wente's "Cal-Ital" winery, Tamás Estates, before starting two of his own businesses, Ruby Hill Winery and Rubino Estates Winery.
"Naumes Crush is committed to expanding the sophistication and success of Southern Oregon wine," explained Graves. "We're the 'uncustomary custom crusher' and will be constantly incorporating new best practices in winemaking and business operations, helping take wines made here to the next level."
Most clients will be Rogue Valley or Umpqua Valley vineyard owners, smaller wineries and individuals crushing between two and 50 tons annually. A modern onsite lab will perform many high-end quality control tests and procedures. And staff can help clients closely monitor the chemistry of their wines throughout fermentation and barrel aging.
Designed in part by Willamette Valley consulting winemaker Robert Brittan, Naumes Crush is state of the art. Advanced equipment include optical sorting and hand-sorting tables, 30-plus stainless steel-jacketed fermenters, gravity transfers, optional open or closed membrane pressing and more, all sourced from leading suppliers.
Naumes Crush has nearly 20,000 square feet of secure, temperature-controlled space to age or store finished wines. A fully automated temperature control system will provide maximum fermentation management. The facility also has extensive cold storage areas for harvested grapes (unique in Southern Oregon) and for cold soaking on site.
"We've invested heavily in advanced information technology for data monitoring, management and reporting," says Graves. "Everything is organized to produce client wine that customers will love."
For more information, visit www.naumescf.com or call 541-608-1721.