My Southern Oregon Adventure
The wine, the people, the scenery make for a must-take trip south
By Carrie Wynkoop
To be honest, it's kind of a dream job, owning a wine club. This summer, I spent a month driving the hills and valleys of Southern Oregon looking for great wine. And you know what? I discovered some extraordinary ones there.
Yes, Oregon is the land of Pinot Noir, but there is so much more to our extraordinary state. I met with more than two dozen winemakers during my time in Southern Oregon, from Roseburg to Ashland, and Elkton to Eagle Point. And while I did enjoy quite a few Pinot Noirs — yes, Southern Oregon Pinot! — what impressed me most was the huge range of other varietals — Tempranillo, Syrah, Viognier, Marsanne Roussanne and more.
The Southern Oregon wine community has really come into its own over the past few years, recognizing what it's good at and weeding out what it isn't. Stunning landscapes, gloriously warm weather and a laid-back vibe among winemakers — and no traffic — make this region one of my favorite places to visit.
But as always, the best part of my job at Cellar 503 is meeting the people behind these glorious wines and hearing their stories. Each winemaker arrives at this profession along a different path, but they are united in their passion for their craft.
The following are just a few of the gems I've discovered.
LaBrasseur Vineyard
After my first visit to LaBrasseur Vineyard's beautiful property — literally over the river, through the woods and up a long gravel road — outside Medford, an idea stuck with me: "This place is in the middle of nowhere, but everyone needs to know about this wine."
Fred and Candy LaBrasseur started the winery in 2011 as a retirement project. Fred had just finished a 34-year career with the Medford Fire Department, and the couple wanted to grow something on their property in Eagle Point. After consulting with a few folks in the area, they decided winegrapes were the perfect crop. But they didn't just want to grow grapes; they decided to make wine with them, as well.
With a lot of hard work, a little luck and some great advice from fellow winemakers in Southern Oregon, they planted their vines and built their winery by hand. Today, they harvest their grapes and bottle their wines all by themselves.
Wooldridge Creek Winery
Outside Jacksonville at Wooldridge Creek, you'll find winemakers Greg and Kara Paneitz.
With his background in chemical engineering and education in France, and hers in food and marketing within the California wine industry, they are a perfect match. Their passion for making high-quality, small-lot wine — that will last for years — and their love of Southern France's climate and winemaking style brought them to Southern Oregon in 2002.
What is special about Greg and Kara is their strong commitment to the winemaking community in Southern Oregon. They understand that if the region is going to thrive, they need to bring in new, young winemakers and provide them with mentors. But to persuade these young winemakers and their families to settle and stay in the area, there must be strong public schools and community resources. So Greg and Kara have devoted themselves to supporting their local schools — as well as young winemakers.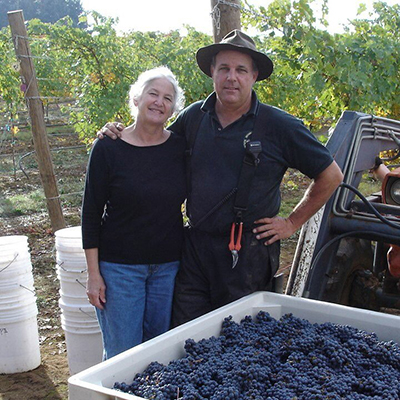 Delfino Vineyards
Douglas County is one of America's great timber-producing regions, with 1.8 million acres of timber land. But hidden away behind the trees, you'll find one Umpqua Valley winery after another, including Delfino Vineyards. Off the beaten path — far off —Delfino is surrounded by gorgeous rolling hills of vines interspersed with groves of Douglas fir situated around a pond with a picturesque home, guest house and winery.
You'd never know Delfino was there unless you were consciously looking for it, which was exactly what owners Jim and Terri Delfino were hoping to achieve. It was supposed to be their retirement home. Maybe they'd raise cows, too. But when the previous owner invited them to dinner and served a bottle of amazing Oregon wine made just up the road, Jim and Terri realized winegrapes were in their future.
At first, they thought they'd just sell grapes to winemakers. And they did. But before long, they discovered a passion for making their own wine. Through trial and error, self-study and great mentorships, Jim has become a respected winemaker who helps students at the Southern Oregon Wine Institute at nearby Umpqua Community College.
Jim and Terri Delfino are two of the most welcoming people you'll ever meet. If you're heading to Southern Oregon, their winery is a must-see — you can even stay overnight in their bed-and-breakfast guest cottage.
For these wineries, making wine and growing grapes is a family affair. All three of these wineries are husband-and-wife teams passionate about making great wine and being an active part of the Southern Oregon wine community. Their stories are representative of winemakers I met during my trip. Great wine, gorgeous locations and welcoming people.
Who could ask for more?
Carrie Wynkoop is the founder of Cellar 503, a wine club featuring unique, high quality, affordable wines that represent the full range of Oregon wine. Cellar 503 is for anyone who loves Oregon wine and wants to explore.