Mother's Day Brunch in Wine Country
Treat Mom to fine wine and fabulous food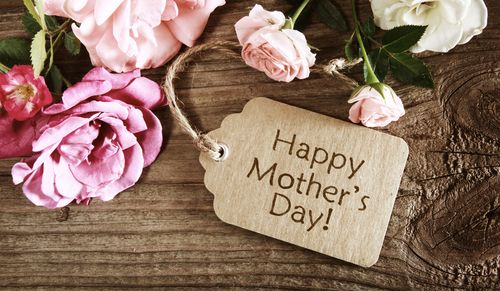 May 10
Chateau Bianca
Featuring made-to-order omelet bar, entrées, dessert bar and fresh-cut fruit. Adults: $30; Seniors: $25; Ages 14 to 20: $20, Ages 6 to 13: $15. Those 21 years and over receive a complimentary glass of wine or sparkling, and moms receive a free long-stemmed rose. Time: 10 a.m. to 2 p.m. Reservations required.
17485 Highway 22, Dallas
503-623-6181 | www.chateaubianca.com
Left Coast Cellars
Enjoy a complimentary glass of our debut 2011 Blanc de Noir sparkling and a brunch featuring Northwest quiche with estate eggs and gluten-free potato crust, salad, muffins, fresh fruit and sweet treats. Fee: $35 (reservations required). Seatings: 11 a.m. and 1 p.m.
4225 N. Pacific Highway 99W, Rickreall
503-831-4916 | www.leftocastcellars.com
Maryhill Winery
Celebrate Mother's Day with our sparkling brut, a light brunch available for purchase from Cobblestone Catering food truck (11 a.m. to 4 p.m.), fantastic views and a tasting of our award-winning wines. All moms receive a complimentary tasting. Hours: 10 a.m. to 6 p.m.
9774 Highway 14, Goldendale, WA
509-773-1976 | www.maryhillwinery.com
Plum Hill Vineyards
Treat your mum to a sumptuous four-course luncheon prepared with love from 1910 Main, and paired with our wines. Tickets: $35 per person (include food and wine). Limited to 30 spaces. Please call for reservations. Call for times.
6505 S.W. Old Highway 47, Gaston
503-359-4706 | www.plumhillwine.com
Ponzi Vineyards
Enjoy fresh seasonal fare, breathtaking views and a surprise tasting of brand new Ponzi wine, inspired with mothers in mind. Seatings: 10 a.m. and 10:30 a.m. Fee: $50 per guest ($45 for club members); $15 per child (includes glass of "Cugini" sparkling grape juice).
19500 S.W. Mountain Home Rd., Sherwood
503-628-1227 | www.ponziwines.com
Red Ridge Farms/Durant Vineyards/ Oregon Olive Mill
Join us Saturday, May 9, for a spring tea party where you can create a hanging basket or planter of your own design. Savor some delicious brunch bites and specialty teas, surrounded by our beautiful gardens. Fee: $49 per person. Time: 10:30 a.m. to noon.
5510 N.E. Breyman Orchards Rd., Dayton
503-864-8502 | www.redridgefarms.com
Sokol Blosser Winery
Join Sokol Blosser Winery founder and mother Susan Sokol Blosser with her daughter and CEO Alison Sokol Blosser for an intimate brunch celebrating Mother's Day. Limited seating. Reservations required. Fee: $35. Time: 10 a.m. to noon.
5000 Sokol Blosser Lane, Dayton
503-864-2282 | www.sokolblosser.com
---
More Mother's Day Events and Tastings
May 1–31
Hyland Estates
Instead of just one day dedicated to that very special and important person, we decided to dedicate an entire month to her. Bring your family, reserve a picnic table and take advantage of our half-off special on our mouthwatering 2012 Riesling when enjoyed onsite. Nothing says "thank you" like a day with loved ones and a glass of wine. Hours: 11 a.m. to 5 p.m.
20980 N.E. Niederberger Rd, Dundee
503-554-4200 | www.hylandestateswinery.com
May 3
Joel Palmer House Restaurant
Mother's Day House Party. Join us for a social shopping experience in celebration of Mother's Day at the historic Joel Palmer House in the heart of the Willamette Valley Wine Country. Several local female entrepreneurs will be on hand to share their products... including Younique, doTERRA Essential Oils, Jamberry Nails and Stella & Dot Jewelry. Bring a friend and get a free gift. All guests will be entered in a drawing for a Mother's Day Gift Bag. Enjoy $5 wine tasting, complimentary tea, coffee and snacks. RSVP for Tickets. Time: 3 to 5 p.m.
600 Ferry Street, Dayton
503-864- 2995 | www.joelpalmerhouse.com
May 9
Beckham Estate
Celebrate the mothers in your life with a beautiful day filled with wine and art. Andrew will have a Raku demonstration on the patio weather permitting. Fee: $10. Time: 11 a.m. to 5 p.m.
30790 SW Heater Road, Sherwood
www.beckhamestatevineyard.com
May 9–10
Cliff Creek Cellars
Join us for the release of 2014 Pink Pink Wine. honor of your mom, we'll be debuting our newest release of 2014 Pink Pink Wine, a limited production wine that won't be around the tasting room for very long. Fee: $10. Time: noon to 5 p.m.
1015 McDonough Road, Gold Hill
214 E. First Street, Newberg
www.cliffcreek.com
Keeler Estate Vineyard
Please join us for our Mother's Day Weekend Open House. All mothers will receive an herb bouquet freshly picked from our garden. We will refund you $10 of your tasting fee with the purchase of two or more bottles. Hours: 11 a.m. to 5 p.m.
5100 S.E. Rice Lane, Amity
503-550-0308 | www.keelerestatevineyard.com
MAY 10
Alloro Vineyard
The Meadow in Portland has worked with us to pair chocolates with our wines plus we'll have a local jewelry designer on site so you can treat Mom. Fee: $15 (complimentary for club members). Hours: 11 a.m. to 5 p.m.
22075 S.W. Lebeau Road, Sherwood
503-625-1978 | www.allorovineyard.com
Anam Cara Cellars
Rose buds and complimentary wine tastings for Mom today! We also host our Second Saturday "homeless" guest winemaker, Tom Fitzpatrick of Élevée Vineyard with his tiny production of Dundee Hills Pinot Noir. Tom is renowned for his Alloro wines, so you know his personal label will be special. Hours: 11 a.m. to 5 p.m.
306 N. Main Street, Newberg
503-537-9150 | www.anamcaracellars.com
Brooks Winery
Moms enjoy complimentary tastings, a Tamami Chocolates Mt. Hood truffle and gorgeous views of mountain peaks from the expansive deck. Hours: 11 a.m. to 5 p.m.
21101 SE Cherry Blossom Lane, Amity
503-435-1278 | www.brookswine.com
Buddha Kat Winery
Looking for something fun to do on Mother's Day, join Buddha Kat Winery for our White Release Party. We will be serving free tastes of our Pinot Noir Rosé, Viognier and dry Riesling.
Make plans to come and join us for Mother's Day and taste some wonderful new wines.
Hours: noon to 4 p.m.
17020 Ruben Lane, Sandy | www.buddhakatwinery.com
Caprice Vineyards
Free tastings to all mothers. We will also have a wet felting class taught by Leslie Stoddard who will be teaching how to make felted purses (Class requires reservation.) Hours: noon to 5 p.m.
970 Old Stage Road, Central Point
541-499-0449 | www.capricevineyards.com
Dana Campbell Vineyards
All mothers receive free wine tastings on Mother's Day and a chance to win a spa basket. And, the bocce ball court is ready for your challenges. Hours: noon to 5 p.m.
1320 N. Mountain Ave., Ashland
541-482-3798 | www.danacampbellvineyards.com
Dobbes Family Estate
Nothing says love like Pinot and chocolate! Treat Mom to a complimentary wine flight and a special surprise. Come celebrate with us and enjoy irresistible Smitten Truffles after your wine flight. Hours: 11 a.m. to 6 p.m.
240 S.E. Fifth Street, Dundee
503-538-1141 | www.dobbesfamilyestate.com
Erath Winery
Sunday Funday: Bring your mothers and friends to wine country for a day of fun at the Erath. We'll be pulling out the big ones for Mom, sampling and selling large magnum bottles of our awarding-winning Pinot Noir. Food pairings and photo booth will make this special day one to remember. Hours: 11 a.m. to 4 p.m.
9409 N.E. Worden Hill Road, Dundee
503-538-3318 | www.erath.com
Hanson Vineyards
Moms taste free on Mother's Day! Complimentary tasting flight of five wines for all Moms. Regular tasting fee $5. Bring a picnic (weather permitting). Hours: noon to 5 p.m.
34948 S. Barlow Road, Woodburn
971-338-9760 | www.hansonvineyards.com
Hip Chicks do Wine
Join us in celebrating Mother's Day with an intimate four-course dinner paired with our wines at our S.E. Portland winery. Winemakers Laurie and Renee have partnered with the talented Chef Jason of Crave Catering for a locally inspired soirée. Dinner includes wine pairing. Fee: $95 per person (advance tickets only). Hours: 6 p.m.
4510 S.E. 23rd Avenue, Portland
503-234-3790 | www.hipchicksdowine.com
Kathken Vineyards
Our Mother's Day features the awesome Ty Curtis Trio performing from 3 to 6 p.m. Upper gate opens at 1:30 p.m. Fee: $10 per person. Food for purchase provided by Vivacious Catering. Reserve your tickets or tables early; attendance limited to 125 people. Hours: 1:30 to 6 p.m.
5739 Orchard Heights Rd. N.W., Salem
503-316-3911 | www.kathkenvineyards.com
Ledger David Cellars
Taste your favorite wines with small bites. Enjoy a special Mother's Day release of our newest dessert wine, Malvasia Bianca. Time: noon to 5 p.m.
245 N. Front Street, Central Point | www.ledgerdavid.com
Oak Knoll Winery
Join us on Mom's special day! Lea with Sophisticated Beads will be joining us in the tasting room, sharing local jewelry featured by the Portland Rose Festival. Hours: 11 a.m. to 5 p.m.
29700 S.W. Burkhalter Rd., Hillsboro
503-648-8198 | www.oakknollwinery.com
Panther Creek Cellars
Half-off flights for all moms on Mother's Day! Signature flight includes: 2014 Pinot Gris, 2012 Winemakers Cuvée and three single-vineyard designates. Treat that special mom in your life. Hours: 10 a.m. to 5 p.m.
110 S.W. Highway 99W, Dundee
503-472-8080 | www.panthercreekcellars.com
Pfeiffer Winery
To honor Mom on her special day, treat her to an elegant buffet, live music, complimentary glass of wine and more. Amazing menu includes smoked chicken alfredo, lobster bisque soup, crepe, and eggs benedict, just to name a few! Adults: $38; Children (6–12): $19; 5 and under eat free. Seatings: 10:30 a.m. to 12:30 p.m. and 1 to 3 p.m.
25040 Jaeg Road, Junction City
541-998-2828 | www.pfeiffervineyards.com
Shafer Vineyard Cellars
Art show featuring metal art for your yard on Mother's Day. Come treat Mom to a Flatlander Creations piece. Also here on May 9. Hours: 11 a.m. to 5 p.m.
6200 N.W Gales Creek Road, Forest Grove
503-357-6604 | www.shafervineyardcellars.com
Spindrift Cellars
We want to recognize and appreciate our mom friends by offering moms a free tasting. Time: noon to 5 p.m.
810 Applegate Street, Philomath
www.spindriftcellars.com
Youngberg Hill
Mothers need wine breaks more than anyone. I totally know that. Complimentary wine tasting to all Moms. Time: 10 a.m. to 4 p.m.
10660 S.W. Youngberg Hill Road, McMinnville
www.youngberghill.com