Montepulciano
Bold Italian grape emerges in Southern Oregon
When you think "Montepulciano," the quaint, almost ancient Italian village in Tuscany, Italy, with hilly roads and picturesque beauty, might come to mind. But Montepulciano is actually the name of a grape variety that grows mostly in Abruzzo, but also right here in the hills of Southern Oregon.
Montepulciano is a red grape often described as rustic and similar in style to Chianti (Sangiovese), but it's not to be mistaken with the Tuscan wine made from Sangiovese called Vino Nobile di Montepulciano — confusing, I know.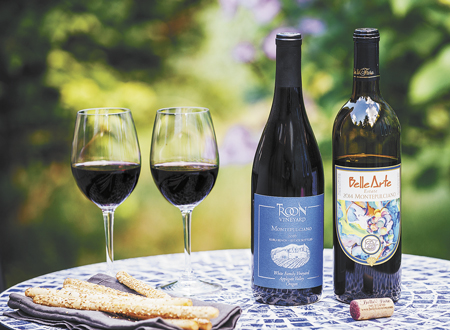 The most notable Italian Montepulciano originates in northern vineyards, where the wine is deeply colored and aromatic with earthy notes, hints of pepper, ripe black fruit and strong tannins. These characteristics make a delicious wine but also an ideal blending component, alongside less-hardy varieties. Often consumed young, Montepulciano possesses the potential to age well. The wine can retain its fresh, full-bodied flavors but doesn't really develop the attractive secondary characteristics often found in cellared wine.
The former owners of Troon planted Montepulciano in Southern Oregon in 2006, seemingly as an experiment. Troon's general manager, Craig Camp, asserts, "For me, having mature vines from this variety seemed a lucky break to be true. Our 2016 Troon Vineyard Kubli Bench Estate Montepulciano was our first vintage with this variety on its own." Pleased with the results, Troon is planting another acre to the five rows already established.
As you might expect from Oregon, Troon's Montepulciano is lighter in style yet maintains that classic bittersweet fruit found in the best Italian examples. Craig says, "Oregon gets much lower alcohol levels; for example, the 2016 vintage is only 11.5 percent, but that's a difference we like."
With only two vintages completed, they're still a long way from learning what the full expression of this variety will be like in the Applegate Valley. Troon's vines, now more than 10 years old, could not be healthier. The variety clearly likes the climate and soils at Troon.
With a vast, impressive Tuscan-style villa outside Ashland, owners of Belle Fiore offer a range of wines, including Mediterranean varieties such as Montepulciano. The Kerwins family planted Montepulciano, celebrating the family's Italian heritage. Fortunately, the site's soils and climate showed promise for the variety, still rare for the region.
Belle Fiore has produced seven vintages of Montepulciano; the first in 2011. According to winemaker Rob Folin, "This young wine already shows the grape's potential: well-balanced flavors of tart berry and citrus peel."
Montepulciano enjoys sites with much heat and needs some extra work in the vineyard. Folin explains, "The clusters are big; uneven ripening can be an issue and it wants to set a heavy crop load; if you can manage these things, and the winemaker knows what [to do in the cellar], then you have a chance to compete on a global scale."
Comparing Belle Fiore's version to Montepulciano d'Abruzzo, Folin notes Belle Fiore tends to be more fruit-forward and easier to approach — basically a New World style. He predicts as the vines age, similarities to Italy will become more apparent. In the meantime, "It's a customer favorite in the tasting room and due to the grape's natural acidity, it's a great food wine — even if you're a bad chef," Folin laughs.
He believes Montepulciano can set its own path here in Oregon, but the winemaker's job remains finding that direction, putting their own spin on it and helping guide it to the tasting room, where, Folin says jokingly — not jokingly — people regularly butcher the pronunciation. But that's excusable because "Mon-tae-pull-chee-AH-noh" is new to many Oregon consumers and, best of all, delicious.
Troon 2016 Montepulciano > Ruby-colored and elegant, this Montepulcanio tastes like Italy and Oregon combined in one glass. Complex with tart black cherries, red plum, black pepper, delicate rose petals and barrel notes of vanilla and spice, this wine is friendly in acid and tannin. A pleaser for all palates and food friendly, too.
Belle Fiore 2014 Belle Arté Montepulciano > This jammy, dense, garnet-colored and fruit-forward wine needs time to open. Wait and you'll be rewarded with notes of black cherry, black plum, black pepper, cocoa and cured meat. A casual wine that calls for wood-fired pizza.