MmmmMexican
Pairing wine with dishes from Mexico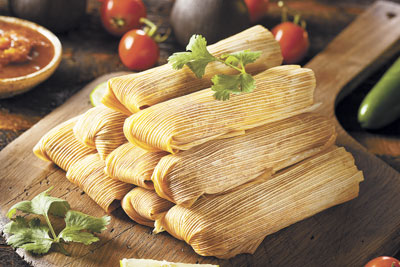 When pairing wines with Mexican fare, seek out the most dominant flavor in the food, and go from there. If the dish contains a healthy dose of lime, cilantro, jalapeño or tomatillos — notice, all green — reach for wines high in acid, such as dry Riesling, Sauvignon Blanc, Albariño or Pinot Gris. If the recipe includes grilled meats or smoky accents such as chipotle or pasilla chiles, rely on Malbec, Tempranillo or red Rhône varieties for a palatable pairing. And if the dish is cheesy and heavy, try a jammy Grenache, Sangiovese or Zinfandel. If all else fails, pop the cork on sparkling or rosé; both are extremely food-friendly. Also, remember, the spicier the food, the colder and sweeter the wine should be; in addition, lower-alcohol wines and moderate tannins can help alleviate the burning sensation of capsicum found in chile peppers.
Roasted Poblano and Queso Fresco Tamales
(Tamales de Rajas Con Queso)
Yields 12 tamales
Wine Pairing: Tempranillo
DOUGH
1¾ cups masa harina (10 ounces)
1½ cups hot water
¼ pound lard
2½ tablespoons butter, softened
1 teaspoon salt
1 teaspoons baking powder
½ cup chicken stock
FILLING
3 poblano peppers
1 cup queso fresco or queso ranchero cacique, cut into 1-inch pieces
1¼ cup red salsa (make fresh or buy)
20 corn husks (dry)
TOPPINGS
* salsa and Mexican cream
METHOD
In large bowl, combine corn flour with hot water until dough forms. Remove dough from bowl and knead on flat surface with more corn flour to prevent sticking until dough is smooth. Set aside.
Place lard and butter in bowl of mixer with paddle attachment; mix on medium speed until smooth. Add salt and baking powder and ¼ of reserved corn dough to mixer. Beat until smooth; then add another ¼ of dough and continue process until all dough has been added and mixture is a smooth consistency. Refrigerate dough in mixer bowl for minimum of 30 minutes to allow masa to fully hydrate.
Return bowl to mixer and beat dough at high speed for 1 minute before assembling tamales.
Meanwhile, roast poblanos on grill or stove over an open flame. Place inside plastic bag for 3 minutes to steam. Remove skins and seeds; cut into strips.
Place a steamer basket lined with corn husks in a large stock pot. Fill pot with hot water just below steamer rack. (Tip: You can place a small coin at bottom of pot which will rattle and make noise if pot runs low on water while tamales are cooking.)
To form tamales, use a large spoon to spread about ¼ cup of corn dough on a corn husk, top with 1 tablespoon of salsa, few pieces of cheese and Poblano strips.
Fold right side of corn husk with dough on top to center of tamale; do same with left side. Fold over ends of husk toward center of tamale and tie tamale using a thin strip of corn husk. Repeat this process with all tamales.
Place tamales inside prepared steamer and cook for 1 hour. To check if tamales are ready, remove one using kitchen tongs and place on a plate. Let it rest 5 minutes. If husk doesn't stick to tamale when removed, they are ready.
Serve with salsa and Mexican cream.
Mexican Cactus Salad
(Ensalada de Nopales)
Yields 6 servings
Wine Pairing: Riesling
INGREDIENTS
5 cactus leaves
2 garlic cloves, minced
3 plum tomatoes, diced
1 jalapeño, seeds removed, minced
½ cup red onion, small dice
1 bunch cilantro leaves, chopped
¼ cup lime juice
¼ cup olive oil
* salt, to taste
½ cup queso fresco cheese, crumbled
METHOD
Bring 3 to 4 quarts of water to a boil with 1 teaspoon salt.
Wash cactus paddles and place on cutting board. Place knife flat on cactus and carefully shave off spines from each side. Next, cut around edge of cactus paddle to remove ¼-inch of edge from each paddle. Wash cactus paddles again; dice into ½-inch pieces on a clean cutting board.
Add diced cactus to boiling water; cook for 10 or 12 minutes, or until tender. Cactus paddles will exude a sticky substance that may cause water to foam. Stickiness will cook away and cactus will be tender. Drain water off cactus and cool cactus completely before proceeding.
Meanwhile, in large bowl, combine garlic, plum tomatoes, jalapeño, red onion and cilantro. Add lime juice and olive oil to bowl and stir to combine. Add cooled cactus to bowl; stir to combine. Season salad with salt to taste. Adjust seasoning with more olive oil, if needed.
Serve chilled on a crisp leaf of lettuce and top with crumbled cheese.
Chile Verde
Yields 6 servings
Wine Pairing: Pinot Gris
INGREDIENTS
2 pounds pork butt, cubed
2 teaspoons salt, kosher or sea
½ teaspoon fresh ground pepper
2 tablespoons vegetable oil
1½ cups yellow onion, diced
4 garlic cloves, minced
1 teaspoon ground cumin
48 ounces chicken broth
2 poblano peppers, fresh, seeded, diced
1 jalapeños, fresh, seeded, minced
1 yellow bell pepper, seeded, diced
1 pound tomatillos, fresh, husks removed
½ cup cilantro leaf, coarsely chopped
METHOD
Season pork cubes with salt and pepper. In a large Dutch oven over medium-high heat, brown pork in vegetable oil. Remove pork from pot, reserve 3 tablespoons oil in pan.
Reduce heat to medium; add onion and garlic; cook until tender. Add cumin; then return pork to pan; add chicken stock. Bring pork mixture to boil; reduce to a simmer and cover with lid or aluminum foil. Continue simmering for 30 minutes; then add poblanos, jalapeño and bell pepper.
Purée tomatillos and cilantro in a blender with ½ cup water; then add to pot. Return pot to a simmer and continue cooking for an additional 45 minutes. Taste and adjust seasoning with salt and pepper.
Serve with tortillas, Mexican rice and refried beans.