The Mini Vacay
Tiny house sensation fuels little lodging with big personality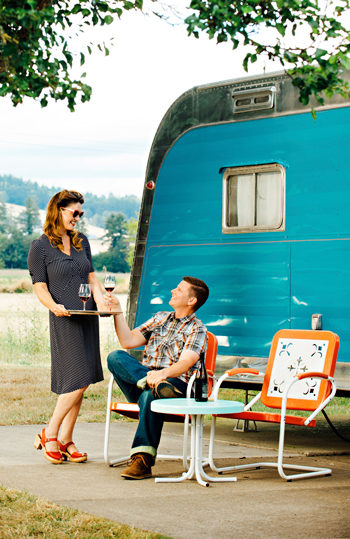 Sixteen years ago, I devoured "simple living" books, including pioneer Sarah Susanka's "The Not So Big House." Around the same time, I also learned about Jay Shafer's original 89-square-foot Tumbleweed Tiny House. I was a bit obsessed — my close friends can attest to my fascination on the subject — yet, when the markets nearly crashed in 2008, many of the concepts I'd been embracing suddenly became necessary.
Today, many Americans are feeling confident about the economy again, but the allure of tiny house living has entered the mainstream and is stronger than ever as evidenced by WHGTV's wildly successful "Tiny House Hunters," among other popular series.
Whether you're ready to downsize into a tiny abode or simply curious, there are now many opportunities to give the Lilliputian lifestyle a test drive by way of vacationing.
The Vintages Trailer Resort (at Willamette Wine Country RV Park)
Not only have tiny houses gained in popularity in recent years, but also retro trailers. Since its opening in July 2014, The Vintages, a postcard-perfect blast from the past, has increased from five campers to its current number of 31 to keep up with demand. Their names alone — Spartan Manor, Westwood, Airstream Globester — conjure up charm from a bygone era, let alone many of the trailers' authentic interiors, exteriors and accents.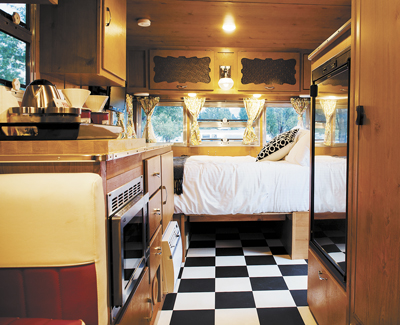 "We originally contracted with FlyteCamp out of Bend; they renovate vintage trailers and try to keep them as original as possible" offered general manager Therese Straight. "From them we bought 10 trailers."
Mixed with the genuinely old are new reproductions, as well. Made by Shasta, the Airflyte models showcase real retro charm yet are brand new. The Vintages also buy from individuals; one such trailer — which was restored by FlyteCamp — is a 1954 Anderson 315-TB. Arguably the most luxurious, it is also one of the most original, featuring authentic countertops, flooring, tile and even appliances.
With the popularity of vintage and tiny spaces, the age range of interest ranges from 20-somethings to folks in their 50s, 60s and 70s, who are nostalgic for their childhood — many of the trailers date from 1947 to 1965.
If any changes are made to the campers, whether inside or out, all are made maintaining the vintage spirit without sacrificing modern conveniences.
Each trailer comes with the use of two vintage-style bikes, a mini propane barbecue and colorful outdoor furniture that'd be just as fitting at grandma's house. They're also equipped with individual hi-speed Internet, Roku streaming sticks, air conditioning, heat, a refrigerator, microwave, a coffee system and luxury linens, towels and toiletries — not every trailer has its own bathroom; the few that do not, such as the adorable 1956 Santa Fe, are located closest to the park's well-maintained restroom and shower facilities.
Other on-site amenities include the Willamette Wine Country General Store, where vacationers can pick up premium wines, beer and refreshments, such as a s'mores-making kit, an outdoor pool, hot tub, laundry services and adjacent dog park for those staying in one of the nine pet-friendly Shasta trailers. A 15-minute walk over a footbridge takes you to the quaint town of Dayton with an inviting town square — home of the popular Friday Nights Summer Festival Series — with Seufert Winery, Archie's Ice Cream and The Barlow Room, to name a few.
www.the-vintages.com; $135–$185/night
Mt. Hood Tiny House Village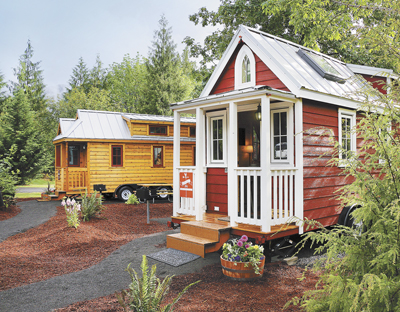 Set inside the Mt. Hood RV Resort in the foothills of Mount Hood, this village of five tiny houses encircles their own common area adorned with Adirondack chairs, a fire pit, individual barbeques and picnic tables while enjoying the same park amenities as RV guests. Houses range in size from 175 to 261 square feet and were designed by Tumbleweed with extensive design input from the park's owners, Equity Lifestyle Properties.
Atticus features a rugged, masculine design comfortably sleeping three and even boasts a storage loft. Savannah charms with Southern-style ambiance and a decidedly feminine feel. Zoe, decorated with splashes of color, offers a cozy corner settee and fold-down kitchen table, giving the 196-square-foot cottage the character of a much larger space. Lincoln, the largest at 261 square feet, welcomes pets and offers comfy accommodations for five; and Scarlett, designed with two sleeping lofts, also sleeps five and with a distinct farmhouse charm.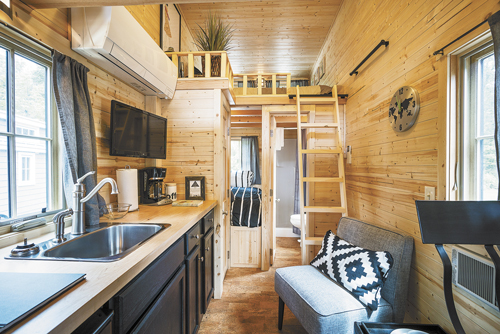 Outside the tiny houses, guests are encouraged to enjoy the indoor pool, hot tub, fitness center and walking paths, or try a bite at the on-site Dragonfly Café.
The Tiny House Village, which recently opened Memorial Weekend, is an extension of Equity Lifestyle's larger vision, according to Jeff Wehrung, the Chicago company's Northwest regional manager. With almost 100 cabins dotted throughout the park — each measuring less than 400 square feet — the Mt. Hood RV Resort has been offering "small" vacationing for years.
"We're an environmental outdoor business," Wehrung said. "We like the smaller [carbon] foot-print aspect, the green aspect [of tiny houses]. We also want to offer our customers a unique experience. There are very few places you can stay in a tiny house, and we want to make it a memorable experience for our guests. Based on the reservations coming in, hopefully, we've got something here."
Although it's hard to choose a favorite, Wehrung conceded that Scarlett's country style and overall floor plan, which includes a cool loft with skylight overhead, is a strong contender for the interior, while Atticus wins for the exterior with its sharp cedar siding accented by black trim.
www.mthoodtinyhouse.com; $129–$139/night
Caravan: The Tiny House Hotel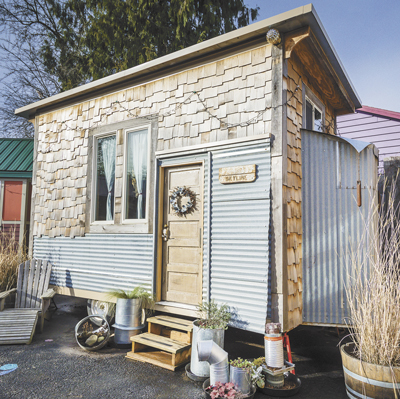 According to husband-and-wife team Kol Peterson and Deb Delman, this is the world's first tiny house hotel. With Portland's reputation for embracing all things green, it should come as no surprise.
In a matter of months, this passionate couple managed to turn a vacant lot into the magical mix of tiny houses occupied by community-minded travelers surrounded by a courtyard of locally made, recycled art — of course, dreaming and ironing out details with city officials was not an overnight process.
Caravan is a culmination of the couple's years of experience and interest in small living as well as a stage to engage others in the concept of alternative housing, including accessory dwelling units (ADUs): buildings constructed on the same property as a main home. They are often used to house another family member — mother-in-law — or rented for extra income. In fact, Peterson teaches ADU classes and consults for interested homeowners.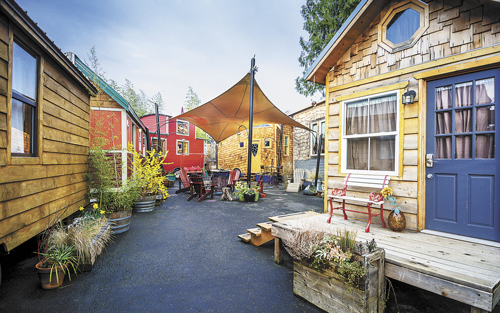 Six tiny homes, ranging in size from 120 to 170 square feet, make up the Tiny House Hotel, located in the vibrant Alberta Arts District. An inviting courtyard — complete with twinkling lights, a large sunshade/rain canopy, fire pit and Adirondack chairs — encourages guests to get to know one another. The perfect conversation starter, complimentary s'mores are available with vegan marshmallows, organic graham crackers, including a gluten-free option, and Fair Trade dark and milk chocolate bars.
Within each small footprint are all the comforts of home, including wireless Internet, air conditioning, heating, a flushing toilet, hot shower and a full kitchen stocked with utensils, a microwave, stove-top burner and refrigerator. Italian coffeemakers brew organic coffee or hot tea, and organic olive oil, agave, salt and pepper are stocked for basic cooking needs. High quality bedding, linens, handmade quilts and toiletries help the weary traveler feel at home. Plenty of reading material on Portland, as well as books about tiny houses, gives adventurers food for thought.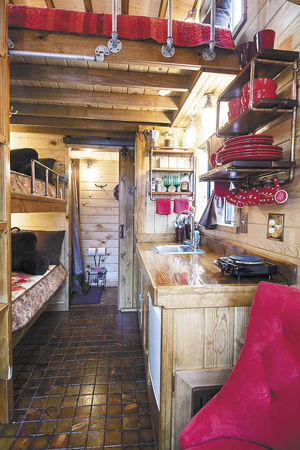 Rosebud, Caboose, Pacifica, Tandem, Skyline and Kangablue each have a story of its beginning and the custom features the builders lovingly crafted into them — Pacifica, their newest addition, was designed specifically to be wheelchair accessible. Special touches include a Talavera tile sink and countertop, custom-made stained glass windows and a ground-floor bed. The shingled siding, curving roofline and hand-crafted wood detailing throughout are luxuries not often found in such a small footprint.
www.tinyhousehotel.com; $145-$165/night (two-night minimum on weekends)
It's a green thing
Tiny houses, by their nature, reduce a homeowner's impact on the environment and, in so doing, actually increase their impact — for the better. While none of the above properties employ solar paneling or composting toilets like a privately owned home might, they all, to some degree, utilize repurposed and reclaimed materials.
Additionally, Tumbleweed is TRA green certified. This internationally recognized RV certification affirms that resource, energy and water efficiency, and indoor air quality, all pass strict inspections.
The greatest contribution, truly, is size. A smaller home requires less energy and building material to create. It also requires less energy to keep it cool in the summertime and warm in the wintertime. Occupants also tend to consume less because there's less space to store material possessions.
For all its sustainability and potential for green living, these tiny houses offer benefits that cannot be quantified yet are important for those in the business of lodging.
"I just think that the guests who decide to come and stay with us are fun, adventurous souls. They're looking for something more, something unique, something fun, so we've had the opportunity to meet some really fun people," Straight said.
Viki Eierdam is the wine columnist for The Columbian and a freelance writer. She lives in Battle Ground, Washington.
Vineyard Vacays
Want to stay literally in the heart of wine country? Then check out the many options among Oregon vines.
Arcane Cellars
Tiny House on the Vineyard
Enjoy incredible views of the Eola Hills and the Willamette River in one of the prime Pinot Noir-growing regions of the world.
22350 Magness Rd. N.W., Salem
503-868-7076
www.arcanecellars.com
Reserve: www.airbnb.com
Beacon Hill Winery & Vineyard
Vineyard Cabin & Home
Overlooking a 40-acre mature Pinot Noir vineyard, the one-bedroom (sleeps two) cabin offers spectacular views of the valley with a wrap-around deck for lounging. The nearby three-bedroom (sleeps six) home features a full kitchen, 2.5 baths and a back patio perfect for grilling and enjoying a glass of wine at sunset.
22040 N.E. Ridge Rd., Gaston
623-202-3421
www.beaconhillwinery.com
Reserve: www.airbnb.com
Bradley Vineyards
Vineyard Yurt
Sleep among the vines in this 30-foot diameter yurt tucked away on a historic vineyard with plumbing, kitchen and comfy beds; sleeps four.
1000 Azalea Drive, Elkton
541-584-2888
www.bradleyvineyards.com
Reserve: www.airbnb.com
De Ponte Cellars
Vineyard Retreat
Enjoy this exquisite Tuscan-style three-master-bedroom home high atop the Dundee Hills with unrivaled views. Two-night stay required.
17545 NE Archery Summit Rd., Dayton
503-864-3698
Reserve: www.depontecellars.com
Delfino Vineyards
B&B Guest Cottage
Relax isn this one-bedroom cottage on 160 acres with full amenities, including A/C, fireplace, hot tub and pool.
3829 Colonial Rd., Roseburg
541-673-7575
Reserve: www.delfinovineyards.com
Dominio IV
Three Sleeps Vineyard B&B
With stunning views of the Columbia Gorge, Mount Adams, Mount Hood and a wandering vineyard, guests won't want to leave this haven of relaxation, especially with the great hospitality shown by innkeepers Glen and Liz.
1600 Carroll Rd., Mosier
541-478-0143
www.threesleepsvineyardbandb.com
Reserve online; available March–Dec.
Grizzly Peak Winery
Wine & Roses Getaway
Stay in this private vineyard cottage (sleeps four) with a deck overlooking the orchard.
1600 E. Nevada St., Ashland
541-482-5700
Reserve: www.grizzlypeakwinery.com
Noel Family Vineyard
Vineyard House
Experience Oregon wine country at this charming French country-style farmhouse with a 2-acre Pinot Noir vineyard, stunning 270-degree views of mountains, vineyards and sunsets.
21055 Kings Grade, Newberg
503-957-5468
www.noelfamilyvineyard.com
Reserve: www.airbnb.com
The Pines 1852
The Pines Cottage
Escape to the tranquility of The Pines Estate featuring a dining room, kitchen, living room, reading nook, three bedrooms, one bath and plenty of outdoor space to explore.
5450 Mill Creek Rd., The Dalles
541-993-8181
www.thepinesvineyard.com
Nightly or monthly rental available.
Plum Hill Vineyards
Harvest Host Site
Have your own camper or motor home? We welcome motor homes and campers on our vineyard.
6505 S.W. Old Hwy. 47, Gaston
503-359-4706
www.plumhillwine.com
Call to reserve; www.harvesthosts.com
Red Ridge Farms/Durant Vineyards
Garden Suite & Stoneycrest Cottage
The Garden Suite, a fully furnished one-bedroom (sleeps two) apartment, offers a full kitchen, dining room, living room and bathroom with two balconies boasting spectacular views overlooking the vineyard, olive grove and lavender field. Stoneycrest Cottage features two bedrooms (one queen, one king), two baths and all the amenities of home (laundry, Direct TV, etc.) with an expansive wrap-around porch.
5510 N.E. Breyman Orchards Rd., Dayton
503-864-2000
Reserve: www.redridgefarms.com
Reustle-Prayer Rock Vineyards
Vineyard Cottage
Enjoy this private, air-conditioned one-bedroom cottage house furnished with French antiques and offering full amenities, including a kitchen, fireplace and full gym.
960 Cal Henry Rd., Roseburg
541-459-6060
Reserve: www.reustlevineyards.com
Stoller Family Estate
Vineyard Guest House
Charming guest house showcases fully stocked kitchens, outdoor patios and vineyard views.
16161 N.E. McDougall Road, Dayton
503-864 3404
Reserve: www.stollerfamilyestate.com
Weisinger Family Winery
Vineyard Cottage
Relax in this beautiful, historic cottage for two nestled among Pinot Noir vines. Two-night minimum.
3150 Siskiyou Blvd., Ashland
541-488-5989
Reserve: www.weisingers.com
Willamette Valley Vineyards
Winery Suites
Enjoy a wine country getaway complete with vineyard views, warm hospitality and elegant wines; included with each package is a private winery tour and tasting, plus a wine credit in the nearby tasting room. Two suites available.
8800 Enchanted Way S.E., Turner
503-588-9463
Reserve: www.wvv.com
Youngberg Hill
Youngberg Inn
We offer one of the premier B&Bs in the Willamette Valley with the best views, too.
10660 SW Youngberg Hill Rd., McMinnville
503-472-2727
Reserve: www.youngberghill.com