South Willamette Valley
Corvallis, Eugene, Junction City, Monmouth, Monroe, Philomath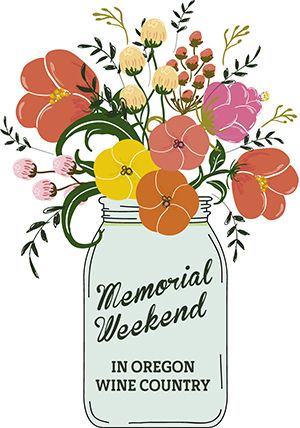 Corvallis
Tyee Wine Cellars
May 22–25 (noon to 5 p.m.) Tyee is celebrating 30 years as a winery and 40-plus years growing Oregon Pinot Noir in Tyee's Estate Vineyard on the scenic Buchanan Family Century Farm. Experience best of the Northwest Tyee Estate Wines and enjoy Tyee's many nature trails. Music concert on Monday on the lawn ($10). Catered food for purchase. Rain or shine, we've got you covered in Tyee's barn. Family-friendly, all ages welcome. Fee: $5–$10.
26335 Greenberry Road, Corvallis
541-753-8754 | www.tyeewine.com
Eugene
Capitello Wines
May 22–23 (noon to 8 p.m.); May 24 (noon to 5 p.m.) Kick off summer with Capitello Wines. Try the new spring releases of Pinot Gris, Sauvignon Blanc, Pinot Noir, rosé and dessert wines. Live music Friday–Sunday. Food trucks on site. Fee: $10.
540 Charnelton Avenue, Eugene
541-520-3092 | www.capitellowines.com
Eugene Wine Cellars
May 21–25 (see website for times) Wine tastings, local beer on tap, Sangria, small plates, chocolate, food truck on Thursday and Saturday. Fee: $5.
255 Madison Street, Eugene
541-342-2600 | www.eugenewinecellars.com
Iris Vineyards
May 21–25 (noon to 6 p.m.) Enjoy live music, stunning views and great wine. Fee: $5.
82110 Territorial Highway, Eugene
541-242-6588 | www.irisvineyards.com
J. Scott Cellars
May 22–23 (4 to 9 p.m.) May 24 (1 to 5 p.m.) Visit our urban warehouse tasting room and enjoy a variety of extraordinary wines (15 wines currently on the menu). May 22: Enjoy the music of Mr. Jeremy Pruitt (5:30 to 8:30 p.m.). Guest winery, Poco Collina Vineyard, will be pouring tonight as well. May 23: Enjoy the lovely voice of Jenn Sennett (2 to 5 p.m.). Food truck on site Friday and Saturday. Come celebrate the start of the holiday weekend
520 Commercial St., Unit G, Eugene
541-357-5279 | www.jscottcellars.com
Noble Estate Vineyard & Winery
May 22–25 (noon to 5 p.m.) Celebrate summer at Noble Estate with award-winning wines, live music, scenic views and more. Sip wine surrounded by the Pacific Coast Mountains at our vineyard tasting room. Enjoy a speakeasy style wine bar atmosphere at Noble Estate Urban. Or head to the coast for wine by the sea. Guests are invited to bring picnics to any Noble Estate location. Create your own tasting from more than 20 wines. including sparkling Muscat, rosé, and Malbec. See website for other locations. Fee: $5.
29210 Gimpl Hill Road, Eugene
541-338-3007 | www.nobleestatewinery.com
Oregon Wine LAB
May 22 (noon 10 p.m.); May 23 (noon to 8 p.m.); May 24 (noon to 6 p.m.) The Oregon Wine LAB is an urban winery and tasting lounge located in Eugene's colorful Whiteaker "Fermentation District" and a stone's throw from downtown Eugene restaurants, hotels and theaters. Oregon Wine LAB is the home to a number of micro-producing winemakers with an emphasis placed on both the terroir of the vineyards and the individuality of each winemaker's style. Each day will feature a tasting with a winemaker, live music, local food and more. No fee.
488 Lincoln Street, Eugene
458-201-7413 | www.oregonwinelab.com
Sarver Winery
May 22 (4 to 9 p.m.); May 23–24 (noon to 5 p.m.) Wood-fired pizzas Friday–Sunday. Friday evening, we'll be joined by Gus Russell and Paul Biondi from 6 to 9 p.m. Saturday, we'll have Will Brown on stage 3 to 5 p.m., and Sunday, Corwin Bolt and The Wingnuts from 3 to 5 p.m. Fee: $5.
25600 Mayola Lane, Eugene
541-935-2979 | www.sarverwinery.com
Silvan Ridge Winery
May 23–25 (noon to 5 p.m.) Our annual Memorial Day Celebration includes live music, sale prices and more. Enjoy fresh fish and chips alongside your favorite Silvan Ridge wine all three days. No fee.
27012 Briggs Hill Road, Eugene
541-345-1945 | www.silvanridge.com
Sweet Cheeks Winery
May 23–25 (noon to 6 p.m.) Enjoy our award-winning wines while listening to live music, browsing local art vendors, or purchase a delicious pizza from Oregon Wood Fired Pizza, all weekend long. No fee.
27007 Briggs Hill Road, Eugene
541-349-9463 | www.sweetcheekswinery.com
Territorial Vineyards
May 21–23 (5 to 10 p.m.); May 24–25 (3 to 8 p.m.) Enjoy some of the best wine and music around in a relaxed, urban wine environment in the heart of Eugene's Whiteaker neighborhood. Get down on Thursday with the Porch Band from 7 to 10 p.m. On Friday, enjoy the Cornstalkers from 7 to 10 p.m., and then on Saturday, from 6 to 9 p.m., it's Mike and Nora. Visit some or all of Eugene's city wineries on a self-guided bike tour of the Urban Wine Circuit. Fee: $5–$6.
907 W. Third Avenue, Eugene
541-684-9463 | www.territorialvineyards.com
Junction City
Walnut Ridge
May 23–25 (noon to 5 p.m.) Come visit us at our new tasting room situated in the heart of Walnut Ridge Vineyard where we're showcasing our Sass label wines, including our first 2014 releases and appetizer pairings. Fee: $5–$10.
94739 Turnbow Lane, Junction City
541-998-2606 | www.walnutridgevineyard.com
Monmouth
Airlie Winery
May 23–25 (11 a.m. to 5 p.m.) This is not just a stop along the way, it is a place to sit and stay. Music all three days, 12:30 to 4:30 p.m., 12 wines to choose from, food for sale and 20-percent case discounts. Fee: $10 (includes glass).
15305 Dunn Forest Road, Monmouth
503-838-6013 | www.airliewinery.com
Treos Winery
May 23–25 (1 to 6 p.m.) Come visit our boutique winery specializing in unique wines to tantalize you. Talk with the winemakers and vineyard master about our unique creations. Weekend specials include our popular, award-winning Pinot Gris/Muscat wine, Stolen Kisses.
10705 Airlie Road, Monmouth
503-610-3530 | www.treoswine.com
Monroe
Benton-Lane Winery
May 23–25 (noon to 5 p.m.) Come join us Memorial Day Weekend, and have your palate seduced by our silky Pinots at our picturesque, family-owned estate winery and vineyard. Special Oregon Wine Month discounts all weekend. Meat and cheese plates available all weekend for purchase. On May 25, we will have gourmet pizzas from our wood-burning oven ($10). Live music (inspired by the music and culture of Brazil), Saturday and Sunday. Fee: $10 (includes glass).
23924 Territorial Road, Monroe
541-847-5792 | www.benton-lane.com
Philomath
Cardwell Hill Cellars
May 23–25 (11:30 a.m. to 5:30 p.m.) Join us for a vertical tasting of five award-winning Pinot Noirs. Alternatively, our guests can enjoy three tastes of our current wines. Cheese plates available for purchase. Artist Anne Schuster and sculptor Raymond Hunter will be displaying their artwork. Bocce ball court and picnic area available. Fee: $5–$10 (includes glass).
24241 Cardwell Hill Drive, Philomath
541-929-9463 | www.cardwellhillwine.com
Lumos Wine Co.
May 23–25 (noon to 5 p.m.) Come taste some of the best the Willamette Valley has to offer. Pinot Gris, Gewürztraminer, rosé, Pinot Noir, Müller-Thurgau and our brand new 2014 Sauvignon Blanc. We look forward to seeing you at the farm in Philomath or our tasting room in McMinnville. Fee: $10.
24000 Cardwell Hill Drive, Philomath
541-929-3519 | www.lumoswine.com
Panache Cellars
May 23–25 (noon to 5 p.m.) Join us for a tasting of our current releases. Meet the winemaker and see what "handcrafted" winemaking means in Oregon's smallest production facility. Memorial Weekend Special: no tasting fee and 20 percent off mixed cases.
3328 Stoneoboro Place, Philomath
541-929-2288 | www.panachecellars.com
Spindrift Cellars
May 23–25 (noon to 5 p.m.) Tasting nine different wines; music Saturday and Sunday afternoon; food; wine specials; and free to club members. Fee: $10.
810 Applegate Street, Philomath
541-929-6555 | www.spindriftcellars.com