Portland and East Willamette Valley
Portland, Aurora, Canby, Molalla, Oregon City, Scotts Mills, Silverton, Sublimity, West Linn, Woodburn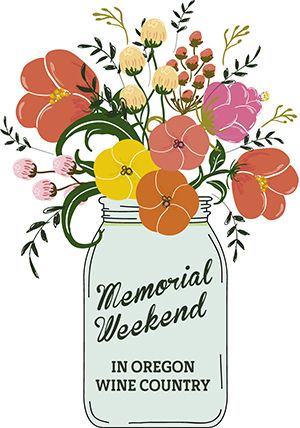 Portland
Glaser Estate Winery & Distillery (the Pearl)
May 23–25 (11 a.m. to 6 p.m.) Join us in the city for the release of new wines and spirits. We will also be showcasing local artists' work. No fee.
1230 N.W. Hoyt, Portland
541-580-4867 | www.glaserwine.com
Hip Chicks do Wine
May 22–23 (11 a.m. to 8 p.m.); May 24–25 (11 a.m. to 6 p.m.) Experience Wine Country without the drive. Memorial Day Weekend is one of only two weekends a year where we pour ALL of our wines, including several new releases. Enjoy appetizers and live music. Take advantage of our early-bird pricing and pre-purchase by May 21 to save $3. See schedule of musicians online. Fee: $15 (advance online); $18 (includes glass).
4510 S.E. 23rd Avenue, Portland
503-234-3790 | www.hipchicksdowine.com
S.E. Wine Collective
May 23 (3 to 6 p.m.) Join us for the Collective's exclusive wine tasting event of the spring. #Vinlandia will feature a tasting extravaganza of newly released wine from each of our urban winemakers who share our urban wine space to produce their wines. Fee: $20 (advance); $25. Please visit vinlandia.eventbrite.com for tickets.
2425 S.E. 35th Place, Portland
503-208-2061 | www.sewinecollective.com
Seven Bridges Winery
May 22–24 (1 to 5 p.m.) Join us for a Memorial Weekend wine tasting the city. We will be celebrating the release of 2012 Echo Cabernet Sauvignon. Small bites will be offered. Fee: $10.
2303 N. Harding Avenue, Portland
503-203-2583 | www.sevenbridgeswinery.com
Spangler Vineyards (Portland)
May 23–25 (noon to 5 p.m.) Join us in Portland for our end-of-vintage clearance sale. Fee: $5.
1104 S.W. Columbia Street, Suite 1, Portland
971-703-4866 | www.spanglervineyards.com
East Willamette Valley
Aurora
Champoeg Wine Cellars
May 23–24 (11 a.m. to 4 p.m.) Pack a lunch and enjoy our patio. Don't miss us; we are only open two weekends a year. Fee: $10.
10375 Champoeg Road N.E., Aurora
503-678-2144 | www.champoegwine.com
Pheasant Run Winery
May 22–24 (noon to 6 p.m.) Featuring aromatic Pinot Noir and white wines grown in our family vineyards and big, bold red wines from Walla Walla. We offer 'Good Wines for Good People' as 10% of proceeds go to Oregon charities and nonprofits. Taste the wines, including our gold medal-winning Cabernet Sauvignon, in our historic bank vaults. Fee: $5.
21690 Main Street, Aurora
503-678-3131 | www.pheasantrunwine.com
Canby
St. Josef's Winery
May 22–25 (noon to 5 p.m.) Experience the European charm of one of Oregon's wine pioneers. New releases include: sparkling Syrah, estate Pinot Gris and Gamay. Planted in 1978 with our first legal vintage in 1983, St. Josef's grows and makes food-friendly wines that enhance any occasion. Enjoy the wines and three-tiered rose garden overlooking the pond along with our natural landscaping crew of goats and llamas. "Of all of the picturesque wineries in the Willamette Valley ….for family-owned coziness, we've yet to find a better place to sip" —Portland Magazine. Fee: $5.
28836 S. Barlow Road, Canby
503-651-3190 | www.stjosefswinery.com
Molalla
Alexeli Vineyard and Winery
May 23–25 (noon to 5 p.m.) Join us for wine tasting and new releases on the garden patio. Fee: $5–$8.
35803 S. Highway 213, Molalla
503-829-6677 | www.alexeli.com
Oregon City
Christopher Bridge Cellars
May 23–25 (noon to 5 p.m.) Let us welcome you to our timber frame wine room with a wide range of varietals and vintages paired with our fresh wood-fire artisan pizza bites, valley and mountain views and cheerful country hospitality. Newly enlarged parking lot and additional event tent space/picnic seating. Nine wines offered, including four Pinot Noirs, Ehrenfelser Spätlese, Kerner (new), Pinot Gris, Muscat and rosé. Fee: $10.
12770 S. Casto Road, Oregon City
503-263-6267 | www.christopherbridgewines.com
Forest Edge Vineyard
May 23–25 (noon to 5 p.m.) Memorial Weekend wine tasting will feature new releases, light snacks and wine specials. Talk with the winemaker, Ron, who will be pouring each day. No fee.
15640 S. Spangler Road, Oregon City
503-632-9463 | www.forestedgevineyard.com
Scotts Mills
Abiqua Wind Vineyard
May 23–24 (11 a.m. to 5 p.m.) Meet the winemaker. Taste a wide array of award-winning old-vine wines. Take in a spectacular view of the Northern Willamette Valley. No fee.
19822 McKillop Road N.E., Scotts Mills
503-874-9818 | www.abiquawind.com
Silverton
J. Albin Winery
May 23–25 (11 a.m. to 5 p.m.) We are pouring at our winery for the first time. Introducing the premier vintage of Sauvignon Blanc, new releases of 2008 Brut Rosé bubbles, rosé table wine, Pinot Noir, Pinot Gris, Cabernet Sauvignon, Cabernet Franc and Vin Glacé dessert wine. We are located adjacent to Seven Brides Brewing in beautiful Silverton. Tasty bites included. Fee: $10.
990 N. First Street, Silverton
503-341-3618 | www.javineyards.com
Sublimity
Silver Falls Vineyards
May 23–25 (11 a.m. to 5 p.m.) Pouring award-winning estate-only wines, including Pinot Noir, Marechal Foch, several sweet and dry whites, blends, Port and Champagne styles. Fun wine-themed gifts. Mimosas and wine pairing snack plates available. Cozy fireside seating for reading, conversing and enjoying a wonderful glass of vino. Fee: $5 (includes glass).
4972 Cascade Highway S.E., Sublimity
503-769-5056 | www.silverfallsvineyards.com
West Linn
Holloran Vineyard Wines
May 23–25 (noon to 5 p.m.) Join us for our annual Memorial Weekend Wine Tasting. Pouring eight wines. Live music daily. Firebox Food. Close to Portland in West Linn, off of 205 Exit 3. Fee: $10.
2636 S.W. Schaeffer Road, West Linn
503-341-4161 | www.holloranvineyardwines.com
Oswego Hills Winery
May 23–25 (noon to 5 p.m.) Open house with food entrées on Sunday by Grand Cru Hospitality and music by The Last Holdouts. We will also be hosting a birds of prey event called "Wings Over Wine," during which owls and falcons will be shown and released back into the wild to live on the winery property. Fee: $10.
450 Rosemont Road, West Linn
503-655-2599 | www.oswegohills.com
Ribera Vineyards
May 23–25 (1 to 5 p.m.) Join us this Memorial Weekend as we pour our new releases. We'll have some savory goodies to nibble alongside. Fee: $10.
21775 S.W. Ribera Lane, West Linn
503-638-7323 | www.riberavineyards.com
Woodburn
Hanson Vineyards
May 23–25 (noon to 5 p.m.) Come sample new releases and wines from the cellar at our fourth-generation family farm. Bring your picnic. Wines include several vintages of Pinot Noir, Pinot Gris, Rosé, Riesling, a unique red blend and more. Fee: $5.
34948 S. Barlow Road, Woodburn
971-338-9760 | www.hansonvineyards.com