North Willamette Valley 4
Sherwood, St. Paul, West Linn, Wilsonville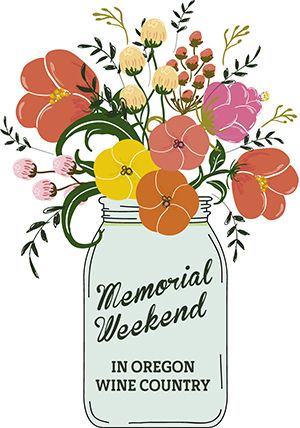 Sherwood
Alloro Vineyard
May 23–24 (11 a.m. to 5 p.m.) Come sample our current-release estate Pinot Noir, estate Chardonnay and our newly released 2014 estate Rosé and Riesling, along with some charcuterie. Join David and Tom down in our barrel cellar for an additional tasting of our limited-production Pinot Noir wines. Complimentary for Cellar Club Members. Fee: $15/$25.
22075 S.W. Lebeau Road, Sherwood
503-625-1978 | www.allorovineyard.com
Beckham Estate Vineyard
May 23–24 (11 a.m. to 5 p.m.); May 25 (noon to 4 p.m.) Join us to taste handcrafted, limited-production, estate-grown wines in our intimate tasting room and ceramic gallery nestled amid the vines. Celebrate the newly released 2013 Sophia's Pinot Noir and stock up on the 2014 Olivia's Rosé. Wines paired with local bites. Fee: $10.
30790 S.W. Heater Road, Sherwood
971-645-3466 | www.beckhamestatevineyard.com
Blakeslee Vineyard Estate
May 23–25 (11 a.m. to 5 p.m.) Blakeslee Vineyard Estate welcomes you to their beautiful venue overlooking the infinity pool, vineyard and Mount Hood. Enjoy their award-winning wines, including the long-awaited release of the 2012 Pinot Noir and 2014 Rosé of Pinot Noir. A glorious potato bar with all imaginable fixins' and hospitality above and beyond measure. Fee: $25 (includes glass).
20875 S.W. Chapman Road, Sherwood
503-625-6902 | www.blakesleevineyard.com
Et Fille Wines (private vineyard)
May 23–24 (11 a.m. to 5 p.m.) Join us for a tasting of our current releases over Memorial Day Weekend at our vineyard. We will be sampling our wines in a heated tent overlooking our private vineyard on Parrett Mountain. Paired appetizers offered. Fee: $10.
18484 S.W. Parrett Mountain Road, Sherwood
503-853-5836 | www.etfillewines.com
Hawks View Cellars
May 23–25 (11 a.m. to 5 p.m.) Join us as we debut exciting new releases, featuring the highly anticipated 2014 White Pinot Noir and Pinot Gris, as well as our Estate Pinot Noir and Gary's Vineyard Syrah. Enjoy stunning views of Mount Hood and relax in our newly styled tasting room and patio. Fee: $15.
20210 S.W. Conzelmann Road, Sherwood
503-625-1591 | www.hawksviewcellars.com
Ponzi Vineyards
May 23–25 (11 a.m. to 5:30 p.m.) Sip new release 2014 Ponzi Arneis, 2014 Ponzi Riesling and benchmark Ponzi Pinots, while taking in the breathtaking views. Enjoy new food pairings, relax on the covered terrace or try a game of Bocce ball. Fee: $15.
19500 S.W. Mountain Home Road, Sherwood
503-628-1227 | www.Ponziwines.com
St. Paul
Lady Hill Winery
May 23–25 (11 a.m. to 5 p.m.) True Northwest expressions of classic Old World wine styles: Burgundian, Bordelaise, Italian and Rhône. Fee: $10.
8400 Champoeg Road, St. Paul
503-678-1204 | www.ladyhill.com
Sineann (at Lady Hill)
May 25 (appointment only) Sineann makes wines from a handful of the best appellations in the world: Willamette Valley, Columbia Gorge, Columbia Valley, Marlborough, NZ and Central Otago, NZ.
8400 Champoeg Road, St. Paul
503-341-2698 | www.sineann.com
Wilsonville
Carabella Vineyard
May 23–25 (11 a.m. to 5 p.m.) Visit the vineyard in spring. Taste 100-percent estate wines, new release of 2014 Pinot Gris, plus current releases and library wines. Appetizers offered. Fee: $10.
16707 S.W. Edminston Road, Wilsonville
503-925-0972 | www.carabellawine.com