Meet Megan Anne
Mark Ryan expresses softer side in the Willamette
Mark Ryan Winery
Details:
Woodinville Tasting Room
14475 Woodinville-Redmond Rd. N.E. 425-415-3865
Walla Walla Tasting Room
26 E. Main St., Ste. 1 509-876-4577
www.markryanwinery.com
See website for hours.
I think Oregon Pinot walks a line similar to Washington Cabernet," said Mark McNeilly of Mark Ryan Winery, located in Woodinville. "It's got that Old World structure and acidity with New World fruit, which makes such a compelling scenario."
An enthusiastic admirer of the Willamette Valley, Mark and his wife, Megan, consider it a second home; it's where they married and hang out with friends during coveted downtime. It's also where he sources fruit from Lachini Vineyards for Mark Ryan Winery's opulent Black Love Pinot Noir, a cult favorite since 2006.

Thus, it's only natural that the McNeillys crossed the Rubicon to start their own Willamette Valley Pinot Noir project, Megan Anne Cellars. Conceived in 2014 as a collaboration between the couple and former Evening Land winemaker Isabelle Meunier, the new label presents a softer, more feminine side to its brawny brother — or, should we say "husband" — brand, Mark Ryan.
Meunier's in charge of the winemaking, while Megan leads the tasting and blends, driving the overall style. Mark says the two operate gracefully within their chosen métiers.
"I just think it's interesting having their approach and their view of wine; it's an interesting way to come at this 'two-winery' model," Mark noted. "They may make different decisions about oak and blending, and style. The picking kind of comes on Isabelle's side, but Megan is involved in the fine-tuning and finishing side."
The broad-shouldered Mark displays an unusual flair for seeking out the right people at the right time. That skill, plus an uncanny ability to collaborate, catapulted Mark Ryan, founded in 1999, to the forefront of Washington wineries.
Ensuring the success of his brand, Mark regularly consults with his winemaker, Mike MacMorran, regarding pick dates, blending and style. Yet, when it comes to production, he "lets the professionals handle the winemaking." he admits. "Too many chefs make for bad chili."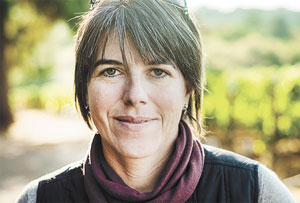 Here in Oregon, Meunier's approach emphasizes minimal intervention, allowing for maximum expression of the fruit. Maceration includes both cold soak and introduction of native yeast.
"Spontaneous [native yeast] fermentation is not something we do a lot of in Washington, but down here [Oregon], it's kind of exciting and nerve-wracking and seems to work well for Pinot Noir and Chardonnay," Mark said.
The Oregon project's oak program also differs from Washington.
"In Washington, for the Bordeaux varietals, we use more new French oak," Mark explained. "In Oregon, we use French oak as well, in Burgundy barrels, but much less new oak. And I think that really helps coax out the terroir and the site expression."
For Megan Anne Cellars, the whites age nine months in barrel on the lees with minimal bâtonnage; the reds require over-vintage élevage of 16 months.
Mark also notes different dynamics with sourcing fruit in Oregon compared with Washington, where he enjoys long-term partnerships with vineyards planted to his specifications at 'sweet spots' on Red Mountain and in the Yakima Valley —such as Klipsun, Olsen and Red Willow vineyards — allowing him maximum control over the fruit, from vineyard to bottle.
"Here in Oregon, we're just trying to figure everything out," Mark said. "But our goal is to have our own estate here eventually."
Like a trained truffle hound, Mark evidences a sixth sense for quality fruit in Oregon, too, from well-established sites, such as Lachini Vineyard in the Chehalem Mountains, and Nysa Vineyard and Lillie's Vineyard in the Dundee Hills, as well as newer vineyards, Wilson Fjord — also in the Dundee Hills — and Kindred Vineyard located in Eola-Amity Hills AVA.
Establishing himself with new sites and grower relationships has definitely been a process; however, Oregon Pinot Noir poses additional challenges to the seasoned vineyard vet.
"Pinot is kind of a pain in the butt. It's very sensitive; Cabernet, not so much," Mark proffered. "Pinot, if you look at it wrong, it starts freaking out. [I'm used to] working with thick-skinned Cabernet from a hot site with no rain. Down here [in Oregon], we made a little wine in 2013, and that was a pretty crazy experience. [Growers] seem to be more at the mercy of nature, and the grape itself seems to be a little more fragile and sensitive."
Regardless, Mark's enthusiasm about the 2014 vintage in Oregon is obvious.
"[It] is such a great vintage to start this new program," he said. "The vintage was nice and warm, and getting to pick before the fall rains in Oregon is always a bonus. And then working at The Carlton Winemakers Studio's been great — very well run, great team and it's a nice facility to be in."
In November, Megan Anne Cellars will release four wines from its small-lot production — 600 cases total — through the Mark Ryan Wine Club, a few select Northwest retailers and restaurants, as well as the Studio. Wines will include: 2014 Willamette Valley Pinot Noir, 2014 Lachini Vineyard, 2014 Nysa Vineyard and 2014 Black Love.
"We're just really trying to showcase the vineyards for the vineyard-designated wines," Mark said. "I think Black Love has its own kind of thing, and we blend for that, so the wines are probably terroir- and fruit-driven wines that we're trying to make wines in a style that we really like, and in a style that our customers have been become accustomed to with our Mark Ryan wines."
In the spring, Megan Anne Cellars will unveil its 2015 Chardonnay. It incorporates young fruit from Kindred, plus a tiny block from Wilson Fjord, using 20 percent new oak. Future vintages will likely apply less new oak. Like the whites, Megan Anne's Willamette Valley Pinot Noir uses fruit from younger vineyards — sites Mark considers lacking the 'legs' to stand individually as single-vineyard offerings.
"The Willamette Valley Pinot Noir is kind of like 'The Dissident' for the Mark Ryan program," he explained. "It's a nice entry level wine and price point."
Ultimately, the wines of Megan Anne reflect those of Mark Ryan in their easy, accessible approach, as well as balance and nuance.
L.M. Archer, FWS, is a freelance wine, food and travel writer and editor of binNotes.