Pallet Wine Co. Expands
Medford custom-crush facility adds major square footage.
By Roberta Kent
Pallet Wine Company, a Rogue Valley custom-crush facility, is expanding in a big way. Keeping pace with the exponentially developing Southern Oregon wine industry, Pallet has acquired the 10,000-square-foot building adjacent to its existing 21,000-square-foot facility in the historic Cooley-Neff Building at 340 N. Fir Street in downtown Medford.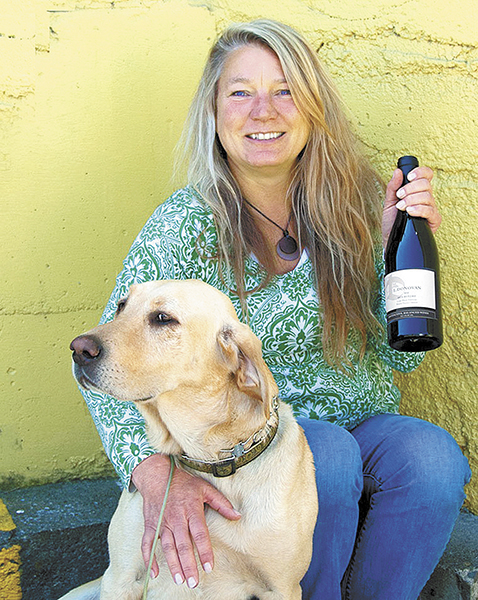 Winemaker and co-owner Linda Donovan, with co-owner and managing partner Daniel Sullivan, bought the downtown Medford lumber and warehouse building in 2009. They remodeled it into a world-class winemaking facility, installing 15 Rieger rectangular stainless steel tanks — purchased used from a Napa Valley winery — along with state-of-the-art sorting, de-stemming and crush machinery, as well as a bottling line. They also restored the exterior of the building along strict historic guidelines to qualify for inclusion on the National Historic Register.
Pallet has grown from 900 cases of wine for seven clients its first year to producing more than 30,000 cases for 20-plus clients during the 2014 harvest. Barrel access and storage increasingly became an issue as the number of custom-crush clients increased and wine production grew.
In the original facility, Donovan, a bookkeeper and an enologist — and occasionally her large yellow dog — shared one small office, which doubled as laboratory space. The small reception area at the building's entrance served as a conference room and a client tasting room for wine-in-progress.
"When we first bought this building, we worried that we would not be able to fill it," says Donovan. "Then the size of the 2011 harvest nearly overwhelmed us. We have been looking ever since for ways to expand our barrel and bottle storage areas, including looking at other buildings in the neighborhood."
The space crunch reached a point when workers couldn't maneuver a forklift around.
The newly purchased property has ample storage area and a high-bay loading dock, along with room for a large lab, four offices, a conference room and a kitchen/break room. With the additional floor area, Donovan says she might even add extra tanks. She estimates that the increased space will allow Pallet to produce as many as 38,000 cases annually.
Existing retail space facing Fir Street is a bonus. Donovan plans an "urban chic" tasting room where Pallet will offer their custom-crush clients a place to showcase their wines.
"We see the tasting room as part of the revitalization of downtown Medford, with its new office buildings and the opening of the Holly Theater," says Donovan. "It is another way to bring people to this area in the daytime and evening. The tasting room will offer wines from more than 20 labels. It will be a venue for tasting new releases and wines you don't get to try anywhere else."
Donovan envisions the tasting room as a place where people visit, buy a bottle of wine for dinner or enjoy a glass of wine before going to the theater. It will also provide information for client wineries that may have their own tasting rooms in Ashland, the Applegate or Umpqua Valley.
The owners of the adjacent building originally approached Pallet about a purchase in 2011.
"We had just invested in the remodeling of the building and equipment," says Donovan. "We wanted the space, but we had to pass."
This summer, after the building's tenants abruptly left, the owners again approached Pallet, and Donovan and Sullivan jumped at the opportunity to buy the property. With the permission of the owners, they stored empty barrels and other items in the building even before escrow closed on Oct.1. The expansion will become fully functional when Donovan receives its bonding.
Donovan's clients are primarily from the Rogue Valley, but she has recently added two from the Umpqua and one in Bend. Her largest local clients include Irvine Family Vineyards and a proprietary bottling for Harry & David, along with smaller wineries like Grizzly Peak, Dana Campbell and 2Hawk.
Working with Donovan are enologist Ian Riversong, a graduate of Southern Oregon University; cellar master Fred Salomon from Nantes, France, with more than 20 years winemaking experience from the vineyard to the lab to the bottling line; and lab tech and winemaking assistant Elisabeth Grunewald, one of the first graduates in viticulture and enology from Umpqua Community College's Southern Oregon Wine Institute.
Roberta Kent is a freelance writer living in Ashland. Reach her at rbkent@mind.net.