Medford Goes Urban
Donovan opens wine bar in city's downtown
Urban Cork
Details:
330 N. Fir Street, Medford
541-500-8778
www.theurbancork.com
Hours: 1 to 7 p.m., Thursday–Sunday
Linda Donovan, who brought Southern Oregon its first dedicated custom crush winery, Medford's Pallet Wine Company, recently scored another first with the opening of Urban Cork, the city's first exclusive wine bar.
With Urban Cork's grand opening this past July, Donovan realized the second phase of a plan several years in the making, the idea of bringing to downtown Medford a unique venue exhibiting the full array of Southern Oregon wines and even a few from farther north.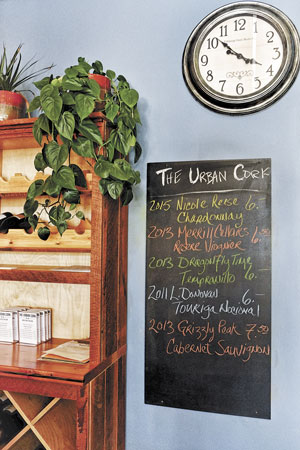 The idea of showcasing Oregon wines in this way was a natural result of Donovan's custom crush enterprise. Since Pallet attracts dozens of clients from all around the state, why not offer these wines at a bar next to the winery? Why would the same clients not want the additional exposure in a chic downtown setting? From that notion, Urban Cork was born.
Donovan points out how a visit to Urban Cork is the perfect way for visitors to design their adventures in wine country. Featuring some 30 varietals and 25 different labels, the bar is the ideal spot for people to explore local brands and plan road trips accordingly to wineries in the Applegate, Rogue and Umpqua valleys.
Its wine menu changes every other day — so, if you visit Thursday, you can return Saturday to experience a totally different selection. Urban Cork also offers beer and hard cider on tap, as well as made-to-order Italian sodas. A gourmet small-plate menu consists of imported charcuterie. Live music entertains on weekends.
Located at Third and Fir streets, Urban Cork anchors the west side of a vibrant section of Medford featuring an ever-growing selection of entertainment, hospitality and culinary establishments. Visitors and locals alike are excited to find the eclectic wines of Urban Cork within a few short blocks of the Medford Commons, site of the Saturday Rogue Growers & Crafters Market; the Inn at the Commons, a Neuman Hotel Group property; and Common Block Brewing Company, a brand new brewpub. A stone's throw away are Porters, a fine dining favorite, Kid Time Children's Museum and Holly Theatre, a 1930s movie palace being restored to its original splendor and now open for tours.
As the neighborhood evolves into a trendier version of itself, the pipe yard across the street confirms this is still a working, industrial downtown. For those seeking that authenticity, it doesn't get any better than this funky, cool and oh-so-Southern Oregon locale.
So what, you might ask, is next for the enterprising Donovan? She has already staked out the rooftop as an extension of the wine bar. As those who know her have been saying for many years, the sky's the limit.
MJ Daspit is a freelance writer and book author. She resides in the Rogue Valley.