Primitive Mover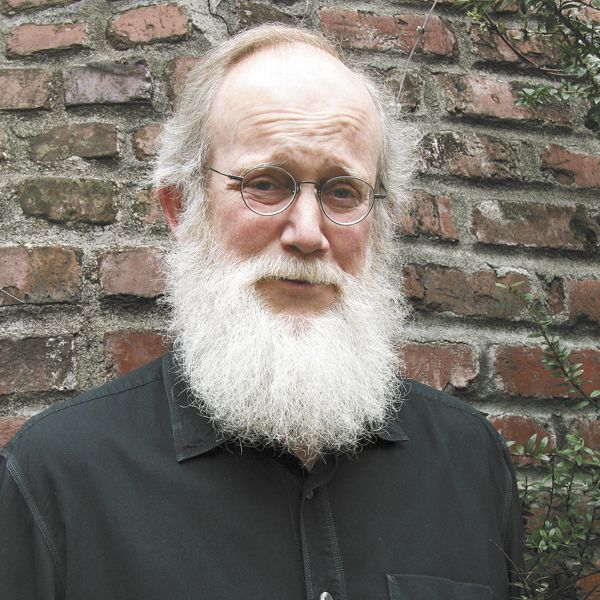 By Peter Szymczak
Mike McMenamin admits Edgefield is not yet perfect, nor is it likely ever to be, but that seems to suit his aesthetic just fine. Sure, it's a little rough around the edges here and there. "Just look at these busted-up stairs," he comments while walking down the main entrance of the hotel, scuffing the soles of his sandals, black socks peeking out between the straps, as he traces the chips and cracks in the time-worn cement.
In 1990, he and his business partner/younger brother Brian took a big leap of faith by purchasing this rundown historic property — the former Multnomah County Poor Farm, located on 74 acres on the eastern outskirts of Portland in Troutdale.
Over the subsequent 25 years, the brothers McMenamin have renovated Edgefield to varying degrees of finish. Today, there stands a 100-room hotel, brewery, distillery, two nine-hole golf courses, movie theater, several restaurants and watering holes, soaking pool and spa, concert venue, vineyards and organic gardens galore.
But the very first improvement they made was installing a winery operation that would produce all the wine to be served at their ever-expanding network of pubs, distributed across Oregon and Washington.
"We loved wine and wanted to do it ourselves," says Mike McMenamin. "We try to do that whenever we can, whether it's roasting coffee beans, growing vegetables … It's just more fun, and you learn a lot. That's what keeps life interesting."
On a gray afternoon in early March, Mike McMenamin and I sat down at Edgefield's Black Rabbit Restaurant. We sipped glasses of his winery's signature Black Rabbit Red blend and talked about wine while a soundtrack of vintage jazz played in the background. Whether riffing on his travels or creative process, "fun" was the word that resonated repeatedly from his dove white-bearded lips.
You just returned from a wine tour of California?
Yeah, my wife and I just returned from Big Sur. We have some friends who are in the wine business down there. We went to Nepenthe, this restaurant that has a great wine list. They're really into the Pinots from Santa Lucia, just outside of Salinas. They're wonderful wines with amazing delicacy, almost like what David Lett [of The Eyrie Vineyards] was onto 40-plus years ago. You don't find that delicacy much around here anymore … Oh, of course you do, but there are also a lot of rock-and-roll Pinots.
One might as well be drinking Syrah. You grow Syrah here at Edgefield, right?
We planted Syrah out back here, but it never worked. The soil here is river: it's moist, and we get a lot of water off the hillside, too. We tried getting it down to a ton per acre, but it never did happen. I was hoping that we'd get something with a cooler profile than what we get down in Dallesport at Chukar Ridge. They grow great Syrah there.
You source grapes from vineyards all over Oregon and Washington?
Yeah, that's the fun of it. So many vineyards are really so new. There's a lot of experimentation going on, different growing zones. That's why we make so many wines here. Part of it is to have some fun with it, but also monitor how things are going around the two states.
You've been making wine for 25 years now. What was it like when you first started?
The Vat and Tonsure was this restaurant of yore in Portland; it was a real nexus for early Oregon winemakers — the Ponzis, all the characters. The Pinots then started out light and feathery. Most of the wines were in the 12 to 13 percent range. Then, with all the techniques — early ripening, all the million things that have happened viticulturally — it's just rolled into that bigger product. But now we're starting to see some of that roll back. It's interesting.
Why make your own wine?
We were making beer at that point, so it was a natural move and we had this space. [The winery] was the first thing that opened out here. A friend, [winemaker] Rich Cushman, helped us out a lot to get going.
How has the winemaking here developed since then?
Once you find your niche, you must go in deep and explore and make it as good as you can.Experiment, experiment, experiment! From the wine side of things, we want to try all sorts of barrels, experimenting with every grape we can get our hands on, and increase our knowledge through schooling or teaming up with folks who know, tasting groups, whatever …
A Celebration of Syrah, perhaps?
Yeah, who doesn't want to hear a winemaker talk about their loves and taste some amazing wines? Obviously, we want to promote the industry. From a business standpoint, how do you do something that's interesting and educational and fresh, so maybe you highlight a grape variety that isn't Pinot Noir. But every grape variety is fun. The fun part is it's interactive with everything else. There are people involved, customers everywhere. An active winery where people are coming in and out — it's fun! It gets kind of nutty, I admit. If you want quiet, you have to pick your spots.
Why do you like Syrah?
Syrah has immediate pleasures, definitely. But to me the best wines are blends, whether it's Cab/Merlot or other various Bordeaux varietals. Pinot Noir is more vineyard specific, although there's blending of vineyards to achieve what you're after. Rarely does a particular vineyard get you exactly where you want to be. You go where it wants to be, rather than the other way around. But with Syrah, when you start blending it with Grenache and Mourvèdre — like in our L'Abri Rouge (Little Red Shed Blend), that's our Rhône-style blend — I like what happens then. Syrah by itself is wonderful, but I think it gets better with some blending. That's my theory, anyway. Not that there aren't some great Syrahs. And, Syrah changes with different locations. I love when it gets into a more peppery kind of thing — that's where it's at, as far as I'm concerned.
Is Syrah a better representative of McMenamins than, say, Pinot Noir would be?
Syrah is a real peasant, country kind of wine, so that fits our bill. Our whole thing has been, we're a little more primitive maybe, and try to keep it simple. When we try to describe Edgefield, or how would you describe your company, I say, if we were to condense our company down to 200 square feet, it's the Little Red Shed. It's leaky, has an uneven floor, it's too warm or too cold, it's all about people gathering, getting together, and there's no music in there, so you have to talk to the person next to you or it's really weird, because you're really close to each other. So, when we talk about food, or whatever, it's that same thought process: simple, primitive to a point, unadorned, unshiny, trying not to confuse anybody with the newest, quirkiest thing. So Syrah, or Rhône-style wine, fits into that.
Celebration of Syrah
The counterculture counterpart to the International Pinot Noir Celebration, the storied wine event held in McMinnville, on the last weekend in July, the 13th annual Celebration of Syrah will take place Friday and Saturday, April 11–12, 2014, at McMenamins Edgefield in Troutdale.
Friday evening begins with the Rhône White Reception featuring tastings of Viognier, followed by the Gourmet Syrah Dinner. Black Rabbit Executive Chef Kenny Giambalvo will prepare an elegant feast paired with seven Northwest Syrahs.
Saturday's proceedings open with the Tour du Rhône Lunch. Under a canopy of trees in the Little Red Shed Fir Grove (weather permitting), guests will enjoy a four-course menu inspired by the south of France and paired with a flight of traditional Rhône-style wines such as Viognier, Syrah, Roussanne, Marsanne and Grenache.
Capping off the weekend is the Grand Syrah Tasting and Benefit Silent Auction. Dozens of Syrah and Rhône varietals from West Coast winemakers as well as from France and Australia will be paired with hors d'oeuvres. Proceeds from this final event benefit ¡Salud!, the nonprofit organization that aids Oregon's seasonal vineyard workers in securing medical care.
Participants may spend the night or the whole weekend at Edgefield by booking one of the Celebration of Syrah hotel packages. For more information, log on to www.mcmenamins.com.