Making the Rounds
Portland trucks wheel and deal fine cheese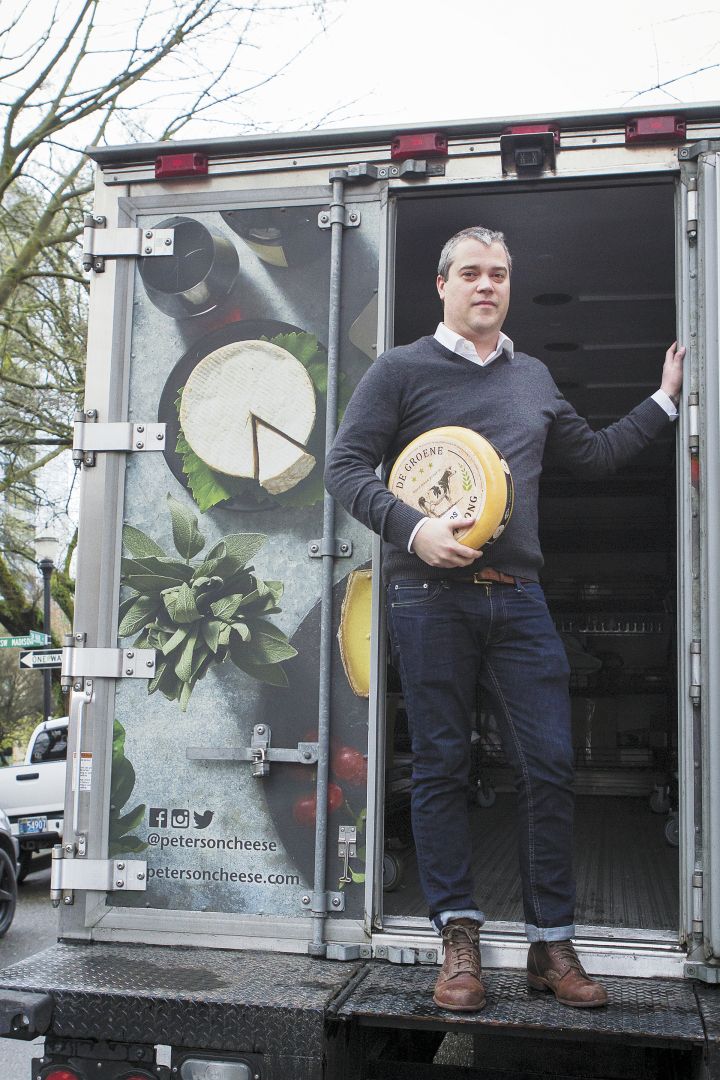 When you step on board, the aroma is unmistakable: earthy, pungent with whiffs of cave and mold. Wheels and wedges and tiny rounds of cheese are carefully placed on racks specially designed to hold the bounty as it rolls down highways and along country roads.
The truck, a refrigerated cheese shop on wheels, brings varieties of cheese and their tasty, aged cousin, charcuterie, to top restaurants and cheese shops, allowing chefs and mongers to step aboard, sample, savor and buy directly.
For a food like cheese, being able to see and taste first hand the products you will be buying is an exciting prospect. Not only can you see the condition of the product, you also can find new items or old standards that just happen to be at, or approaching, perfection.
Garrett Abel is only the fifth person to occupy the driver's seat in the Peterson Company speciality cheese truck, making the rounds since 1999. A young Frenchman eager to share cheese in the Northwest convinced his bosses to give him a semi-truck loaded with cheese to take out on the road.
Selling cheese door to door is not a new idea. J.L. Kraft — yes, that Kraft — was doing just that in Chicago in the early 1900s. The waste from that business model prompted him to devise a new, shelf-stable cheese that would feed people cheaply and with less spoilage. Processed American cheese was born.
The Peterson cheese truck, as well as the Provvista Cheese truck, which debuted around the same time, have been keeping Portland cheesy and well ahead of the curd curve in cities of similar size.
Abel grew up in Tacoma and honed his cheese chops at DeLaurenti Specialty Foods, the pioneering Pike Place Market specialty food store. "That's what really sparked my interest in cheese. DeLaurenti is an ingredient mecca for any chef or food lover. It really expanded my palate." Abel rose through the ranks to run the DeLaurenti's food program and was ready for a new challenge.
Just nine months into Abel's new role as a mobile cheese expert, he couldn't be happier. There's no typical week in cheese trucking. Mondays mean a good cleaning and stocking with cheese and cured meats. For the rest of the week, he is a road warrior, visiting customers in the Seattle metro area, with regular trips to Portland and as far south as Eugene.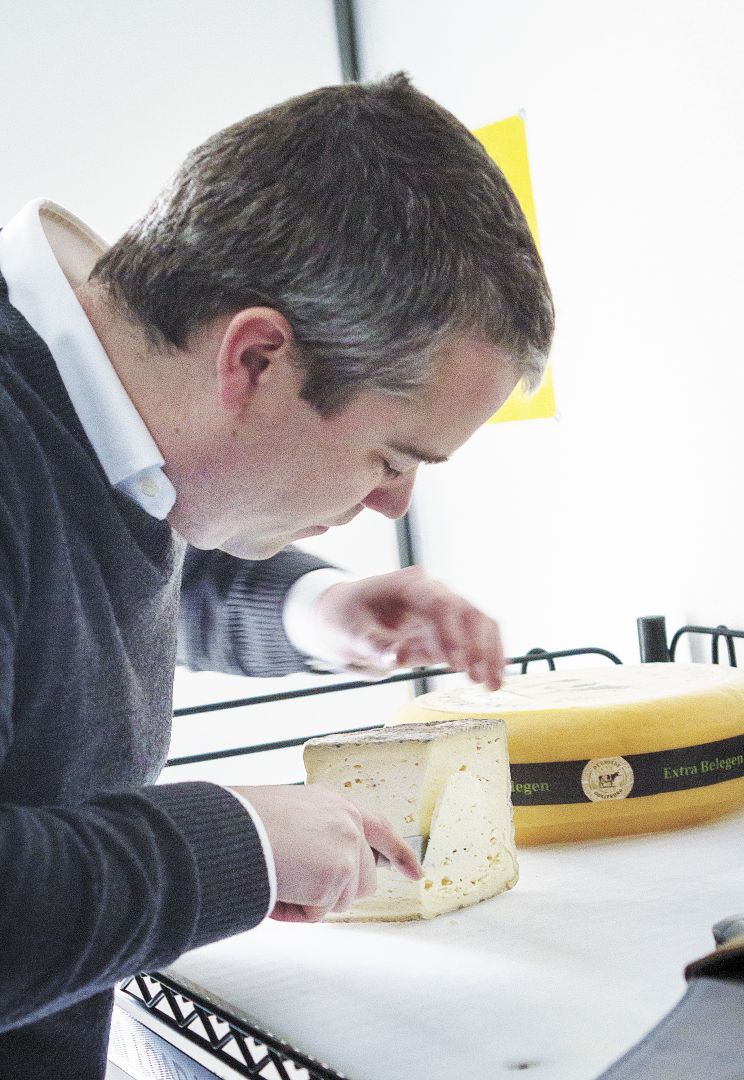 "No one's ever angry when the cheese truck shows up," he says. "People want to see and touch the cheese, something you can't do with a sales rep on a phone. I never know how much time they'll want to spend."
Once, while visiting the chef at Safeco Field, he ended up with 10 members of the Safeco food team onboard for a mini cheese tasting and lesson.
Abel curates a selection of standards along with seasonal specialties. After months focusing on the aged and melting cheeses, he's turned the corner for spring. This time of year, the truck is stocked with bright, tangy flavors, as shelves are packed with diminutive wheels of ripened goat cheese from the Loire and Poitou.
Other products in the mix for longer days include small-batch, traditional English cheeses and some Spanish selections, which he likes to pair with Fermín Iberco acorn-fed, bone-in ham aged for four years.
No matter the cheese or accompaniment, the trucks are full of delightful pairings and delicious finds.
Finding a parking place in Portland? That is another story.