Well Done, Lundeen
Winemaker builds brand from his own backyard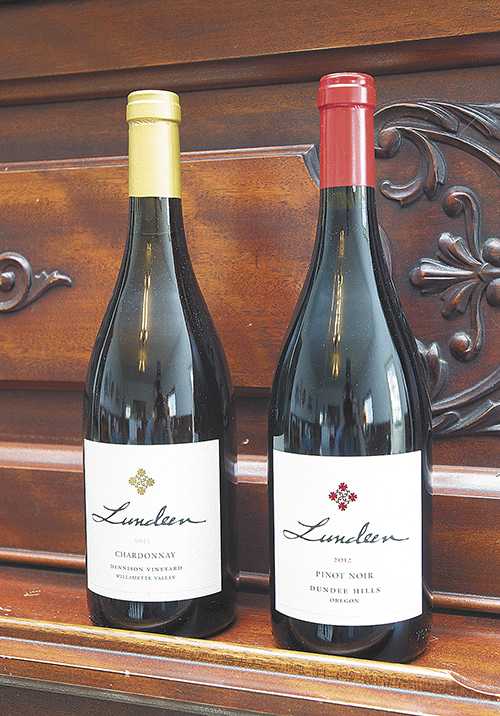 By Jim Gullo
Ten minutes into our interview, it dawns on me that Michael Lundeen must be lying.
We are sitting on folding chairs in the barrel room of Walnut City WineWorks in McMinnville, where he is the head winemaker and general manager, tasting samples of the 750-case Lundeen wine label that he grows, makes, bottles and markets, almost entirely by himself.
Bright and cheerful, well-spoken and incisive in his answers, he has what the better true-crime novelists would call penetrating, steely-blue eyes. He is wearing a golf cap on his prematurely balding head to ward off the chill in the former walnut processing plant and a T-shirt that declares, "Support Craft Winemaking." He appears to be telling me one whopper after another.
Get this: Lundeen is not the fifth-generation heir of a French winemaking family suddenly grown enamored of the potential of Oregon wines, acquiring an entire hillside planted in grapes and sending him to head their programme (in French). I bet he barely knows 40 words of French. He couldn't translate "skin the cat" if you spotted him the "le" and "chat."
And get this: Lundeen does not represent a coalition of New World and Old World wine experts who include Hollywood film producers and one of the brightest names from Burgundy you can't pronounce, with holdings in Napa and Tasmania. He is not the new face of Oregon's rising international stardom. He has no intention of changing the way the world will view, much less drink, Oregon wine.
What Lundeen would have us believe is that he is the rarest of creatures to be found in the Oregon wine business these days: A native Oregonian.
He grew up in Salem. His high school nickname was the Saxons; he then became a Duck in Eugene at the University of Oregon, where he studied journalism and architecture. Graduating in 2001, he sold one lousy story to a magazine before winemaking came calling. "I discovered wine in earnest, the lightbulb went off, and I never looked back," he says in the barrel room.
Honestly, you expect us to believe that?
Here's what happened (or so he claims): The ink had barely dried on that diploma when Lundeen was shot down for one journalism job after another. He couldn't even find an internship, but crush was approaching, and he thought he'd give wine a try. His bad luck nearly held when no wineries responded to his inquiries, but then, Laurent Montalieu, the winemaker at WillaKenzie Estate at the time, called.
Lundeen spent his first day in the wine business scrubbing mildew off glycol tubes on the backs of tanks and thought it was the most awesome job in the world. He remained for two years at the Yamhill winery, working under Montalieu and Thibaud Mandet, soaking up their knowledge of winemaking.
In 2003, he moved to Domaine Serene, where he served as cellarmaster under Tony Rynders and learned more about wine, but it was in 2005 when he really made the quantum leap into grapes, so to speak. He worked a season at Castello di Verduno in the Barbaresco region of Italy's Piedmont with his friend, Mario Andrion. The experience of crafting artisan wines in small batches made sense to Lundeen.
"That's when I decided to make wine for myself," he says. (And this time, I believe him.) "In the basement of every single house was a winery. I realized that you don't have to be big, just good."
Returning to the Willamette Valley, he took oenology classes at Chemeketa Community College and studied viticulture with Al MacDonald at Seven Springs Vineyard. It was at Chemeketa where he met Brad Ford of Illahe Vineyard, and Lundeen joined forces with him to convert a barn in Monmouth into a winery, beginning with pouring a concrete floor.
"We danced through that crazy, rainy vintage of 2007," recalls Lundeen, "and the first wine we produced got us into IPNC. That was the first time my business card said winemaker."
It was the first time his Match.com profile said "taken," too. That same year, Lundeen met his future wife, Desiree, and the two lived in Monmouth, where he could cycle to work while she completed her degree at Western Oregon University. In 2008, the family farm on Poverty Bend Road outside Carlton, where his father had grown up and grandparents had lived, became available. There, he planted his first vineyard, and the newly married couple set up their household.
Son Colin was born in March of 2011, and by that time, Lundeen had become winemaker, and next general manager at Walnut City WineWorks, working with industry vets John Davidson and John Gilpin to craft some 10,000 cases of wine from a variety of grapes, including Riesling, Pinot Gris, Pinot Noir, and this year, the company's first Willamette Valley Dolcetto.
"When Michael and I first discussed employment, he said, 'I am living in the house I will die in,'" recalls Davidson. "He is in it for the long haul. His wines reflect his 'self.' They show good balance, a fine blend of innovation/creativity, logic and practical smarts. He has the fine balance of a real farmer and modern winemaker, and with a big heart."
The Lundeen wine brand was born in 2008, specializing in Chardonnay and Pinot Noir in a style that can be described as elegant and distinctive, with beautiful balance and expression from his vineyard sources. Besides his own vineyard, Lundeen purchases grapes from the Dennison Vineyard outside Salem, which, in his hands, produce a rich, focused Chardonnay with powerful minerality, and Z'IVO Vineyard in Eola-Amity AVA for a Pinot Noir that is 85 percent whole-cluster fermented.
"I'm not a big extractor," says Lundeen. "Most of it is done with my feet. I get into this every year," he adds, pointing to a 2.5-ton French oak fermenting vessel.
His flagship wine is called "Mon Pére," a silky-smooth Pinot Noir with a label depicting two footprints, large and small, reflecting the multi-generational heritage of the family property.
As if he really expects us to believe that his is a truly Oregon brand, built on land passed down through generations of native Oregonians. Yeah, right.