The Changeup: Little Red, Big Taste
My favorite Carmine since Ragusa and Falcone
When winemaker Trudy Kramer discovered her husband planned to plant Carmine vines in the family's vineyard, she yelled, "Are you insane?" Yet Keith Kramer persisted. Thirty years later, Kramer Vineyards uses their Carmine to make red wine, and all is forgiven. Once in a pink moon, however, the Kramers make their "Little Red" Rosé of Carmine ($24). They've produced only 250 or so cases in all these years, making it easily one of the rarest wine treats in all of Oregon.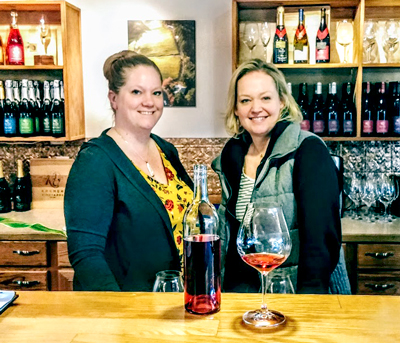 Kramer Vineyards was five years old when Jimmy Leyden of neighboring Courting Hill Vineyard offered Kramer 200 Carmine starts. As current winemaker Kim Kramer recalls, "Mom was not happy because she didn't think Carmine grapes would ripen here." Kim asked her father if he had ever tasted a good wine made with Carmine grapes. He replied: "No, but these cuttings are free!"
Keith eventually wore down his family, and in 1989, they planted slightly less than an acre of Carmine.
Carmine is a hybrid grape created at the University of California, Davis, by Professor Harold P. Olmo. In the 1940s, a handful of California winegrowers asked Olmo to develop a thick-skinned red wine grape sufficiently cold-hardy to tolerate California's cooler regions. Olmo selected one of his earlier creations, a Carignane and Cabernet Sauvignon hybrid, and crossed it with Merlot. Soon afterward, it gained approval for commercial use in 1975. Carmine vines were en route to Leyden's vineyard near Gaston.
"The Davis guys told me it would grow here, and it did. The problem was, I could never find anyone to buy the grapes," Leyden laughed. He eventually tore out his Carmine vines, and today there are fewer than 200 acres of Carmine planted in the U.S. Thankfully, the Kramers didn't follow Leyden's lead.
Most farmers wouldn't have persevered. Carmine requires constant thinning and years can pass before the grapes produce quality wine. "We didn't release our first Carmine until 1999, and even then the early red wines were disjointed. Not many people have the patience or the financial model to wait a decade to get a return on investment" Kim admitted.

Today the Kramers produce an excellent Carmine named "Big Red." The "Little Red," however, is a pink wine born of necessity.
On Nov. 2, 2010, the family faced a dire situation. Frost arrived, but the Carmine grapes were registering only 18 Brix, a sugar level not high enough for Kim, who prefers her Carmine to be at 20 or more before she picks. Struggling to determine what to do with the grapes, Kramer acted as any modern winemaker would: She put out an "SOS" call on Twitter. Local wine writer Katherine Cole responded with what Kramer describes as a "brilliant" suggestion: "Make rosé!"
That first "Little Red" was memorable, marked by mouthwatering acidity, tart red fruit and saline. The 2017 "Little Red" takes a different, but equally compelling, direction. Kim describes her "Little Red" containing "crazy high" acidity, but the latest version tastes softer and more reflective of the 2017 vintage. "I'm O.K. with either direction, as long as I capture that summery red fruit flavor," she said.
Kramer's 2017 "Little Red" succeeds in capturing summer. Even the wine's color, a darker shade of pink, somewhere between Sangria watermelon flesh and a cherry Jolly Rancher, conjures up memories of summer sunsets viewed from porch swings.
A quick swirl liberates scents of dried strawberries and a waxy note the winemaker describes as "the wrapper of a Starburst candy." I actually used to lick those wrappers when I was a kid, so I can second her assessment. I also noted a bit of toffee and a talc-like aroma that never fails to remind me of the white powder dusting every piece of Bazooka Joe bubble gum.
"Little Red" soothes the palate with each sip. Red fruit flavors run from cranberry to cherry with a little citrus, creating a mild Red Zinger tea effect. What inspires me most, however, is the wine's texture. It is slippery smooth and soft around the edges, like someone slowly dragging a red silk sheet across your back. If previous vintages of "Little Red" were a frenzied tango of acidity, this is a languid Bolero.
Looking to add pizzazz to your usual rosé lineup? Then snap up bottles of the "Little Red" before it retreats into "Brigadoon" mode, disappearing for who knows how many more years. Keep in mind only 67 cases were made, so don't get caught watching the pink paint dry.