Les Is More
Pinot-loving Primus frontman not just a bass legend
Les Claypool, considered one of the world's most original bassists, is best known for the band Primus — current members also include Larry "Ler" LaLonde and Tim "Herb" Alexander.
Born in 1963, Claypool was raised in El Sobrante, California, in a working-class family. At age 14, he began playing bass. Fellow high school student Kirk Hammett — of Metallica fame — turned him on to rock, yet other musical interests, such as jazz and swing and other genres, have ultimately inspired his unforgettable fusion of music.
From 1989 to 2000, Primus was one of the most eccentric bands to gain mainstream airplay. In addition to recording several studio albums — "Sailing the Seas of Cheese," "Pork Soda," etc. — Primus is also famous for recording the theme for "South Park" in 1997. Primus went on hiatus in 2000, returning in 2003.
He has been a part of a number of other bands — Sausage, Holy Mackerel and others — and collaborations; his latest with Sean Lennon, The Claypool Lennon Delirium — the duo will play at Bonnaroo this summer.
Claypool lives near the town of Occidental in Sonoma County with his wife, Chaney, and two children. Along with his wacky sense of humor and overall eccentricity — for example, his home is called "Rancho Relaxo," a reference to "The Simpsons" — he has been well known for his use of cannabis, love of fly fishing and wine.
Starting in 2007, Claypool began a personal winemaking project that turned into a boutique business. Claypool Cellars sources grapes grown in the Russian River Valley; the popular Pachyderm Pinot Noir is the foundation of the winery's offerings.
For more about Claypool Cellars, visit www.claypoolcellars.com.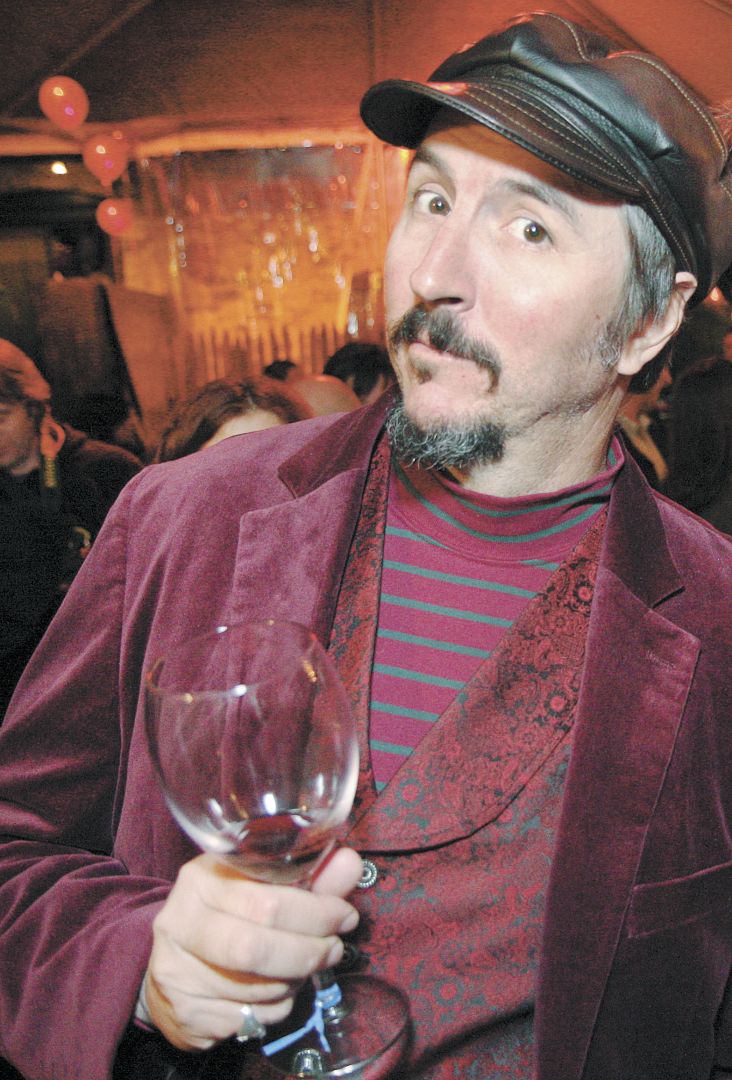 How did you first become interested in wine?
I was thrust into wine. We moved to the Russian River Valley in the mid-'90s, and after a while, it just sort of seeped into our pores. It's like living in Hollywood, all your neighbors work in the film industry; well here, my barbecues are attended by coopers, vineyard managers, winemakers, etc. They all started bringing their juice around, and I was hooked.
Name (and describe) a wine that blew away your palate.
My palate starts with Sonoma Coast/Russian River Pinot, and I was first enticed by a 1999 Gary Farrell. I was surprised to see the same bottle referenced years later in the "Sideways" novel by Rex Pickett.
What is it about Pinot Noir that you love?
Pinot Noir goes well with all the foods I personally prepare and those are usually from the sea. One of my favorite things to do in the world is to pull crab pots in the afternoon and eat fresh Dungeness crab straight from the boil with a slippery glass (from my slimy crab hands) of Pachyderm to slurp on.
Do you drink/like Oregon Pinot Noir? In your opinion, what are the stylistic differences between Russian River Valley and Willamette Valley Pinot Noir?
I have not had a great deal of Oregon Pinots. I tend to like the Sonoma Coast, lean and delicate pinots over the Russian River Pinots. Though I started as a big fan of the Russian River Valley wines because of their approachability, especially for a newbie wine drinker, but have since grown to prefer brighter and more acidic wines with lower alcohol content. Any balanced wine makes me happy, no matter where it's from.
Your wine, Pachyderm, is named in reference to the song "Southbound Pachyderm." Why this song?
A buddy of mine is a big sommelier in San Francisco and is also a big Primus fan. When I was kicking around names he suggested the Southbound Pachyderm because it is such an iconic tune in the Primus world. I drew a purple elephant on a ball balancing a wine glass to imply balance and magnificence of nose.
If you could pair wine to instruments, which varietal would you pair with the bass?
I would pair my Pachyderm wine with bass because I actually play a Pachyderm bass of my own design and I also get the Pachyderm wine for free, so I'm spoiled. Free, what a moronic thought ... making wine is one of the most wallet sucking ventures I've ever embarked upon. If I didn't love it I wouldn't do it. Also, one of our winemakers is a super Pinot hero, Ross Cobb and the only reason I was able to wrangle him into making our wine is because he is a monster dub bass player and we have a low-end kinship.