"Peeno" and Proud
Rising star celebrates gay pride with new wine
With his infectious personality, lively comedic delivery and superb talent, Tituss Burgess has emerged as one of the entertainment industry's most versatile and dynamic performers, with his work in television and theater generating both critical and commercial acclaim.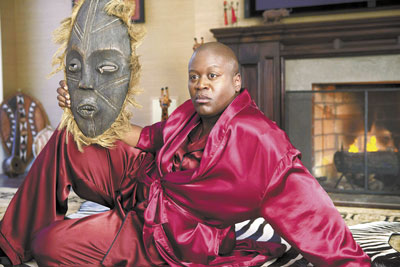 Burgess became a fan favorite on Tina Fey's Emmy-winning NBC series "30 Rock," and in 2015, he emerged as the breakout star of Netflix's award-winning comedy "Unbreakable Kimmy Schmidt," for which he received a nomination for the Primetime Emmy Award for "Outstanding Supporting Actor in a Comedy Series" in 2015 and 2016.
Inspired by his "Unbreakable Kimmy Schmidt" character, Titus Andromedon, who sings an operatic song titled "Peeno Noir" in the first season, Burgess launched his own brand of wine in 2016 with Pinot by Tituss Burgess (PBTB), a 2014 Santa Barbara County Pinot Noir. In addition to PBTB, Burgess released two additional wines, Pinot Pride and Rosé Pride, during this year's Pride Week in New York City; the launch party raised funds for GLAAD and Equality Florida.
How did you first become interested in wine?
My first foray into wine was Communion as a child. I accidentally — on purpose — drank the remaining cups of sacrifice and, as a result, sacrificed my sobriety. I should mention I was 9.
What is it about Pinot that you love? Any other wine favorites?
I love our blend because it is a tad more dense than most I've had. I'm no expert, but I know what tastes good. I love how festive-centric our wine is. It's a way for a younger demographic to tap into what is essentially an elitist sport. I have great respect for the wine industry as I have learned a great deal about it. Hmmm… my other favorite wine is Pinot Rosé. No, really. I'm serious. It's delish. I'm very much looking forward to next summer just so I can expose its brilliance all over again!
What's your favorite food pairing with the PBTB 2014 Pinot Noir?
Ribs. I marinate my ribs in my Pinot Noir. I use the left-over marinade to make my sauce.
How has creating "Pinot Pride" affected your life?
How has it affected my life? I think it's the other way around. My life affected Pinot Pride. It's because of my pride for my community that I created it in the first place.
Which celebrity would you love to share a glass of wine with? Why?
Soooooo many… I'd love to chat with Renée Fleming over a glass of my wine about music. I would also love to have a glass and chat with Robin Wright and Donald Glover. All are amazing artists with specific points of views about the world and expression. Many of the qualities that