Kurt Russell
Hollywood icon a winemaker at heart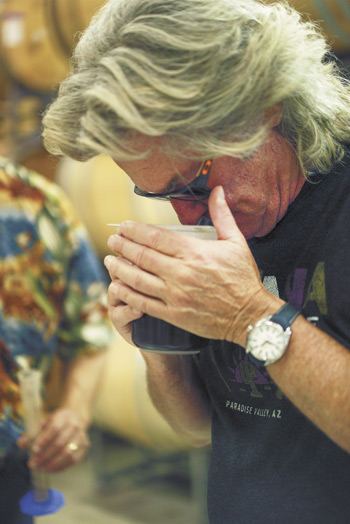 From remaining one of Hollywood's biggest stars to his celebrated relationship with Goldie Hawn, Kurt Russell is now also known for making wine. While filming the Quentin Tarantino movie "Death Proof" in the Santa Ynez Valley and Santa Rita Hills, Russell was wowed by the area's Pinot Noir, comparing the quality to Burgundies he'd enjoyed through the years. After meeting Peter and Rebecca Work of Ampelos Cellars in the Santa Rita Hills, Russell, inspired by the couple's dedication to organic, sustainable and Biodynamic farming, launched GoGi Wines at Ampelos in 2008. Currently, Russell crafts Chardonnay, always named Goldie, and Pinot Noir named after a different family member each vintage; the latest, 2014 Birdie, references his stepdaughter, Kate Hudson. Next up, 2015 Southpaw, is named for Kate's brother, Oliver. For more information, visit gogiwines.com.
Why make wine?
KR: Thirty years ago, I found that I loved taking bicycle trips with Goldie, family and friends through the wine regions of Napa, Sonoma, France and Italy. I especially loved the wines of Burgundy and learned that Pinot Noir was my favorite varietal. I simply wanted to learn how this wine was made, and I then began to dream of possibly producing a Pinot that I loved so that I could drink it whenever I wanted.
What is it about Pinot Noir that you love?
KR: It really is the complexity. I love the balance of aroma, great taste, texture, warmth and … elegance. For me, it is the single varietal with the greatest capability to enhance so many different foods or that I can also enjoy equally by itself. It passes my "island" test. If you're allowed only one wine for the rest of your life, I'll take Pinot Noir.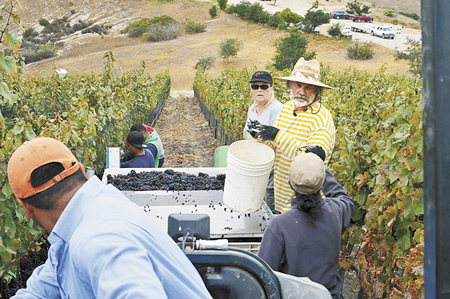 What part of the winemaking process fascinates you the most?
KR: Everything. All of it. The farming process is in and of itself fascinating. Nature is nothing short of amazing. The process of nurturing the results of nature is demanding and, of course, fascinating to learn. But it is blending that thrills me. That's where the rubber hits the road. That's where the artist who produces Pinot Noir will be tested. What can I say? Everything that goes into making a bottle of fine wine is absolutely fascinating.
What is your philosophy in the vineyard? In the winery?
KR: First, let Pinot be Pinot. Learn and use as many Old World techniques, the least amount of intrusion, the least amount of pressure (machinery) on the vines as possible and what you can afford for a well-located vineyard. In the winery, bring out the best in what the grapes give you to work with. While I think it's important to have a strong notion of what you want to achieve, don't try to force it. Let the wine reveal itself and focus on what pleases you and continue to focus only on that. If possible, use only free-run; buy barrels that are befitting of your palate, and then, 20 to 22 months later, taste through the barrels and try to understand what the different clones are saying to you. Don't blow it in blending the clones that will ultimately display what you feel is an aromatic, slightly chewy, great tasting full-mouth experience that is so well balanced you can't quite figure out what you like best about the wine as you drink it.
What's the last bottle of wine to rock your palate?
KR: I'm not a connoisseur of wine. I'm just a Pinot Poodle. Whenever I see a bottle of Kistler or La Tache, or Richebourg … hell, anything DRC or even my favorite vintage of GoGi, I get excited about what I'm about to experience. The last one? Oh, yeah. Biondi-Santi 2012 Brunello di Montalcino (Sangiovese). I got it at a great private tasting at their winery. Great people. Great wine. Hey, I was eating pasta!
What are your favorite places to visit in Burgundy?
KR: Beaune. Biking slowly through the Grand Cru — all of it. My favorite spot would be the small dusty roads running through the Grand Cru near the vineyards of La Tâche and Romanée-Conti. My favorite experience would be tasting four different vintages of La Tâche with the vineyard manager in the La Tâche cellar.