Jon Bonné
Currently the senior contributing editor for PUNCH (punchdrink.com), Jon Bonné has become one of the most influential and widely read American voices on wine over the past 15 years. For nearly a decade, he was the wine editor and chief wine critic of The San Francisco Chronicle, earning two James Beard Foundation Awards. Previously, Bonné was the lifestyle editor and wine columnist at MSNBC, where he also worked as a producer and correspondent, covering topics from politics to the airline industry. He's served as the U.S. columnist for Decanter and the wine columnist for Seattle Magazine. His byline has also appeared in Saveur, Food & Wine, The Washington Post, The Art of Eating and Noble Rot. Bonné is the author of "The New California Wine" (November 2013), which was honored as the Roederer International Wine Book of the Year, and "The New Wine Rules," (November 2017). In addition to writing, he works as the wine curator for JetBlue Airways.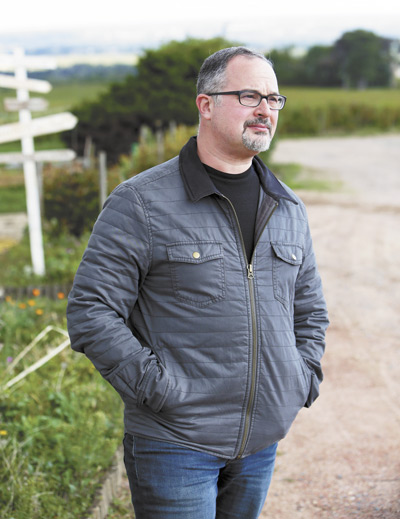 Q: Why did you write "The New Wine Rules," your latest book?
JB: For a lot of reasons. But more than anything, I was really dissatisfied with the introductory wine books out there. My wife, Valerie (who also works in wine) and I would talk about it a lot. How do we have this amazing, young generation of wine drinkers, and yet most of the books out there for them read like they're from the 1990s? I raised this question with my publisher, who wanted to do a book. But the question we kept coming to was: What format would feel right for today? I mean, the Internet is there to answer almost all the simple things. Want to know what Sauvignon Blanc is? Let me Google that for you.
One day, Val and I were having lunch at a restaurant in downtown San Francisco. We were part of a bottle of wine in and half-listening to the table next to us. Maybe five or six women, all late 20s or early 30s, well dressed. We figured if they were out to lunch like this, they were all doing pretty well. But they were hitting a brick wall on trying to find something on the wine list — and not like, "Hey, Pinot Grigio," but really interested, trying to make informed decisions and find something special. And they were getting nothing in terms of help. Not from their server, not from anyone, and not from us — we decided that would be awkward. So we sat there, getting more and more frustrated. LITERALLY, this is the demographic that's going to drive the wine industry for the next 30 years, and no one has given them a set of tools to make good decisions. And that's a lot of fingers to point — at restaurants, at the industry and, for sure, at wine journalists, me included.
So that did it. We went home and concluded that the book needed to be a brain dump, basically, of our wine minds — the framework of how big fancy experts actually think about wine on a daily basis. Not paint by numbers, but the real synaptic connections. So that became "The New Wine Rules."
Q: What's the most important rule in your book?
JB: So many! But ultimately the most important is Rule No. 1: Drink the rainbow. That's why it's Rule No. 1. We live in this marvelous, diverse world of wine today, where pink and orange can sit beside red and white, and we can all enjoy the shades and styles in between. That's so key for me in terms of being able to truly enjoy wine as it exists in 2018.
Q: What's your impression of Oregon wine?
JB: I lived in Seattle for almost six years, during a boom time for the Northwest wine industry. That's where my wine-writing career started. So I have a deep sentimental love for Oregon wine, not just Pinot Noir but all the things, which is to say I remember wines like the Francis Tannahill Mason Dixon Syrah or La Bête's Aligoté — this was way before the fringe became more than fringe. Even after I moved to California, I would wave the flag for Oregon Pinot — and use it as a reminder to everyone in Sonoma and elsewhere that they weren't so special.
But a few things have happened: One, California got a lot more interesting — in Pinot, but in lots of things. And two, the market popularity of Oregon Pinot drew a bunch of big names up from California, aiming to build brands. That's great for growth, but it's also kind of antithetical to the Oregon wine mindset. So I worry a bit today that the incursion of big companies is going to make life complicated for the hundreds of terrific small producers in the state. What I think we don't want is for Oregon, especially Oregon Pinot Noir, to become just another "category."
That said, so many exciting things are happening in Oregon—again, I think, because that indie spirit of Oregon wine is so strong. "Loiregon" being one of them, of course, and if Chenin Blanc and Cabernet Franc keep cropping up throughout Willamette (or Rogue, or Umpqua) nothing could make me happier. And there's the Gorge, which tends to get overlooked but is one of the most interesting places in America to make wine. And Riesling. Orange wines. Pet-nat. It's such a perfect place to experiment.
Q: Can you tell us about your upcoming book?
JB: It's titled "The New French Wine," and not exactly a sequel to "The New California Wine," but the next part of what's a global story. What's happening in France today is so remarkably exciting, because that sense of revolutionary change is taking place not in one region, but in more than a dozen, each with its own sort of transformation. The new generation in Champagne has a totally different story than the one in Muscadet or Bordeaux. Over the past four years, I've gotten to visit nearly every wine region in France, which has been overwhelming, in a way, but also thrilling because France is literally the beating heart of the world's wine industry. It's the reference for nearly everything, and it's evolving in some ways even faster than American wine regions.
Now, all I have to do is finish writing it. Keep an eye out in a little over a year.
Q: Any opinion on the current controversy of Copper Cane winery and the misuse of Oregon AVAs?
JB: As I said, one of my deepest worries about Oregon wine is the arrival of big brands. And if you've followed the trajectory of Elouan's sibling, Meiomi, this perhaps wasn't an enormous surprise. On the other hand, the system worked. Oregon took action a long time ago to protect its appellations and identity, and that's provided the tools to tackle situations like these effectively.
I also think it's been wonderful to see the Oregon wine community come out and help the growers whose fruit contracts were voided — that, to me, is the best of Oregon at work. I'll be super curious to see whether anyone tests that fruit for smoke taint, which, having gone through 2008 in California, I can tell you isn't hard to trace. My hunch, based on nothing in particular, is that most of those grapes will make perfectly good wine.