Harry Peterson-Nedry
Harry Peterson-Nedry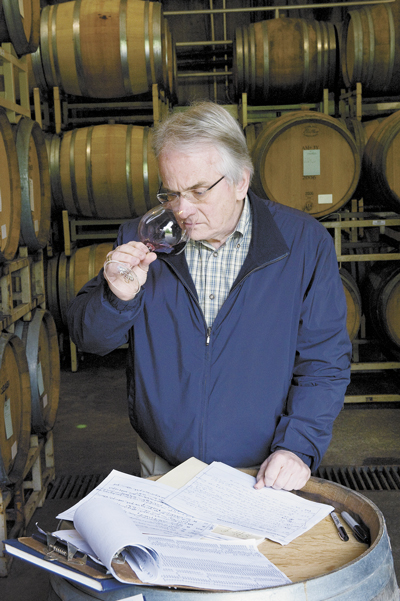 Harry Peterson-Nedry's wine career began in 1980 after purchasing land to establish Ridgecrest Vineyards, the first vineyard in what would become the Ribbon Ridge AVA, which he co-authored in 2001 (approved 2005). In 1990, Harry founded the Chehalem brand with estate fruit in its sixth harvest year. Within five years, he had expanded the winery's estate holdings to include Corral Creek Vineyards (adjacent to the Newberg winery) and Stoller Vineyards in the Dundee Hills, which was developed by his Chehalem partners Bill and Cathy Stoller, who joined the winery in 1993. Harry sold his share of Chehalem in 2018 to his then-partner Bill Stoller. He and his daughter, Wynne Peterson-Nedry, are now solely focused on Ribbon Ridge Winery, a personal side project founded in 2002, making premium wines from Ridgecrest and Wind Ridge vineyards (retained after the sale of Chehalem). Harry is known for his deep involvement in the industry. Oregon Wine Board, International Pinot Noir Celebration, Oregon Pinot Camp, Oregon Riesling Alliance are just a few of the organizations he has served at length. Harry and his partner, Didi Nowers, divide time between Newberg and Portland, with leisure time spent painting, eating, traveling and visiting museums.
Q: Why wine?
A: Uh-oh, a very open-ended question, so expect a diffuse answer, some rambling.
Wine may be the best summary of life there is, full of contradictions and contrasts from which we get some kind of hard-to-define magic. It may be the intersection of all essential elements of what's important, the nexus of things ethereal AND grounded, of hedonistic appreciation AND scientific rigor, of right brain AND left brain, of temporal enjoyment AND almost immortal longevity — [I realize] that sounds pompous and philosophically precious, without relating to it personally.
For me, wine provides a focus that rewards sensual epiphanies and excitement, full of creativity and outlandish hyperbole about what I've just put in my mouth or just created during moments of dreamlike fiddling release. All of that while at the same time requiring technical rigor to understand and duplicate that one magical, creative time and product, so that rather than a one-off experience, it can be replicated, that rarified quality level now being the base from which to create the next level of "wow!"
Wine is about history AND the future. It requires subjective sensibilities for human appreciation AND also hard-wired analytical precision. Wine is "drink it tonight" short-term AND "how does it morph and even continually improve" long-term. Wine is a social lubricant AND aid to pensive reflection. Wine is an agricultural product AND a luxury item worthy of investigation, reflection and philosophication. Wine is a reflection of nature's variability, vintage to vintage, YET holds firmly to key factors like place, dictating the a priori qualities of special wines.
Q: What was it really like in the earlier days of the industry?
A: Not having a road map is both scary and freeing. In general, although it was a lot like wandering in the wilderness with other friends, there were opportunities to create around each bend, paring hurdles or problems down to their essence and asking, "How do we best do this?" Once we all made the permanent decisions of where to plant, what to plant, and how to manage vineyards and wineries while holding down a full-time job, we were left with how to approach day-to-day difficulties. Usually it boiled down to: "Have others done this before?" — this would bring several of us to work together. The collaborative nature of the industry came from humility, a lack of arrogance that we, individually, had all the answers, and a resultant willingness to share our situations and ideas to create, as a team, medium- to-long term solutions for the common good.
I still get the same sense of "newness" in our wine industry today when groups get together to go the next step, doing things we need but haven't done before, whether for example in small, nested AVA groups or ramping up Chardonnay in the same way IPNC was created, or developing a cash-infusing barrel auction. The differences? So many more people to know, faces to recognize, and more external industry wineries buying into the Willamette Valley with an established view of what should be done — and that can and many times has proven to be positive so long as open minds and collegiality accompany their experience.
Q: What is the most memorable wine you've made? What makes it so special?
A: Although a natural answer to this is the latest wine you've put to bottle, I won't go there. Instead, it has more to do with history and what a specific wine represents. Several wines I'd nod to include: 1993 Chehalem Ridgecrest Vineyards Pinot noir because it was the first "winemaker's vintage" in which the vintage was unusual, the press not understanding it, and us loving it for its elegance, finesse and aging potential — which it has lived up to. It was, at the time, the latest, coolest vintage in Willamette Valley Pinot history sandwiched between two warm, big, concentrated vintages. [My] 1995 Chehalem Corral Creek Vineyards Riesling showed me for the first time the beauty of Riesling in the winery, starting a love affair that has bloomed with Wind Ridge and Ridgecrest Riesling bottlings — my favorite white variety and indispensable at the table. [There is also] 2012 RR Ridgecrest Vineyards Pinot noir, a legitimately great vintage, the first totally in my daughter Wynne's hands, and the first in our history with mid-growing-season hail cutting the yield in half — a good feeling to pass the baton.
Q: Personally, what is your greatest accomplishment thus far in your storied wine career?
A: The first: choosing to spend time with a core of pioneers helping create industry foundational institutions, rather than solely working my personal brand. A close second: stubbornly espousing key technical work — that will continue to gain converts — such as current superiority of screwcap closures, importance of ageability as a fourth dimension of Pinot noir appreciation, and proselytizing, for years, the impact of climate change and the adaptations our region needs to take to mitigate it. A wished-for accomplishment has to be ALMOST weathering the Great Recession.
Q: What's on the horizon for RR Wines? Any other ventures or opportunities since the sale of Chehalem?
A: RR (Ribbon Ridge Winery) has been going 16 vintages as a personal side brand while most of my effort went into Chehalem; it was created to make an extra special Ribbon Ridge Pinot from Ridgecrest Vineyards, the first vineyard planted on Ribbon Ridge, started by me in 1980. Designed to show ageability of Pinot from this AVA, and the Willamette Valley in general, I made a consistent volume each vintage and only released half each year with the other going to library for later release; we now have the ability to provide "vertical cases" for those unable to cellar wines themselves.
With an ability to focus on RR full time, both Wynne and I will take the Ridgecrest and Wind Ridge Vineyards, which I retained in the sale of Chehalem, and increase RR Pinot volumes slightly, while likely creating a sister brand to provide special wines at a broader price range — read more affordable for normal consumers. Riesling has already been added to the RR brand, with its first vintage, 2014, just now being released. New plantings will be established with "hipster" varieties, such as Gamay noir and Grüner Veltliner, which have been planted for years on these sites, where a total of 41 planted acres currently thrive. Maybe plant new Chenin blanc blocks? In these brand growth years, more labels from other wineries will also display the Ridgecrest Vineyards origin, as we sell fruit to others.
[This new era] will hopefully give me opportunities to paint more, write more, travel more and smile more.