Fee, Fie, Foe, Fieri
Food Network giant makes entry into wine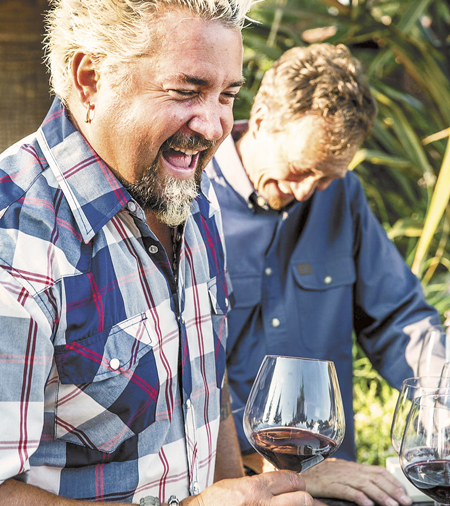 Guy Fieri, chef, restaurateur, author and host of Food Network's top-rated show "Diners, Drive-Ins and Dives," began his love affair with food at age 10, selling soft pretzels from a three-wheeled bicycle cart he built with his father. By selling pretzels and washing dishes, Fieri earned enough money in six years to study abroad as an exchange student in Chantilly, France. There, he developed a profound appreciation for international cuisine and its associated lifestyle. He also attended University of Nevada Las Vegas, where he graduated with a bachelor's degree in Hospitality Management.
In 1996, Fieri launched his culinary career with the opening of Johnny Garlic's, his first restaurant based in his hometown of Santa Rosa, California, with business partner Steve Gruber. Since the opening of the first Johnny Garlic's, Fieri has cultivated a culinary empire as a wildly popular TV host, chef of seven acclaimed restaurants and author of cookbooks, including a New York Times best-seller.
More recently, Fieri's added winery owner to his résumé with the launching of Hunt & Ryde in partnership with winemaker Guy Davis of Davis Family Vineyards. Named for his sons, Hunter and Ryder Fieri, the brand produces Pinot Noir from the family's organically farmed estate vineyard in the Russian River Valley and old-vine Zinfandel from well-known sites in Sonoma County. Find more information, including wine parings and recipes, at www.huntrydewinery.com.
When and how did you first become interested in wine?
GF: I've been calling Sonoma County home for more than 20 years now, and the wine industry is such an integral part of the community. You can't live up here and not be influenced by it in some way — it's everywhere you look — whether it's wine lists at restaurants, the number of tourists that it brings to the region, friends who are in the industry or even just having vines growing in your backyard.
I knew I wanted to be involved in something so quintessentially "Sonoma," and I was fortunate enough to find a property near my home that had a great vineyard on it, which we purchased about eight years ago. We've been selling grapes from that vineyard to top producers in the area, and, after a while, my wife — she's a big red wine fan — thought that it was time to make our own. When I met my winemaker, Guy Davis of Davis Family Vineyards, it was like we were brothers who had been separated at birth. We just "got" each other. He's really been not only a great friend, but also a great mentor throughout this whole experience.
What's most challenging about owning your winery, Hunt & Ryde?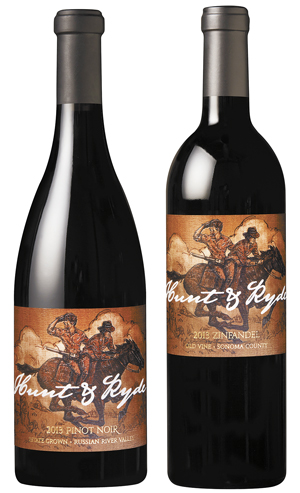 GF: Not drinking it all or giving it away as gifts to my friends! No, seriously, I'm not allowed to keep more than a few bottles at a time at the house. The hardest part for me has been the waiting game. I move at about a million miles per hour, and so the process of waiting to see the final product can be challenging. I've had to learn to trust the grapes and let Guy Davis work his magic. But that first year when the wine was sitting in barrel was excruciating!
What do you love about Pinot?
GF: It's one of the most versatile wines: It goes great with lots of different foods, and it's easy to drink on its own. Not everyone likes big, bold Cabs or the minerality in certain white wines. But Pinot Noir is the kind of wine that can bring people together around a meal. I'm always having chef buddies of mine over to the house cooking up lots of different dishes, and Pinot is the obvious choice to open up — both Sonoma and Oregon. We recently fired up the pizza oven and topped the skins with mushroom, red onion, ricotta and lemon zest. We paired it with the Hunt & Ryde Pinot Noir; it was a definite home run.
What is the ultimate pairing for your Zinfandel?
GF: I think barbecue and Zinfandel go hand in hand, no question. It can stand up to the rich flavors in tomato sauce or the vinegar in barbecue sauce. In my latest cookbook, "Guy Fieri Family Food," we did a recipe for "Balsamic BBQ Short Ribs" featuring my favorite kitchen tool, the pressure cooker. All the flavors from the meat, the sauce and the glaze come together and pair really well with the Hunt & Ryde 2013 Old Vine Zinfandel.
The winery is named for your sons, Hunter and Ryder. Are they interested in pursuing careers in the food and/or wine world?
GF: Naming the wine after my sons was a way to leave a legacy that connects them to where they grew up. That was an important reason why we left my name off — I didn't even want my signature on the back and lost a fight with my team to include it! I wanted them to have something that would be around after all the TV shows and celebrity was over. My oldest son, Hunter, is currently studying Hospitality Management at UNLV, my alma mater, although, I swear I didn't have — much — influence in that! My youngest, Ryder, is 11, and he is completely devoted to basketball; he did say that he would consider becoming a chef if his NBA deal doesn't come through! It's always nice to hear he's got a fall-back!
What's your favorite place to eat in Portland or in Oregon?
GF: We've been to Portland several times for "Diners, Drive-Ins and Dives," as well as Eugene; in fact, we just shot there last fall. The food scene is seriously outta bounds! You can't go more than a few steps without stumbling upon a food truck pairing up crazy flavors you never thought would work, but do, or small mom-and-pop joints focused on local, sustainable ingredients that are knocking it out of the park. Picking a favorite spot is like picking your favorite child, but I'd have to say it would be a tie between Frank's Noodle House for some of the best hand-pulled noodles you've ever had, Pok Pok or The Country Cat.