Andrea Slonecker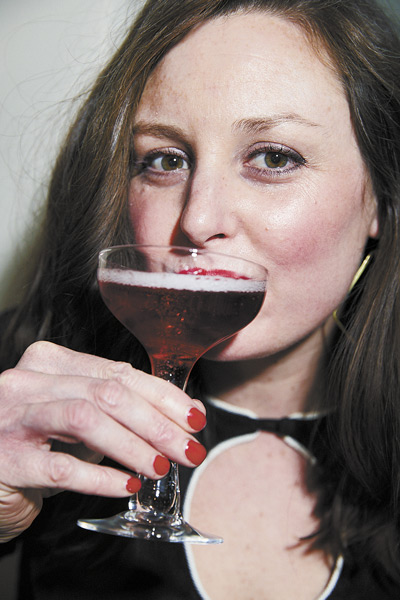 Originally from Nebraska, Andrea Slonecker moved west to pursue her culinary dreams in her adopted city of Portland. In addition to penning her own cookbooks and assisting chefs and fellow writers with theirs, she works as a culinary creative director for food and drink brands, developing recipes and providing art direction and styling for marketing campaigns. In 2013, she celebrated her first solo cookbook, "Pretzel Making at Home" (Chronicle). Her second, "Eggs on Top" (Chronicle) hatched in 2014. Collaborative cookbooks "The Picnic" (Artisan) and "Beer Bites" (Chronicle) hit the shelves in 2015. This September, Slonecker will release her latest book, "Wine Food: New Adventures in Drinking and Cooking" (Chronicle), a collaboration with sommelier Dana Frank. She is the former recipe editor of Kinfolk magazine and former executive director of the Portland Culinary Alliance. For more information, visit andreaslonecker.com
Q: How did you get started in the culinary industry?
AS: In college, I fell in love with cooking. I had been making these big elaborate brunches for my friends on the weekends my senior year of high school; once I left home, the momentum picked up. I had dreams of becoming a chef and owning a restaurant, but at first I found it tough to get an entry-level job in the kitchen. I applied for every prep cook position advertised in Lincoln, Nebraska, where I was working toward a bachelor's degree in restaurant business, but I didn't fit the mold and no one would hire me at first. I was even told by one chef that girls didn't work in his kitchen. I ended up working as a server (at another restaurant, of course) for a couple years before the chef would give me a shot on the line. And, boy, did he throw me into the fire, literally. He assigned me to the grill station on Saturday nights. It was hot, dirty, repetitive cooking with long hours and lots of pressure. I quickly realized that type of restaurant cooking wasn't for me.
When I moved to Portland, I befriended Pascal Sauton, the Parisian chef who had Carafe Bistro downtown at the time. Pascal became my mentor and I assisted him at food and wine events around the state. Through him, I met a lot of people in the industry, and my world opened to the possibilities. After a six-month sojourn in Europe, I returned to Portland and enrolled in the newly founded Oregon Culinary Institute. After that, I spent a few years working several part-time jobs at once — from restaurant PR to magazines, to being the personal assistant to a cookbook author, to teaching at a culinary school — in hopes of finding my calling. Food writing and recipe creation proved to be just that. But the first book I worked on was actually about wine. I was the editorial assistant at Northwest Palate magazine when Cole Danehower began work on his book, "Essential Wines and Wineries of the Pacific Northwest," and I served as his research assistant and learned so much about the process from him.
Food styling came later, when I naively took on the role of food stylist for one of my books, having no idea what I was doing. Turned out I had a knack for it, and started getting gigs with photographers. That, along with writing cookbooks and teaching occasional cooking classes, has turned into a nice combination of project-based work that keeps me busy and always learning.
Q: While you love all your "children" (cookbooks), which is your favorite? (Don't worry, I won't tell the others.) Why does it rise to the top?
AS: My latest, "Wine Food." It's the truest representation of what I cook and drink and how I live. My partner, Tom Monroe, is a winemaker, and so at our house, it's food and wine all the time. Most of my friends are into that lifestyle, too. I became great friends with Dana and her husband Scott (also a winemaker — Bow & Arrow) in the process of making the book — we'd cook and write during the day, and then the guys would come for dinner and we'd eat and drink and talk around the table many nights. Sometimes, we'd throw dinner parties with sommeliers, winemakers and friends in the food world. We had fun with it, and it's really how we intended the book to be used.
Q: From your own collection of cookbooks (that you did not author), which one is the most useful? Most beautiful? Most unusual? Most sentimental?
AS: I'm a big fan of the English author Diana Henry's writing and the way that she thinks about food. For me her books could fit into all of these categories. One of my most used books is Andrea Nguyen's "Into the Vietnamese Kitchen," because Tom and I crave those flavors so often after visiting Vietnam a couple years ago. And I love how the fish sauce, acid and herbs work with wine. One beautiful book that comes to mind is "Hartwood" by Eric Werner and Mya Henry, with stunning photographs of the food and environs of this dreamy outdoor restaurant in Tulum, Mexico, taken by the photography team Gentl and Hyers. My collection includes an inordinate number of volumes on picnics, eggs and German cookery from researching those topics for my own books — many of them rather unusual. My grandmother's original copy of "The Joy of Cooking" is perhaps most sentimental. It's also quite useful.
Q: Any exciting upcoming projects?
I took a month-long trip to Europe this summer to research my next book project, but I'm not quite ready to divulge the topic just yet. More travel and studying food and wine through the lens of culture.