Kriselle Opens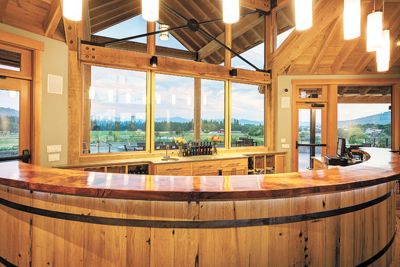 Just before owners Scott and Kris Steingraber cut the red ribbon on Sept. 28, Nora Lancaster, director of marketing and sales, summarized the journey that brought the vision to fruition. Having been a project manager for a Washington construction company and a hobby winemaker for 15 years, Scott was ready to make his wine dream a reality. In 2006, he and his father-in-law, Winslow Buxton, combined forces to purchase and plant 20 acres on more than 200 acres of ranchland, a river rock-laden property near the Rogue River and Table Rock.
Kriselle's grounds offer sweeping Rogue Valley views of hayfields, an aerated pond, white fences, cattle and horses. Looking up, Mount Ashland, RoxyAnn and Long Hill are visible from the wraparound patio.
Inside, a curved bar takes center stage — its contoured facade is designed to resemble a wine barrel. Vaulted ceilings and a wall of windows add to the room's open atmosphere, while the repurposed lumber and rock fireplace contribute a cozy feel. Lancaster says the room evokes a "rustic elegance."
Alongside their wines — 2010 Viognier, 2010 Sauvignon Blanc, 2009 Cabernet Sauvignon, 2009 Cabernet Franc and 2009 Tempranillo — the tasting room has the capability to offer wood-fired pizza as well as small bites to enhance the wine tasting experience. Guests can enjoy the fine wine and finger food at tall barista tables, by the fireplace or outside on the deck.
The winery and the tasting room are located on Buxton Ranch, a working ranch on land that Winslow and Linda Buxton purchased in 2006. Kris tends the cattle on the ranch, while Scott oversees the winery.
Kriselle Cellars (12956 Modoc Road, White City) is open daily, 11 a.m. to 5:30 p.m. For more information, visit www.krisellecellars.com or call 541-830-VINO.
Story by Upper Rogue Independent