King of the Springhill
Old guard grower talks vines, wines, real estate
Springhill Cellars
Details:
Address:
2920 N.W. Scenic Drive, Albany, OR 97321
Hours:
Fri.–Sun., 11:30 a.m. to 5 p.m. (May–Nov.); Appointment only (Dec.–April)
Phone:
541-928-1009
Website:
www.springhillcellarswinery.com
I don't care much for Port. It comes off like boozy, liquefied jam, cloyingly sweet with an unpleasant heaviness. But the Port-style wine Mike McLain at Springhill Cellars in Albany makes is different. Dry and crisp, with a mouthfeel behaving more like Scotch, it's oaky with a flavor foundation of mocha-spiked elderberries.
McLain never really wanted to make Port. He did so only because his good friend and defacto winery "MacGyver," Dave Thompson, kept needling him to make a batch. Finally in 2013, he acquired a surplus of Pinot Noir, so he produced some fortified wine to appease Thompson. With that move, McLain stumbled onto some unforeseen magic. When people tasted it, they wanted to buy it, which the empirical evidence bears out.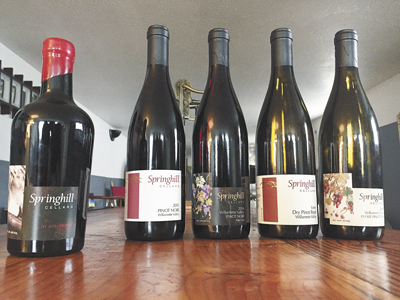 "Knock it back!" he shouted in the tasting room, as we both finished a sample of his 2014 Port; he urged me to empty my glass so he could dole out some of the 2015. As we stood by the barrels, reveling in the Port, McLain's son, Conner, entertained a pair of customers from Connecticut.
The Port wasn't the first thing he shared that day, and it certainly was not his first success in the wine business. In fact, McLain is old guard, getting his hands dirty with vineyards and grapes in the late 1970s, after a brief career as a journalist. He says the Watergate Scandal "pissed him off," inspiring him to study journalism at the University of Oregon.
He wrote for the Springfield News, where he met his wife, Karen. Their first date was a lecture at the university by Hunter S. Thompson, but McLain said he left in disgust when the gonzo journalist appeared on stage a rambling and marginally coherent drunk.
Whether that experience soured him of reporting — he didn't say — he married Karen and also embarked on a vineyard brokerage enterprise.
After all these years, he still has Karen and the brokerage. Of course, the Willamette Valley was not heavily planted to vines in 1977, but McLain used his journalism background to research farms and properties, from Springfield to Cottage Grove, creating marketing postcards to help expand his business. To date, McLain and Associates Vineyard Properties, billed as the oldest specialty firm in the Valley, has brokered 500 deals, including 20 wineries.
Meanwhile, he decided to make wine. When he planted his initial vines in 1978, he was one of a couple others in the area. He'd made raspberry wine just two years out of high school, but this time around, he was relieved to discover making wine from grapes was far easier and more lucrative. He officially founded the winery in 1988, and at the 1990 Oregon State Fair, his first release of Pinot Noir won a gold medal and best of show.
"And so it went away," he said, describing the robust sales after winning the accolades. That first year, he produced and sold 200 cases of Pinot, Riesling and Müller-Thurgau.
"The other brokers think I'm an oddity because I also make wine," he said.
On poker night, he and his fellow winemakers — most of whom have worked with McLain to sell or buy properties — revel in stumping one another with obscure bottles. He says he tricked them all one time with a blueberry wine.
"But mostly we talk wine, when we're not stealing each other's money," he joked.
While he tends about 420 vines on the winery site, he also owns 12 planted acres on a managed vineyard in the Eola-Amity Hills AVA. He sells all his wine from the tasting room and during events Conner markets and plans. For these gatherings, they host guests in a barn with high trusses strung with lights. He calls the atmosphere "rustic elegance."
"We don't have a choice; we got a barn," McLain laughed.
He also owns a bottling machine, a GAI 12-spout monobloc, in fact. He paid $30,000 for it some years ago after becoming annoyed with scheduling bottling trucks. But with his annual production of maybe 1,000 cases, the machine is not at all cost-efficient.
"We fire it up twice a year for half a day," he said. All the while, the machine has appreciated to more than three times what he paid, so he's planning to sell half to a mobile bottling operation — go figure. In the bill of sale, McLain would be guaranteed first right to the truck as needed.
In regard to the past, present and future of vineyards here, he offers a glimpse of what's to come, suggesting these are the waning days of the small-run, "poker night" winemakers. It started before the recession, in 2007, when he saw buyers taking advantage of the less-expensive sites.
"Back then, it was all lifestyle buys: retired doctors who wanted to become gentlemen grapegrowers," he said. "Now, it's all industrial. Big guys."
That change represents a good thing for McLain and his brokerage. In fact, he himself has embraced the evolving times. He's selling a vast portion of his fruit, all picked by machine.
While the industry expands, McLain will certainly broker more deals from his home at Springhill, with a glass of Port and a deck of cards, fondly recalling those first years making wine. Like all his contemporaries, he found his way with the help of like-minded friends.
"I learned from people who knew more than I did," he said.