Kickin' It Up a Notch
Domaine Serene opens clubhouse, announces hires, begins white wine-dedicated facility
Domaine Serene knows the perfect recipe for a fantastic party: Combine superb wine, fine food, live music, fireworks and a splash of celebrity inside a stunning new venue and — BAM! — you have a gourmet gala for the ages.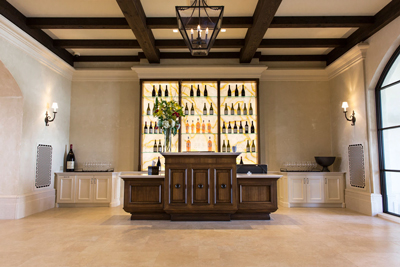 On May 19, owners Ken and Grace Evenstad welcomed guests to their Dundee Hills estate in celebration of the official opening of The Clubhouse, with celebrity chef Emeril Lagasse directing in the kitchen as well as chatting with club members up front.
Measuring 34,000 square feet, The Clubhouse broke ground in September 2015. Designed by Stephen Lapp of Waterleaf, it was built by Paul Schommer of AC Schommer & Sons. The thoughtful landscaping, created by Carol Mayer-Reed, greets guests before entering the warm, Old World ambiance executed by interior designer Jill Cole.
The Evenstads used the highest quality materials for the numerous exquisite details, including a 35-foot marble bar looking out onto the vineyard; sleek tile floors with a compass rosette comprised of granite inlays with bronze and copper borders; wrought iron entries and railings; several stately fireplaces; heirloom tapestries and grand lighting fixtures presented as showpieces.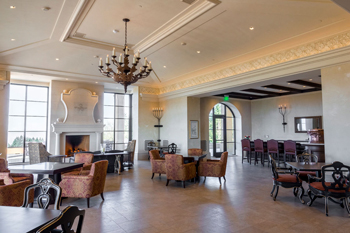 Down limestone stairs and into the cave, the dramatic illumination continues, accentuating the arched ceilings and walls covered with intricately placed fabricated limestone designed to replicate the limestone found in the Evenstads' Château in Burgundy, Château de la Crée — seismic code standards made using genuine limestone too cumbersome. Intimate alcoves become private lounges with romantic atmospheres that witnessed some visitors happily planted for the time being — despite the gorgeous evening weather.
Upstairs, those taking advantage of the fresh air could choose from sprawling patios named Grace's Grove and the Sunset Terrace. Sweeping views of the valley and Coast Range, plus plentiful, comfortable seating encouraged many to linger there, as well.
Servers worked the crowds offering colorful hors d'oeuvres, such as Gruyère gougeres, potatoes Alexa, boudin boulettes and crawfish pies — all made on site in the restaurant-grade kitchen. Stations throughout The Clubhouse featured savory cheesecakes filled with crabmeat, smoked salmon and wild mushrooms, as well as Lagasse's famous chicken and andouille gumbo, and his signature barbecue shrimp served with rosemary biscuits.
As guests enjoyed Pinot Noir and Chardonnay from both Domaine Serene and Château de la Crée, friendly conversations flowed. Some were lucky enough to sneak a selfie with Lagasse, who was generous with his talent and time during the event.
Before the New Orleans-style jazz band, The Stolen Sweets, took the stage, the Evenstads thanked everyone for attending and detailed the efforts to create such a space — about 1,000 individuals, counting artisans and specialists, worked on the project. They also honored special members of the Domaine Serene Monogram Society, including Lagasse, a friend of Ken and Grace.
Fireworks over the vineyard punctuated the end of the evening, celebrating the beginning of The Clubhouse as an exclusive Willamette Valley venue for many more memorable events.
New Winemaker
After an extensive search, Domaine Serene has hired Michael Fay as the director of winemaking and viticulture.
On May 8, he started his role of overseeing the talented team of winemakers and viticulturalists at both Domaine Serene and Château de la Crée in the Santenay region of Burgundy's historic Côte de Beaune.
Fay graduated from Cal Poly San Luis Obispo in 2007 with a Bachelor of Science in enology and viticulture. He worked as the assistant winemaker at Cambria Estate Winery from 2007 to 2012, producing Pinot Noir and Chardonnay while leading a team of 35 employees in the lab and cellar.
In 2012, he became the winemaker for Goldeneye Winery in Sonoma — a sister-label to Duckhorn — where he focused on making distinguished, terroir-driven Pinot Noir and Chardonnay from the Anderson Valley, making a name for himself in the world of wine. Most recently, Fay has been directing all winemaking activities at Sextant Winery in Paso Robles.
New Winery
With The Clubhouse complete, Domaine Serene has already started its next major project, a new winemaking facility dedicated solely to Chardonnay, white Pinot Noir and sparkling.
Scheduled to open in the spring of 2018 in preparation for next year's harvest, the new gravity-flow facility will showcase cutting-edge tools to help produce whites with greater precision. High-tech cold storage will expand the opportunity to add diversity in fermentation tanks and barrel-aging techniques.
In addition, these state-of-the-art features increase flexibility to manage the quality nuances of the Domaine Serene sparkling wine program set to debut in the summer of 2018.
New Culinary Program
With its chef-inspired commercial kitchen and top-notch hospitality staff, The Clubhouse at Domaine Serene will offer exclusive wine dinners, daily food and wine pairing specials, special event catering options for members and more. Leading the culinary program is Executive Chef Jason Kupper.
In 1995, he graduated from Purdue University, where he initially set his sights for a career in natural resources and environmental sciences. Kupper quickly changed course after discovering a love of cooking. Shortly thereafter, he landed at one of Napa's premier restaurants, Bouchon, where he was chef Tournant — learning from one of the chef greats, Thomas Keller.
Subsequently, Kupper worked for star chef Charlie Palmer, at two of his establishments: Dry Creek Kitchen and Charlie Palmer Steakhouse in Las Vegas.
Later, after graduating from the esteemed Le Cordon Bleu, he would earn Michelin recognition at The Thomas in Napa as chef de cuisine, followed by opening his own venture, Heritage Eats of Napa.
Seeking something new and looking to journey farther north, he moved to Portland and has landed in the Dundee Hills at Domaine Serene.