Kevin Zraly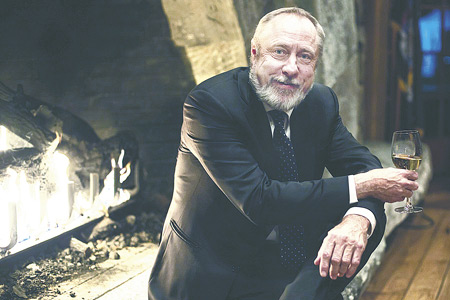 Kevin Zraly is a legendary New York-based author and beloved, longtime wine instructor. Between 1976 and 2001, he held the position of wine director for the prestigious Windows on the World restaurant, located on the top floors of New York's One World Trade Center. There, he taught Windows on the World Wine School classes — to date, more than 20,000 students have completed the course, which continued at the New York Marriott Marquis after Sept. 11, 2001. Since 2002, he's partnered with Sherry-Lehmann Wine & Spirits, conducting more than 60 master wine classes. In 2010, the Sherry-Lehmann/Kevin Zraly Wine Club was launched. Zraly is the author of "Windows on the World Complete Wine Course" (1985), "Kevin Zraly's American Wine Guide" (2006), among other books, and co-author of "Red Wine" (2017) with Mike DeSimone and Jeff Jenssen. In addition to other honors throughout the years, he received a James Beard Lifetime Achievement Award in 2011. He's been featured in The New York Times, People Magazine, The Wall Street Journal, USA Today, GQ Magazine and Newsweek, and has appeared on network TV.
How did you first become interested in wine?
KZ: Where do I start? I went to Woodstock. I was a lost child at Woodstock, but the next year, I got a job as a waiter at the Depuy Canal House in nearby High Falls, New York. I was 18. By 1970, we had received a four-star rating from The New York Times. No other restaurant has received a four-star rating outside New York City, ever. The person who wrote the review was Craig Claiborne, the first critic for The New York Times; Jacques Pepin was also there that night at the table. I had no idea who these guys were at the time. I was a college student. I was 19. But after the review, we got busier, very much busier. One day, the bartender didn't show up, so I became the bartender. For me, it was all happenstance. There were only six of us working at this restaurant. Anyway, I got the wine bug. The local college saw that we got the four-star rating and thought we must know something about wine and cheese, so, at 20 years old, I taught my first wine class.
Then, I decided I wanted to go to California, but I had no money, so I hitch-hiked to California and made my appointments. In those days, maybe there were a dozen wineries worth seeing. It was 1972. I had written to them, to Robert Mondavi, to Joe Heitz, to everybody. When I came back, I actually taught an accredited wine course at the college where I was going, New Paltz State University of New York. As a junior in college, I was teaching seniors. After I graduated, I left for Europe right away for six months. There, I continued to learn about wine, meeting with people like the Rothschild and Antinori families.
I came back and started selling wine. I wasn't looking for a job at the time when Windows on the World offered me a position. I was 25. I worked there for 25 years, from the day it opened until Sept. 11, 2001.
What's the most striking change in the wine world over the last 40 years?
KZ: When I started, I tried to convince educators that wine was going to be a billion-dollar business, and that they should have a wine course, a business class on wine, but they poo-pooed it. Today, look at how many wine schools there are out there. Here's the biggest thing. Let's say 50 years ago, there was not a lot going on in California except jug wine. There wasn't much going on in Oregon, in Washington. There just wasn't much going on in America. Chile and Argentina? Same thing. South Africa? Same thing. Australia and New Zealand? Same thing. And the wines of Europe weren't very good. It was a bad time. This is the golden age of wine, ever, in the history of mankind. When I am doing a course on American wine, Oregon is high up there. Whether I am right or wrong, I just call it the Burgundy of the U.S. because of the Pinot Noir and Chardonnay. But we did not talk like that in the old days. Today, Oregon, California and every country I mentioned have had major breakthroughs. Regions are making better wines than they ever have in their entire history. When I give a lecture and tell classes that America is the No. 1 consumer of wine in the world, I would have never thought that 40 years ago, never ever that it would be part of a tradition and new culture in the U.S. Never. For the consumer, in the back my book, there more than 700 wines for under $30; most of them under $20. You don't have to spend a lot of money to enjoy a great bottle of wine.
What's most important in developing one's palate and olfactory sense?
KZ: Exercise. How do you develop your body? Exercise. After this interview, I am going on a 10-mile bike ride. I develop my body as well as my mind. I still taste around 5,000 wines a year. I try them from all over the world. The only way to understand wine is to pull the cork and pour, or unscrew the cap. You have to have some book knowledge, but if your olfactory [sense] is normal, as most people's are, then you can develop your sense of taste and smell.
What inspires your teaching of wine?
KZ: I am as inspired as I was when I taught my first class. The great thing about what I do is that every class is different. I mix and match wines from all over the world, so the tastings, for me, are new. And every year is a new vintage. So it's never-ending. And the people change. I have millennials in my class sitting next to people in their 70s. Gender doesn't matter either. I used have 90 percent men in my classes; now I actually have more women in my classes, about 55 percent. That's the New York market. Other markets may be different.