Claiming the Top Spot
Ken Wright 2012 Abbott Claim Pinot named No. 1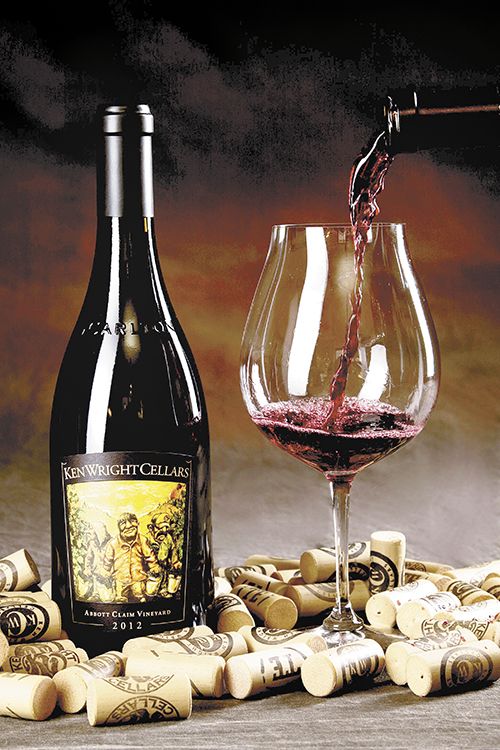 Ken Wright's 2012 Abbott Claim Vineyard Pinot Noir ranked first among Wine Enthusiast magazine's Top 100 wines of 2014. Upon initial evaluation earlier in the year, Wright's 2012 Yamhill-Carlton AVA Pinot was awarded a near-perfect 97 points and named an Editor's Choice.
When the magazine went about determining its best 100 for the year, the 2012 Ken Wright Abbott Claim Pinot Noir emerged on top among a star-studded field of wines from around the world.
The 17-acre vineyard was an untouched portion of the original John F. Abbott Donation Land Claim cleared, prepared and planted by Wright in 2001. With vine health his first priority, Wright followed a strict regimen to promote maximum nutrient delivery to the vine. Root depth increased over time, adding the trace minerals and soil components that bespeak terroir, or sense of place.
Within just a few years the roughly equal mix of Pommard and Dijon 777 clones produced densely colored, full-bodied wines with lush flavors of plum, cassis and black cherry.
As early as the 2005 vintage, Wine Enthusiast awarded Abbott Claim 95 points, saying, "This outstanding vineyard comes through again with a full, fleshy almost beefy wine... Elegant and complex, the fruit from these young vines show power and grace. Most surprisingly, the finish actually gains strength as it lingers. The sweet black cherry flavor seems to last forever."
The 2005 Abbott Claim, of course, sold out long ago. And for some time, the 2012 Abbott Claim has been available only from the winery as part of its two-case 2012 cellar sampler, which consists of two bottles each from their 12-individual vineyard bottlings.
Following is the Wine Enthusiast tasting panel's comments about their No. 1 wine of 2014: "From first sniff, this exquisite wine grabs you and won't let go. Brambly berries, redolent with rich umami notes of spice and pine needle cascade into a wine densely packed with fruit and herbs. It lingers, opens and becomes more and more expressive, with soil-generated flavors of forest floor. 97 points."
Wright, consistently among Oregon's most highly regarded winemakers, founded Panther Creek Cellars in McMinnville in 1986 and went on to establish his eponymous winery in Carlton in 1994.
The winery is a focal point of Carlton and the Wrights, Ken and Karen, are key community leaders. Both have played major roles in the revitalization of the town, transforming it into the single most visited wine destination in Oregon.