Keeping Portland Portland
Downtown restaurant embodies Rose City's past, present, future
Imperial
Details:
Address
410 S.W. Broadway Portland, OR 97205
Breakfast
Mon.–Fri.: 6:30 to 11 a.m.
Lunch
Mon.–Fri.: 11 a.m. to 2 p.m.
Dinner
Sun.–Thurs.: 5 to 10 p.m., Fri.–Sat.: 5:30 to 11 p.m.
Brunch
Sat.–Sun.: 8 a.m. to 2 p.m.
Happy Hour/Late Night
2 to 5 p.m.; 10 p.m. to midnight (bar only)
Phone
503-228-7222
Website
www.imperialpdx.com
Imperial was the "it" place to eat and drink wine in Portland in 2012 and hasn't faltered since. It's a high-end place with a working-class vibe, which is perfect pitch for a city like Portland.
On a recent sunny afternoon, I drove downtown to experience the award-winning restaurant established by Chef Vitaly Paley. I was not only there for the food, but also for the wine, as Imperial earned Oregon Wine A-List Awards' 2017 Regional Spotlight for Portland — in short, this place excels at advocating and supporting Oregon wine.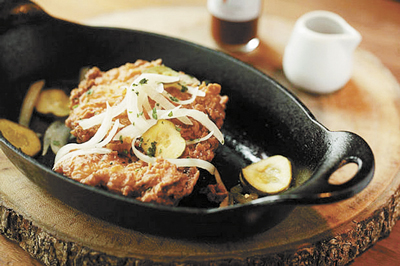 The restaurant offers a level of presentation and quality to match the new Portland, while retaining the spirit of the old city. Built into Hotel Lucia, it celebrates the cattleman heritage in Oregon. Commissioned by German immigrant Phil Metschan, the hotel began construction in 1909. The plan was to create an expansion of his popular Imperial Hotel, located on the adjacent lot just South on Broadway. The new wing became a gathering spot for ranchers visiting from Eastern Oregon.
By 1949, the hotel was divided into two, with the newer building taking the name New Imperial Hotel. Albert Gentner took over in 1950, offering hospitality for the next 50 years. After Provenance Hotels bought the New Imperial in 2001, it was completely renovated and renamed Hotel Lucia. When Paley was asked to lead the hotel's new restaurant, he honored the heritage of the place, harkening back to the days of cowpunching and poking.
Imperial celebrates those rustic times on one level with its wood-fired, Northwest-inspired plates, but on another with the industrial finish in the dining room, where contemporary aesthetic mixes with exposed cement columns, bare brick and timber beams. While some newer places strive for a well-worn, unfinished look, Imperial is the real thing.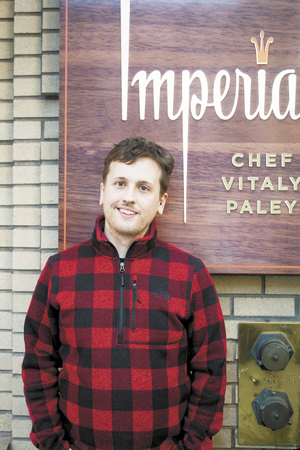 "This is all just the original building we're looking at," said Imperial Manager Eric Biggers, pointing to the three-foot square cement columns with a rough surface like that of an old freeway bridge support. The pillars are load bearing, part of the structural integrity of the building.
"Some people ask, 'Why not cover them?'" Biggers continues. "We like it though. It's nice to see the bones of the building."
Not only has Imperial earned kudos for its wine list, Paley is also a James Beard Award winner. For this reason, I wanted to experience the food along with the wines to get the complete experience and properly communicate the connection of both menus.
Imperial's wine buyer/sommelier, Ben Roan, age 27, represents the young spirit of Portland's restaurant scene. Roan and Chef de Cuisine Matt Jarrell sat down with me in "The Pendleton Room," a semi-private dining space with a large rustic wood table and mounted longhorns from cattle country, a nod to the building's heritage.
Jarrell and Roan set the table with three dishes and pairings of hand-selected wines. Jarrell, age 28, earned his current title after years as a line cook, all the while studying writing and philosophy in college — he really wanted to become a community college instructor but discovered how much he enjoys professional cooking. Like legions of cooks-turned-chefs, he exudes adeptness and hard work, a defining combo for most commercial kitchen heads.
On the table, Jarrell presents a belly-on rib chop with a blueberry bacon fat reduction topped with bacon chunks in gremolata — a blend of herbs and lemon zest. There's also a plate of ahi poke served with locally sourced wasabi, which he says — with a smirk — has earned them stern letters from the Japanese mafia known as The Yakuza; the wasabi trade is fiercely contentious regarding any product not grown in Japan.
And then there's the fried chicken, with not a speck of grease. Served with house pickles, local honey and hot sauce made from a variety of peppers and aged in a rye whiskey barrel, this chicken is not only exquisite, but it holds firm to the place's sense of old Portland yet progressive attitude.
"We've had lots of opportunity to perfect our fried chicken," Jarrell says, speaking like a chemist as he described the complexities of the popular dish.
He explained the properties of salt, how it changes when heated and how it blends with the layers of flavor in the seasoning. Jarrell also described the process of removing fat from the thigh meat, allowing the buttermilk to coat the meat more evenly. After that, the chicken is coated in a mixture of flour, toasted fennel seed, cayenne, salt and pepper. He also disclosed the secret to no grease: 350-degree rice bran oil, an extremely stable oil.
"Higher fry temperatures with high integrity oil means your food will not be greasy," Jarrell says. "When the thigh is finished cooking, it is seasoned immediately with salt and pepper. The dish is able to touch multiple parts of your palate at once harmoniously; sweet, salty, sour and spice are all accounted for."
Indeed. There is much more to fried chicken than simple breading and a deep fryer. People like Jarrell make it their business to understand how to prepare food that sells, while Roan helps guests choose the right wine.
Floating about the table, Roan uncorks and pours wines he's chosen to complement each dish. Imperial's impressive list allows him to better fine-tune guest suggestions from 110 wines made in Oregon, Washington, California, France, Italy, Spain and Austria — 41 of those hail from Oregon with some offered by keg.
Roan is proud of the cellar he has helped to curate and well-versed on the bottles he's showing. He has fun finding the best wine for the dish, but he doesn't take it too seriously.
"As far as pairings go, it's not an exact science," Roan says. "I'll also be the first to say that there are a lot of people with much more experience with this than me. Sometimes, a wine and a dish just work beautifully; you discover by accident, and it's beautiful."
For Roan, "classic pairings" are also important. Wine from a region matched with the region's food is always a winner. "For example, beef Bourgogne with Burgundian Pinot, or Brunello with Bistecca alla Fiorentina," he says.
Beyond the traditions, Roan enjoys the discovery aspect of his work.
"The simplest way to begin experimenting with pairings is matching the structure of the dish to the structure of the wine," he says. "By that, I mean the intensity of flavors, fat content, acid levels and how those elements in the food correspond with the concentration, acid and tannin of a wine."
And while Roan speaks with authority on the practice of suggesting and presenting wine, he also keeps it down to earth.
"I'm just a conduit," he says. "It's not my job to tell you to go out and drink Napa Cabernet with oysters." He adds to that, "And if you want to have a PBR with your fried chicken, you can do that, too."
But sitting in a place like Imperial, in post-gentrified Portland, talking with two Portland locals enjoying the lifestyle that comes with essentially running such a place, the flavor of old Portland comes through again.
"Oregon is my home and it is where I would always like to live," says Roan, while also declaring that Oregon wines are growing as fast as a heavyweight contender.
"We are seeing investment from everywhere, from California to France and just about everywhere in between," he says, explaining how expansion in the Burgundy region of France has become nearly impossible because of the cost of land.
"So Oregon is a less expensive alternative, and more and more people are beginning to realize the potential of Pinot Noir and Chardonnay in our state. As more investment comes from other parts of the world, more attention is brought to Oregon wine country, and I'm sure markets will continue to open up."
Roan enjoys being a buyer because it lets him support up-and-coming wineries that may not yet have received the recognition they deserve.
"Oregon wine is still a close community where producers help one another and information is shared relatively freely," he says. "It's very gratifying to be a part of it, even in a small way."
Listening to Roan talk about what he loves when it comes to quality wine simply punctuates Portland's transition — from dive bars, pancake houses and strip clubs — to a culinary scene now rivaling cities such as New York and Boston.
But as glamorous as it sounds, this is restaurant work after all, and the kitchen becomes a sort of second home, or actual home, to put it more accurately.
"Yeah, when your Google Maps on your phone starts identifying the restaurant as your home, you're spending a lot of time there," Jarrell says. Even when he's home, he's on his computer, looking up new ingredients and preparing the orders for the next day in the kitchen.
But that's what it's really about. Food and wine attract people who treat them both as an art. That's how restaurants like Imperial happen, because of people like Roan and Jarrell. But Roan laughs when he considers his profession, saying he decided to become a sommelier in order to get out of the restaurant business.
"I'd be happy someday to spend my time building wine cellars for all my friends from college who went into finance," he says.
As a contrast, Roan studied history at the University of Oregon, which he attributes squarely to his calling as a somm. Still, he's right at home with his job, and he also believes it keeps him healthy.
"I haven't been sick in two years, and I think it's because of the wine," he explains.
As for Jarrell, he spends a fair amount of his time as chef de cuisine crafting menus based on hyper-seasonal produce. A look at the vegetables listed on the menu reveals a creative energy. There are roasted beets with feta, pistachios and dill, radishes on toast with goat's milk cheese, arugula and cashew pesto.
"Vegetables are sexy," he says.
And as for the pairings for such offerings, what might Roan suggest? Clearly, he would experiment until he discovered the magic combination.
"That's what I like about the job," he says. "And by the way, aged German Riesling goes well with processed cheese."
We're certain it does. But don't bother asking how he arrived at that conclusion.
Neil Zawicki is a writer who, in his spare time, loves to study history, paint and play his guitar. He lives in Independence with his equally creative wife and four children.