KAOS Comes to Mac
New complex a balanced blend of food and drink
By Jim Gullo
We were wandering through the warren of rooms and venues at the new KAOS restaurant/bar complex in McMinnville when co-owner/general manager Dustin Wyant turned to me and remarked, "The fun thing is that you can create your own experience, from formal dining to informal get-togethers on the back patio. We're blurring the lines between what's food and what's wine. Here you can do pairings, tastings, flights, make it a lunch stop or your next tasting appointment all in one."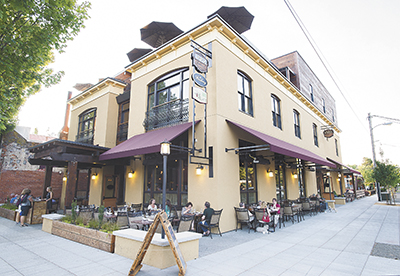 Or, possibly, arriving in mid-morning for a wine tasting and not emerging until dark, after having been wined, dined and spun in a circle three times. Not that I'm saying that has happened, yet, but the same could be said for McMinnville itself, the town of 32,000 that anchors the Willamette Valley wine country.
Wandering down historic Third Street allows for all kinds of wine tasting, casual eating, fine dining, serious snacking and simply admiring the passing scene from sidewalk cafés. No single venue, however, has ever attempted to do what the new KAOS complex, which opened in May but just completed its three-part roll-out last month, is doing in a stylish space wedged into the corner of Third and Galloway.
What Wyant and co-owner/developer Bob Emrick designed is a vertical complex, starting on the ground floor with The Barberry, an upscale eatery with patio. On the same level is the Wine Village, a novel concept in wine tasting that draws on Wyant's extensive knowledge and contacts in the local wine scene. A full-service bar — with its own menu of craft cocktails — appears like a mirage on the Galloway Street side of the building, and beyond that is a charming outdoor patio and garden with a fireplace, 60 seats and enormous TV screen for sporting events. Upstairs, the 1882 Grille radiates a more casual atmosphere reflected in its food and drink menus, TV and additional outdoor seating.
All told, and if you haven't gotten lost along the way, the whole complex, which cost $3.4 million to build, can seat more than 200 people in seven different areas. Hardly chaotic under the watchful management of Wyant — who also co-owns Recipe in Newberg — KAOS harks back to the call letters of an old local radio station.
The aged wood used to create partitions and tables in the Barberry dining room was repurposed from the former building on the site. Adding to the historic quality of the property, a handsome, vintage mural painted on the facade of the brick wall of the adjoining building will soon be completely restored by a local artist.
For wine lovers, the opening of the Wine Village may well become an essential venue in a sea of single-winery tasting rooms. Wyant's conception of the space, aged wood paneling and long tables that collectively seat 40 customers, was to collect ultra-small production wines from local producers and offer them by the taste or the glass and in flights. Boutique brands like 1789 Wines, Denison Cellars, Quintet and Matzinger Davies are represented, alongside rare bottles like Witness Tree's 2010 Pinot Noir or single-vineyard Archery Summit wines from 2004 and 2006.
"In some cases, we will get the winery's total production, which can be under a hundred cases," said Wyant. "It is an opportunity for small producers with great passion who may not have the time or wherewithal to sell their wines."
The Wine Village will offer a wine club and can ship wines for customers. Tastings can be accompanied by food pairings, cheese and charcuterie or a full lunch from The Barberry kitchen.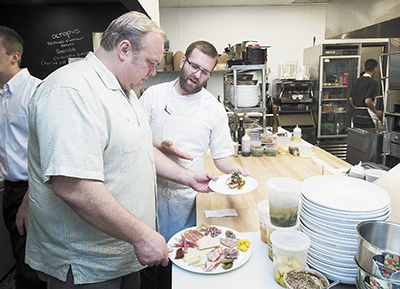 The Barberry begins in a cool, elegant room trimmed with dark woods and upholstery of mustard yellow; then it spills out to a large patio straddling two sides of the building. Chef Colin Stafford, formerly of Olympic Provisions in Portland, heads the talented kitchen with Ruth Moser, formerly of Papa Haydn of Portland, serving as pastry chef. The menu leans heavily on a steakhouse broiler sending forth five versions of beef, including two cuts specifically butchered and aged for the restaurant by Carlton Farms. Elegant side dishes, salads, house-made pastas and appetizers — the scallop and pork belly on a puddle of ginger-carrot purée was heavenly — round out the menu.
The wine list is just starting, with more than 150 bottles currently — Wyant expects to grow it to 450 — offering pages of Oregon Pinots, including several organized by AVA. Glass pours of Argyle Brut, Big Table Farm Chardonnay and ROCO Pinot Noir offer a pleasant sampling of local wines; while the full list includes hard-to-find bottles, such as older vintages of Eyrie Chardonnay, and elite Walla Walla Syrahs.
The 1882 Grille upstairs — its entrance on Galloway Street — has a casual, festive, family-friendly pub feel. Big screens show sports behind the long bar; a smaller one illuminates what's available on tap. With its own kitchen, the menu is different from downstairs, with clever touches like burgers made in two styles: tavern (thin, juicy with iceberg lettuce, American cheese) or bistro (thick, hearty on brioche bun). Weather permitting, the south wall opens via roll-up doors leading to yet another wrap-around patio.
A staff of fifty is gamely trying to sort out the opening chaos, or KAOS, and it will be fun to watch this complex mature and realize its potential.
For such an ambitious endeavor, there is little chaos at KAOS as it sheds any opening jitters and joins the incredible culinary community of Yamhill County.