K-9s in the Vineyards
Reustle Wine Club picks for Umpqua Valley K-9 Programs
Each year our Wine Club Members help hand harvest grapes that we grow here at Reustle-Prayer Rock Vineyards to help raise funds supporting a local non-profit organization. This year our Wine Club Members harvested on behalf of the Friends of the Umpqua Valley K-9 Programs.
As seen on KPIC...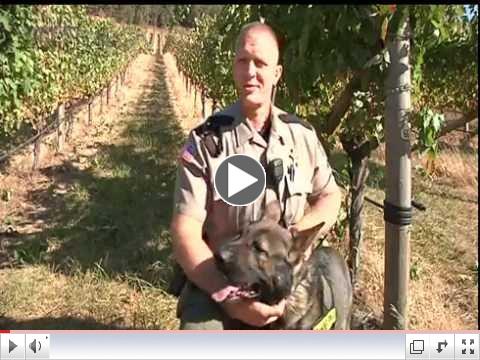 An Umpqua Valley vineyard is harvesting grapes and helping a local charity focusing on K9s at the same time.
"There was no money in the budget for a K9 program that was really seen as a need for the community."
Theresa and Fred Dielensnyder have been picking grapes for charities at Reustle Prayer Rock Vineyards for years, and this year's charity has special meaning.
"Being an ex-handler it means every time I see these dogs it just brings back memories of when I was working with Radar; (that) was my dog. It'll be a lifelong bond," says Fred Dielensnyder.
He speaks about the type of bond shared by Deputy Jon Dorland and 4-year-old K9 officer Grimm.
"It's just constant," says Dorland, "I probably spend more time with him than I spend with my family. Ya know, we're at work every day and even when we're home on the weekends we're still training."
Here's how the fundraiser works: Pickers come out all morning harvesting close to eight tons of grapes. The funds generated from the harvested grapes go to a charity of choice each year. This year, it's going to the K9s.
"Everything from helping to purchase a dog to getting a car set up to ... we have, like, Grimm's favorite toy here; it's a tug toy and all this kind of stuff costs money," says Dorland. "He's a dog so he's going to chew stuff up. Just the upkeep and maintenance of the everyday equipment that we use."
The cost of a dog is around $10,000.
This harvest will bring in close to $12,000 for local K9 cops.