Jazzin' Up Polk
New Orleanians plan wine tavern
Close friends, a hurricane and an empty storefront have set the stage for a new wine bar and tasting room in downtown Independence. Oh, there will be food there as well.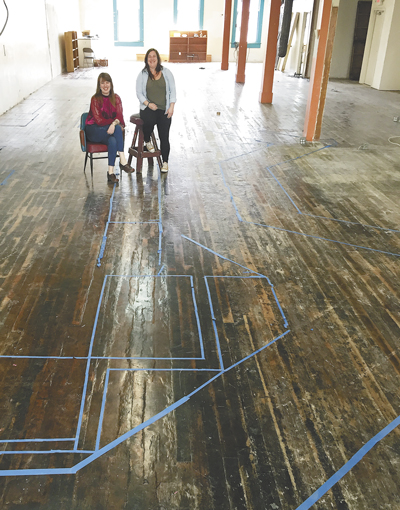 The space, located at the intersection of Main Street and Monmouth, was empty at the end of March, except for a desk with some chairs. Blue tape on the wood floor marked the layout for the open kitchen, counter and display case that will, once it comes to fruition, become Valkyrie Wine Tavern.
Savannah Pearce and Lindsay Darling are creating the venture after the adventure of moving to Oregon from New Orleans, where they met and were living when Hurricane Katrina lashed and flooded the city, making thousands of refugees, Darling and Pearce included. Although they were out of town when it hit, they returned to a city in chaos.
The friends' sudden displacement took them to Portland, where Pearce said Darling fell instantly in love with her new surroundings. "I looked at her in the cab from the airport and said, 'You're never leaving, are you?'"
The next day, Darling enrolled in culinary school, but that was no stretch; she comes from a family of restaurateurs; in fact, her parents cooked for actors Kurt Russell and Goldie Hawn during the filming of the 1987 movie "Overboard." As a result, Darling learned her way around a commercial kitchen. "I would get grounded, and my mom would just put me on the schedule," Darling explained, revealing precociousness that shaped her love of food.
But it was in the wake of Katrina when Darling experienced her culinary epiphany. Five trees fell on her parents' house, smashing the detached wine cellar. It was in that setting, her chef dad made French onion soup and dark chocolate candied orange peel. "We ate that with Port and fine wines," she said. Despite their best efforts, the general chaos of the city drove the pair, like so many others, to move away; that's how they landed in Portland.
After a brief stint owning a hair salon, Pearce moved to Independence, where her family has roots. She enrolled in the Chemeketa Northwest Wine Studies program and started flexing her entrepreneurial sensibilities with an eye on that certain storefront she'd remembered when she was a kid visiting family.
When Pearce saw the space for rent, she figured it'd be leased quickly, but there it stood, available and calling her name. So, she jumped on it. Pearce convinced Darling to join her in creating a wine bar and tasting room with the promise of designing her own food menu. Running the kitchen on her own terms was important to Darling. "If we're not having fun, then it's not worth our time," she said. Pearce agreed.
With details still being planned, the pair says they plan to offer small, shareable plates with counter service, describing their approach in terms of high quality ingredients. "There will be rabbit and frog legs, and possible crawfish," Darling alluded.
As for the location, Pearce says she has a powerful sense that downtown Independence is about to take off as a destination. Shawn Irvine, the economic development director with the city, not surprisingly, shares her enthusiasm. He first met Pearce when she came to the city as a Chemeketa student to present a class project on brand identity strategies for the Polk County wine region. He calls her timing perfect.
"It's been 20 years in the making," Irvine added, describing the emerging downtown, which is coming of age with new bars, new shops, and now a planned hotel and convention center. Valkyrie Wine Tavern fits perfectly into to his vision.
"We saw an opportunity to position Independence as the hub of wine country in Polk County," he said. "It's going to be a great addition to the town."
And he's probably right, considering Darling and Pearce add a certain hipness to the town. The former Big Easy roller derby queens plan to bring a youthful spirit to Valkyrie. "Independence doesn't have any after parties," Pearce said, suggesting they could help correct that situation.