Jackson Family Goes to Work
Cali-based winery processes Oregon fruit at former Evergreen site
Jackson Family Wines may be the new kid on the block in Oregon's wine industry, but the California-based wine giant is no stranger to Eugenia Keegan.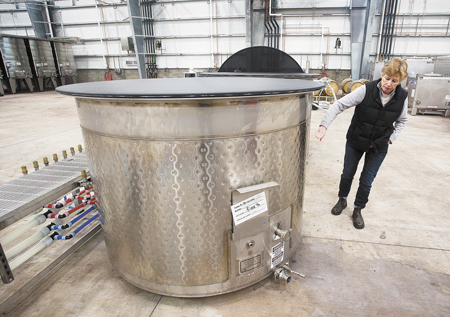 Keegan, the longtime partner of pioneering winemaker David Adelsheim, grew up in northern California's wine scene and has a résumé 42 harvests long, including making wine, owning a wine distribution company, owning a winery and consulting in the industry. In 2010, having sold her distribution outfit, Keegan trekked to Southern France to soak up the culture and learn about winemaking, with a more laid-back work ethic coupled with significantly tighter government oversight.
"Imagine the government telling us to pull up our Pinot Noir vines and plant Cabernet," she mused. "We'd wonder, what are they thinking?"
When Jackson Family started making moves on Oregon in 2013, she and Adelsheim met with the company's top brass to reach out. By all accounts, the meeting went well, and now Keegan is running their Oregon operation out of a second-floor corner office of one of the old Evergreen corporate office buildings on Three Mile Lane in McMinnville.
The one with the 68,245-square-foot winery behind it.
For a winemaking operation, that amount of space is large, but Keegan is quick to note how several other wineries in Oregon are bigger in terms that matter: volume.
"We are not the largest vineyard winery owner," she said. "Wine By Joe, 12th & Maple Wine Company, Northwest Wine Co., they're all bigger than we are. It's a physically big space, but in terms of the way we talk about winery size, it's what you process, not your square footage."
To appreciate the size of Jackson Family Wines, consider a figure recently cited by the Capital Press, the state's weekly agricultural newspaper: Jackson Family posted an annual revenue of $500 million in 2012; in 2016, the entire Oregon wine industry, which tops 700 wineries, had $529 million in sales — the latter number sourced from an Oregon Wine Board census.
The company, founded in 1982 and headquartered in Santa Rosa, began buying prominent Willamette Valley vineyards about five years ago. Their portfolio includes Willakenzie, Gran Moraine, Zena Crown, Penner-Ash, Siduri and La Crema.
In 2016, they scooped up the 14-acre property on Three Mile Lane, discovering during their first visit just how quickly Del Smith's aviation enterprise sank: "There were cups of coffee, moldy, on the desks, there was food in the refrigerator," she marveled. "There were hundreds upon hundreds of the larger binders that had all their financial information. It was eerie."
The corporate building was cleared out, cleaned up and remodeled. An airplane in the shop behind it — clearly amid a repair job vacated in the middle of a workday — was removed. The building currently houses a neat row of portable tanks and a wine tasting bar — for company use only.
This $7.8 million investment now represents Jackson Family Wine's Oregon headquarters. But it's the sprawling facility behind the offices that leaves the greatest impression.
Imagine clearing out Lowe's and lining the perimeter with tanks. Grapes enter on the east side, and the product will go out the west after rolling off a mobile bottling line.
At the building's north end, there are several temperature-controlled barrel storage rooms, where about half the inventory is stored in barrels made by a cooperage in Burgundy that Jackson Family Wines owns with a family business. And finally, there's a laboratory, "the war room," a break room and a couple offices.
This year's harvest ended in late October, and the last tank was pressed mid-November. During tour a week earlier, the facility was relatively quiet and appeared impeccably clean.
"We really designed it ourselves," said Keegan, over the sound of a pop tune piped in over speakers. "Even before we knew we were going to put it on this particular piece of property, we had been working on it for a couple years."
The company worked with eight different winemakers to design it. It differs from facilities built as recently as the 1990s in the open space it provides, allowing plenty of flexibility. Most tanks are designed to be moved easily, and the reason the ceiling arches high like an airplane hangar is so they could avoid putting in posts to support the roof. "Four posts in a room loses 24 percent of floor space" that can be used efficiently for work, she explains. Likewise, some tanks are square, eliminating unused space between cylindrical tanks.
"We're pretty happy," Keegan said. "We came in here with all new staff, staff that had never worked together before, in a building they've never worked in. So you never know what the flow is going to be when you start in a new facility. When we hit the start button, things turned on. We were very happy."
The company's single vineyard and appellation wines will be processed here at their independent wineries, while the La Crema and Siduri wines will be made in McMinnville. All vineyard managers and winery operators will continue to enjoy their creative autonomy.
There are enough grapes from the company's 700 planted Oregon acres to occupy all the wineries.
With the McMinnville facility finished and administrative functions for Oregon comfortably settled under one roof, Keegan said Jackson Family Wines is content for now to focus on making great wine. The company owns some bare land here, so there's already room built in for expansion without acquiring more properties.
"The whole company is taking a deep breath," she said. "We've expanded rather quickly in both Oregon and down in Santa Rita, that area, and we have a lot of new stuff on our plate. I think we all want to digest it properly and do the right thing."
David Bates is a freelance writer living in McMinnville.