Italian Love A-Fare
Food, wine, heritage binds Italy to Oregon
Oregon boasts a growing number of winemakers with a passion and history for Italy. Expertly crafted, the Italian-inspired wines not only transport tasters to the rolling hills of Italy, but also complement wine country's love of Italian fare.
Alongside icon Nick's Italian Café in McMinnville, other Italian eateries have made wine country their home, including Abella in Wilsonville and Pomodori in Medford. But there is a relatively new Italian restaurant creating something truly special. Outside Carlton, hiding in plain sight, AgriVino sits at the top of a hill along a gravel road.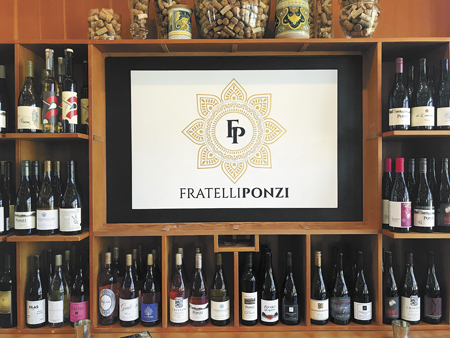 Inside the unassuming building, Chef Dario Pisoni and his wife, Sheena, have designed an Italian oasis. With impeccable hospitality, the couple makes and serves their prix-fixe five-course wine dinners featuring both local and hand-picked Italian producers. In fact, Chef Dario is so passionate about the pairings, he personally explains them to each table throughout the evening. On Sundays, families are welcome with gnocchi and pizza on the menu. The Pisonis also offer an authentic Italian lunch menu and a three-tiered Italian import wine club. Reservations are required, and almost all dinners sell out, so plan far in advance.
Besides cuisine, wine also connects people throughout Oregon to Italy. Their stories vary, with passion as the common thread.
Montinore Estate owner Rudy Marchesi's father was born in the northern province of Lombardy near the DOC region of Oltrepo Pavese, where Pinot Nero (Pinot Noir) thrives. He learned to make wine from his grandfather. He and his siblings still own their ancestral home and visit regularly. Montinore was founded in 1982; Marchesi's daughter, Kristin, now leads the brand.
Craig Camp, general manager of Troon Vineyard in the Applegate Valley, imported Italian estate wines for decades, then lived and worked in the Piedmont region before moving to Oregon, bringing his love of Italian wines stateside.
Remy Drabkin grew up in McMinnville, yet she discovered her love for Italy — the wine, food, music and culture — having lived several years in an Italian immigrant community in Pittsburgh, Pennsylvania, as well as back home at Nick's Italian Café, where her family and the Peiranos have been longtime friends. Drabkin has focused on Italian varietals since her initial release in 2006. She now has tasting room in Dayton, inside a charming country house with vines in back.
Portland winemaker Darryl Joannides is the grandson of Giuseppe Viola who emigrated from Sicily to the U.S. The family's history fueled his passion for all-things Italian as did his studies in Perugia, Italy, in the 1980s. Joannides carries on the family name through his boutique urban winery, Viola Wine Cellars. Before starting the winery, he was the chef/owner of Assaggio, an Italian restaurant in the Sellwood neighborhood from 1995 to 2005.
The Ponzi family elevates the Italian-Oregon relationship to another level. Michel Ponzi, former CEO of Ponzi Vineyards and son of Oregon wine pioneers Dick and Nancy Ponzi, always maintained a strong connection to his family's Italian heritage. He visited Italy throughout his life and attended university in Florence, minoring in Italian studies. In 2009, he discovered a relatively unknown region, Le Marche, nearby the family's ancestral home in the region of Abruzzo. In 2012, he stepped away from his CEO position with the winery to move to this rural area with his wife, Rebecca, and children.
With enduring bonds in both Italy and Oregon, and living on two continents, Michel and Rebecca have rebranded the former Wine & Bubble Bar to Fratelli Ponzi Fine Food & Wine Bar, a wine bar and retail shop in Dundee. Fratelli Ponzi not only imports select wines from Italy but also sells Michel and Rebecca's olive oil brand, Casal Cristiana, made from olives harvested from their Italian property; coffee from a micro-roaster not far from the couple's Italian home; and Fratelli Ponzi pasta made from organic grain grown, milled and produced by an artisan Italian farmer and manufacturer. Selected Italian chocolates are also for sale. In addition to Ponzi wines, Fratelli offers opportunities to showcase and sell local wine by small Oregon producers — without tasting rooms — that produce primarily Italian varietals. With 18 wines by the glass, three flights, including sparkling, and classes to improve global wine knowledge where guests can sip and compare Old World versus New World, the new Fratelli Ponzi is worth a stop.
From restaurants to wineries, to import wine shelves, the passion for bridging Italy and Oregon continues to grow.
Enjoy tasting Italian-style wines from these wineries: Apolloni Vineyards, Cana's Feast, Chris James Cellars, D'Anu Wines, Gersing Cellars, Maryhill, Montinore Estate, Natalie's Estate Winery, Ponzi Vineyard, Seven Bridges Winery, Seven of Hearts, Stag Hollow, Troon Vineyard, Viola Wine Cellars, Remy Wines, Formaglini, Minimus Wines, Timothy Malone Wines and many others.
Italy in the Valley | Aug. 19
A decade ago, Cana's Feast Winery launched Italy in the Valley. This year, Aug. 19, 1 to 5 p.m., guests, once again, can get a taste of Italy in the heart of the Willamette Valley. Thirteen local wineries will pour a variety of wines, including Dolcetto, Barbara, Lagrein, Tempranillo, Nebbiolo and Sangiovese. Admission of $35 includes wine tastings, a light lunch and the opportunity to visit the various vendors. For more information, visit italyinthevalley.com.